Editor's note
Cytomegalovirus (CMV) is a virus transmitted from person to person via body fluids like urine or saliva. For people with healthy immune systems, CMV is likely to cause only mild illness. But when a pregnant woman is infected, the virus can cross into the placenta to infect her unborn baby, and this can cause permanent disability. Although the risk is small (we believe one or two in every 1,000 babies will develop symptoms from being born with CMV), it can be a worry for pregnant women – especially those who have toddlers at home spreading germs.
Australia's college of obstetrics has released a new set of hygiene precautions women should take on to reduce their risk of contracting CMV. But GP and academic Brett Montgomery tells us presenting these rules to patients is really tricky. The guidelines include things like not kissing your child on the mouth, not sharing food, drinks or utensils with small children, and keeping surfaces that might have come into contact with kids' body fluids clean.
But child rearing is messy. Any parent will know keeping a home with small children sparkling clean is near impossible. And putting restrictions on affection between parents and kids is a bit sad.
We don't yet have strong evidence these hygiene practices are going to reduce the number of babies born with CMV. Before placing extra guilt on already pressured parents, we need to make sure we've got good reason to do it.
Phoebe Roth

Assistant Editor, Health+Medicine
Top story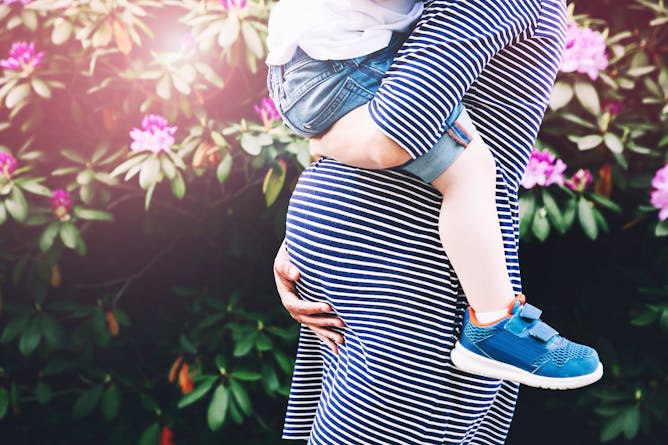 Australia's college of obstetricians has warned pregnant women against kissing their toddlers on the mouth or sharing food because of the risk of cytomegalovirus (CMV). But is this advice useful?
Politics + Society
A Senate inquiry report has found that while the broadcaster's board was aware of the deteriorating relationship between the chair and managing director, it did not make any further inquiries.

According to a new study, Mandarin-speaking voters look to their friends and key social media influencers to inform how they should vote in Australian elections.
Science + Technology
If you've never heard of a form of wave called a 'seiche' – which can occur in swimming pools during earthquakes – this is your chance to catch up.

Google+ is the latest online community to shut down, forcing users to seek other options. So why are organisations pulling away from user-generated content such as reviews, comments and debates?
Business + Economy
Booming global commodity prices have masked the impacts of a weakening economy. With luck, the budget will be the shot it needs.

The debate about tax cuts has morphed into a debate about annual lump sum payments, and for many Australians, Labor is offering more.
Health + Medicine
From June 19, Victorians at the end of their lives can request medical assistance to die. Voluntary assisted dying may offer a new option for some, but the practice will be strictly regulated.
Environment + Energy
Invasive pest ants cause billions of dollars worth of damage to crops, and threaten some of Australia's World Heritage rainforests. The federal budget has pledged nearly $30m on wiping them out – but how?

After repeated bleaching in 2016 and 2017 corals on the Great Barrier Reef are producing far fewer offspring.
Arts + Culture
For the Barkandji people, the crisis on the Barwon-Darling represents the biggest threat to their continued survival on country since the sheep invaded.

A new collection of writing by African-diaspora Australians shares a diversity of experiences: stories of displacement, isolation, endurance and the right to call Australia home.
Cities
The exploding popularity of e-scooters has the potential to reshape transport in our cities. Regulators need to adapt their approaches to handle the new mobility service rather than ban it altogether.

Despite boasts of 'record' infrastructure spending, relative to GDP it's comparable to previous budgets. What's different is that Treasurer Frydenberg has chanced his arm more over the longer term.
Education
The government has delivered a pretty disappointing budget for education, with no secure funding for early childhood education and a recycled commitment of $300 for schools.

We don't know the exact path towards radicalisation, so giving teachers signs to look for is dangerous.
Featured jobs
Featured events