Editor's note
Puerto Rico suffered another major power outage last Thursday, a reminder of how fragile grid restoration is nearly two months after Hurricane Maria knocked out electricity service to about 80 percent of the island. Why can't Puerto Rico simply rebuild its grid with solar power? Peter Fox-Penner from Boston University says adding solar is a step towards a clean and more resilient power grid in Puerto Rico – and any other storm-prone location – but explains why the path isn't easy.
When the Trump administration declared the opioid epidemic a public health emergency, it promised to make funds available to expand telemedicine services. Wayne State's Jamey Lister explains why technologies, such as videoconferencing, can be particularly beneficial to people in rural areas although they have real limitations as well.
Martin LaMonica

Deputy Editor and Environment + Energy Editor
Top stories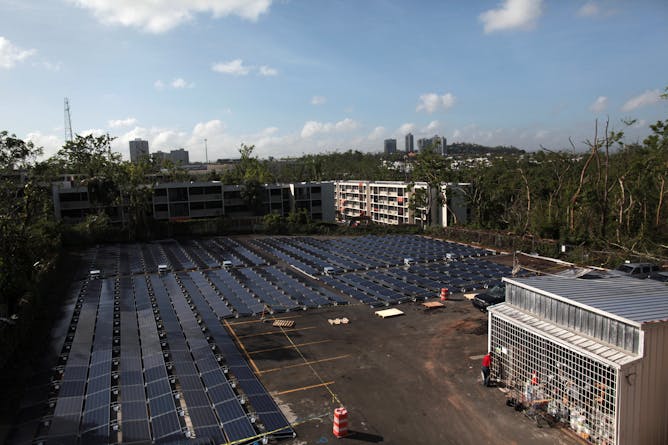 Yes, Puerto Rico and any other storm-vulnerable location could benefit from on-site solar and battery backup, but it's unrealistic to say these microgrids are enough to power the island.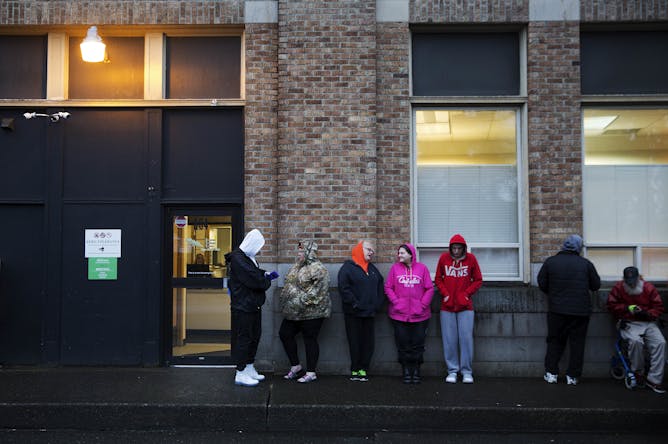 Many who need help with opioid addiction live far from dedicated treatment centers.
Economy + Business
| | | |
| --- | --- | --- |
| Secret payments in exchange for silence regarding work-related sexual abuse are usually tax-deductible. How about changing that? | | Republican lawmakers say the proposed changes to the tax code would 'streamline' higher ed benefits. But this overhaul would squeeze many, if not most, students and schools. |
| Supply-side economics is the intellectual backbone of the argument that tax cuts for the wealthy will boost business investment, wages and growth. The evidence suggests otherwise. | | Companies have long tended to protect rather than punish high-profile harassers. That may change as the #MeToo movement inspires more women to speak out. |
Arts + Culture
| | | |
| --- | --- | --- |
| Ramparts started as a Catholic literary magazine. But when Warren Hinckle took the helm, he developed a layout, voice and rebellious spirit that Rolling Stone would go on to mimic. | | With levels of political discourse reaching new lows, some might say the country could use a dose of shame and humility. At the same time, social media have unleashed a torrent of online shaming. |
Health + Medicine
| | | |
| --- | --- | --- |
| For centuries, people have been trying to lose weight in all sorts of ways – including drinking vinegar, avoiding swamps and stocking up on grapefruit. | | It's hard but feasible to make a difference, as long as you work with the locals and don't become a 'disaster tourist.' |
Education
| | | |
| --- | --- | --- |
| In our institutions of higher education and our research labs, scholars first produce, then buy back, their own content. With the costs rising and access restricted, something's got to give. | | Since 2009, nearly one million veterans have benefited from the Post-9/11 GI Bill, which helps them pay for tuition and other expenses. A scholar explains how it's a hard transition. |
Ethics + Religion
| | | |
| --- | --- | --- |
| A scholar asks whether democracy itself is at risk in a world where social media is creating deeply polarized groups of individuals who tend to believe everything they hear. | | In the early 1900s, a group of Protestants in the US attempted a reunion of Christianity. They failed, of course, but they prompted a new dialogue. |
Politics + Society
| | | |
| --- | --- | --- |
| How a journalist from Nebraska chased the 'Soviet dream' all the way to Russia, only to be expelled on accusations of espionage. | | Scholars say elites are critical to helping ethnic communities thrive. So, who are the Latino elites and what work are they doing for their community? |
| Mexico's 2018 presidential race hasn't even begun, but it's already a nail-biter, featuring two women, a left-wing firebrand, party defections, strange bedfellows and no small dose of scandal. | | With a year before Election Day 2018, election integrity depends on ensuring fairness and access for American voters. Foreign tampering is a real but less serious concern. |
Science + Technology
| | | |
| --- | --- | --- |
| Science isn't cold, hard facts uncovered by emotionless robots. Acknowledging how and where values play a role promotes a more realistic view and can advance science's reputation for reliability. | | Scholars dig in to the debate on whether police should be able to defeat or circumvent encryption systems. |
Environment + Energy
| | |
| --- | --- |
| On Nov. 2 the White House posted a detailed climate science report without comment. The Trump administration is unlikely to heed it, but it could boost state, local and private sector action. | |