Wildfires in the Arctic are normal. But Fairbanks, Alaska-based climate researcher Nancy Fresco says this year's fires – stretching across Siberia, Greenland and Alaska – reflect worrying trends.
Fresco describes how frequent and intense wildfires, driven by warmer temperatures, are not only disrupting life for people in those regions, but also changing Arctic ecosystems and the cycles of regrowth scientists have seen in the past. These climate-driven shifts matter "not just for those of us who live within the fires' pall of smoke, but for the world," she writes.
Also today: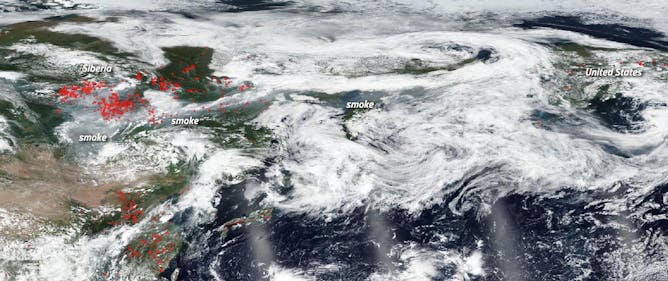 A researcher based in Fairbanks, Alaska, links 2019's record-breaking wildfires in far northern regions of the world to climate change, and describes what it's like as zones near her city burn.
Arts + Culture
Before an exhausted crowd, Hendrix fused protest and horror with patriotism and optimism.
Politics + Society
While the US has the most powerful military machine in history, it is also incomparably the most expensive – and members of Congress work aggressively to maintain it.

An ambitious new train would link resorts like Cancun to inland ancient ruins and colonial towns. That means laying rail across 932 miles of dense jungle, pristine beach and indigenous villages.
Science + Technology
Although the rings of Saturn may look like a permanent fixture of the planet, they are ever-changing. New analyses of the rings reveal how and when they were made, from what and whether they'll last.
Ethics + Religion
The partition of India led to more than a million deaths. A scholar argues how British royal, Lord Louis Mountbatten, who hurriedly drew the new borders in secret, was largely responsible.
Most read on site
Mentally ill, white supremacist video game-playing men are pushing rates of mass homicide ever higher in the US? The real data is more nuanced than common misperceptions suggest.

Breast milk contains ingredients in concentrations that change over the course of the day. Researchers think milk is chrononutrition, carrying molecular messages to help set a baby's internal clock.

A key tenet of Samoan culture emphasizes community, deference to authority and confronting fears – a mindset that makes an ideal football player. But it can extract a physical toll.