With U.S.-Iran tensions high after Iran's retaliatory attack yesterday, experts are wondering whether Tehran will try to obstruct the Strait of Hormuz, a narrow channel through which all shipping traffic from energy-rich Gulf countries passes.
Rockford Weitz, a maritime studies scholar at Tufts University's Fletcher School, explains the strait's importance and offers reasons not to bet on an escalation that significantly interferes with the region's oil trade. "In the past both the U.S. and Iran have pivoted back to diplomatic solutions when tensions have become too high," he writes. In his view, this history suggests "that neither side wants to see the conflict escalate from hybrid warfare into a full-blown war."
Also today:
Top story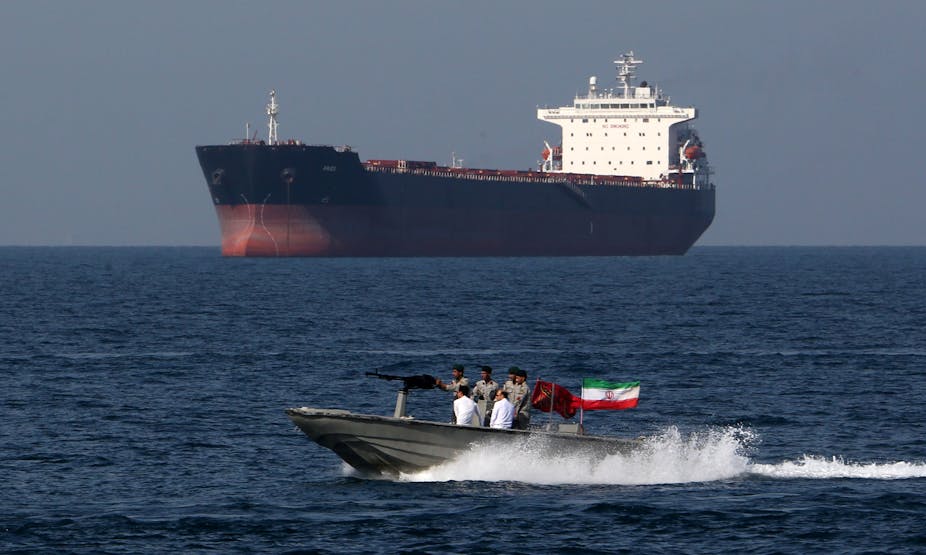 Any disruption to shipping in the narrow seaway could impact oil prices and ratchet up geopolitical tensions.
Politics + Society
An expert on Watergate says that today's House Republicans have taken precisely the opposite position than the GOP took in 1974 on the president's power to withhold documents from Congress.

Negro Matapacos became famous in Chile in 2011 for joining student protests. His image has now popped up around the world.
Education
Free community college is touted as a way to make college more accessible. But research shows making community college free comes at a cost to four-year colleges.
Ethics + Religion
Theologian Franz Bibfeldt may never have lived, but his legacy continues in many important ways – most of all not to take ourselves too seriously.
Environment + Energy
Do public lands in the West belong to Westerners, or all Americans? Moving a federal agency's headquarters from Washington, DC to Colorado is the latest skirmish in a longtime struggle.

Coyotes, whose range is expanding, are now at the doorstep of South America.
Arts + Culture
Pronouns rarely, if ever, change. Then along came the gender nonbinary 'they,' which was just anointed 'word of the decade.'
Economy + Business
An often invisible force is undercutting support for policies that help Americans facing economic hardship.
Science + Technology
A report calls for banning the use of emotion recognition technology. An AI and computer vision researcher explains the potential and why there's growing concern.
Health + Medicine
Most women in the US give birth lying flat on their back, anesthetized. An obstetrician investigates why this is and whether this is always the best approach.
Most read on site
Getting in better shape is one of Americans' top resolutions for the new year, but many people give up after six months. Here are some suggestions to make exercise enjoyable so you can stick with it.

President Trump's Iran policy took a dramatic turn when the US killed Iran's top military commander in a drone strike. To avoid war, one foreign policy scholar says Trump has to reverse his stance.

Confused about whether meat is good or bad for you? You're not alone. Various studies, some of which were funded by the meat industry, have added to the confusion. A noted expert sorts it out.