The average U.S. city generates only about $21 per person from fines.
But some make far more. "Even seemingly colorblind policies, like a $90 traffic citation for speeding, can have outcomes that are very much not colorblind," writes Akheil Singla of Arizona State University. His new study shows that cities with larger black populations tend to make far more from traffic citations, forfeitures and other minor fines.
Also today:
And today marks five years since The Conversation US launched from the basement of one of Boston University's buildings. In that time, we've published nearly 10,000 articles by over 7,500 authors, reaching tens of millions of readers. We could not have accomplished all we have without our loyal readers, university partners, authors, republishers and funders. Thank you for your continued readership and support.
Top story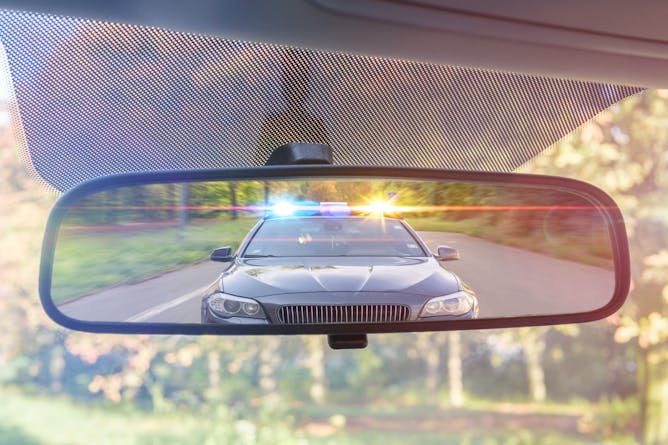 A study looked at fines in 93 California cities. Cities with more black residents and more disproportionately white police forces tended to rely the most on fines.
Economy + Business
Behavioral economics offers a less heavy-handed approach than bans to reducing the costs and risks of homebuilding in disaster-prone areas.
Environment + Energy
Americans eat more meat on average than citizens of any other nation, but new survey findings show that plant-based meat products are winning fans across the US.
Arts + Culture
How members of America's two parties view the country – and its place in the world – might explain this phenomenon.
Science + Technology
Many deciduous trees put on a dazzling fall foliage display. But coniferous evergreens hold on to their needles and stay green. A biologist breaks down these different survival strategies.
Politics + Society
By burying the Kurdish conflict, Turkey has made it that much more difficult to resolve.
Most read on site
The recent death of Elijah Cummings at age 68 underscores a disturbing statistic: black men die, on average, five years younger than white men. A study shows racism's effects on gene activity.

Senate Majority Leader Mitch McConnell is known as a master of Senate rules. If the House impeaches President Trump, what could he do to influence the process – and outcome – of a trial?

Women in the workplace face discrimination at every level, including in upper management.

Ask them to sign up at https://theconversation.com/us/newsletter