Well hi there!
Thank you so much for joining us! It's been a while since we last sent something your way... because we were saving up all our news for today! Why today? Why such a big deal? Why why why?
Gone Home is out on Nintendo Switch RIGHT NOW!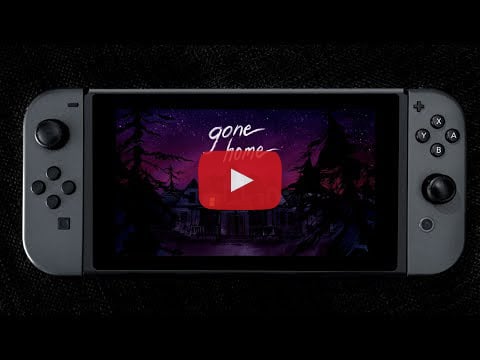 August 15 of this year was the FIFTH ANNIVERSARY of Gone Home's original release!(gosh, time flies when you're making games..) and now, as of today, you can play Gone Home on your Nintendo Switch! We partnered with Annapurna Interactive to bring Gone Home to your favorite hybrid handheld/in-home console-- and I think it's a really great experience. There's something amazing about holding a game like ours right in your hands. It's like looking through a little window into this diorama world you can explore, or snuggling up in bed with a good book, but the book is an interactive place you're visiting. We're so excited to bring Gone Home to more players on their platform of choice. Thanks Nintendo and Annapurna for making it possible! We really hope you or a friend will enjoy visiting (or re-visiting) the House on Arbor Hill in this spiffy new form.
I was glad to be able to look back on Gone Home five years after it was first released and reflect on where the game came from, what it's meant to us, and where we go from here. To that end, I spoke to Brian Crecente at Variety and James Batchelor at Gamesindustry.biz for insight that only a gulf of time can provide. Thanks for reading-- and thanks for playing!
And, to celebrate the occasion...
We've got cool new stuff on the shop!
We always enjoy making fun bits & bobs to celebrate new releases and give fans something tangible to hold onto in this world of digital ephemera. And so, with Gone Home's fifth anniversary and the release on Switch, we've gone in on a bunch of cool new physical items!
Partnering with iam8bit, we've created two Cool New Things!
Thing One: a deluxe vinyl soundtrack, featuring cover art by Leighton Gray! It's a gorgeous package: Chris Remo's full Gone Home Original Soundtrack (the GH:OST) has been remastered on one-of-a-kind "lavender dawn" swirled vinyl, with a very cool "endpapers"-style printed paper sleeve by most excellent illustrator Faith Schaffer, and label art by Fullbright's own Noël Clark!
The Switch physical edition of Gone Home features Emily Carroll's classic key art on the outer cover, with a reversible cover featuring Faith's endpapers design, and a surprise fold-out poster you might recognize from the Greenbriar household... just remember, don't lick the cartridge! I hear it tastes like an expired can of Dr. Jitters...
We're so excited for y'all to get your hands on this stuff!
But that's not all!
Over on our own little Fullbright shop, we've produced some cool new Gone Home gear-- including a set of signature designs that any fan of the game will recognize, in three flavors: stickers, sew-on patches, and ADORABLE little enamel pins!
I really can't overstate how lovely the Gone Home cassette, the extra-cute Christmas Duck design by Noël, and Sam & Lonnie's heart pendant look in these miniature forms-- and as stickers, patches, and pins they're perfect for slapping on your laptop, sewing on your sleeve, or pinning to your favorite bag! The S+L heart halves combine to make one full heart if you want to arrange them that way, or you can keep one half for yourself, and share the other with a "good friend"!
And even that's not all...
We've put together a lil piece of apparel for you as well! The iconic Polaroid of Lonnie found in Sam's locker, beautifully printed in a pre-weathered style on a lightweight navy heather garment, is now available in both standard and fitted styles! This shirt has no other logos or branding on it-- it's a little wink and nod from you to other folks out in the world who love Gone Home as much as you do. We're really happy with how it turned out, and hope you will be too! S+L Forever.
Alright, now that that's all out of the way...
Hello again, from us!
(that's us, above, right there)
In the months since I wrote you last, a lot has been going on! First and foremost: we've welcomed two new, awesome people to the Fullbright team: Leighton Gray is our new Art Director, and Aaron Freedman joins our Programming team!
If you love dads, and love dads who love dads, you probably know Leighton's work: she was the co-creator/co-writer/Art Director of the hit dad dating simulator Dream Daddy. And now we're thrilled to welcome her to Fullbright as our Art Director! Being a scrappy little company, we've never had a dedicated Art Director before, and we couldn't be more excited to have Leighton owning the look of the games at our studio (and executing beautiful pieces of art such as the Gone Home vinyl jacket paintings above!)
Aaron Freedman is a Unity engine wunderkind, a game development and design instructor at NYU and Parsons, and a longtime programming collaborator with Nina on her personal projects. And now we're incredibly psyched to have him at Fullbright bolstering the programming capabilities of our team! Aaron was the programmer on Nina's games Kimmy and Lost Memories Dot Net, as well as a number of games that came out of the NYU Game Center, like the award-winning Sunburn! We can't wait to see the rad stuff he does here at Fullbright.
Welcome aboard, Leighton & Aaron!
Now, wait, but, hold on...
We're hiring new people... it's been more than a year since we released a game... we've been pretty quiet lately... could it be? Could it really be..?? could...
...we be working on something new???
...YES!
...and we're probably not going to talk much about it publicly for YEARS!
But! We have started, and that means... our new little (big-ish) project needed a Daruma doll to get things kicked off right.
We've dedicated a Daruma to each of our projects, and this one's no different. The Daruma is a Japanese tradition symbolizing dedication to making a new project a success. When you start the new endeavor, you paint in one of Daruma's eyes-- and when the endeavor is complete, Daruma gets his second eye, symbolizing the completion of a long-sought goal. During the first week or so of development we gathered all our off-site folks in Portland to meet up, spend some time together, collaborate... and, as with Tacoma, we gave our newest team members-- in this case, Leighton and Aaron-- the honor of painting the eye together.
We've got an incredibly wonderful little team that I'm so proud to be a part of, and the excitement, creativity and care that's going into the project already just makes my heart soar. We'll have a lot more detail to share... at some point... but, for now, just know we're out here, doing our best, making a cool thing... and even though it'll be a while, we can't wait for when the time is right to tell (and show!) you more. Thanks for sticking with us.. keep an eye here!
Know a friend who'd want to hear the latest but hasn't signed up?
OK, so, then...
...if we aren't talking about our new thing for a while, what kind of cool stuff are folks at Fullbright up to RIGHT NOW?? THE PEOPLE DEMAND ANSWERS!!
WELL!!
First off, y'all heard of Fantastic Arcade? It's an event in Austin, TX featuring all the coolest, weirdest, most exciting new indie games of the year, and they even do this cool thing where they commission exclusive games to be played live at the festival! And remember how I mentioned that Nina and Aaron collaborate on their own games outside of Fullbright? I think you can see where this is going...
Grass Stains is a competitive multiplayer game about kids playing soccer together, and trying to play nice... or not! A game by Nina and Aaron, with art by Diego Garcia and sound and music by Amos Roddy. If you can make it down to Austin, TX near the end of October, make sure to grab a pass to Fantastic Arcade to check out Grass Stains, plus a whole ton of other awesome games, speakers and events!
And, hey, if you're on the other side of the Atlantic, you have another chance to see Nina out a conference: this one is at the end of September, in the Netherlands! Nina will be on a panel about game design and development at the Nederlands Film Festival, Sept. 30! She'll be part of an excellent group of indie developers led by Adriaan de Jongh discussing the craft and philosophy of the games they make, right up there on stage.
Also,
Speaking of conferences: perhaps you're on yet ANOTHER continent! Perhaps a continent like... Australia?? Well then, it behooves you to make your way to Melbourne in late October to attend Australia's premiere game development conference, GCAP... because, for the second year in a row, the show is being keynoted by a Fullbrighter! Last year it was me and Karla, this year, as happenstance would have it.. it's our new Art Director, Leighton!
She'll be kicking off the proceedings with a talk about her unique outlook on games and game development. Fans of Dream Daddy (and we know there's a few of you out there) as well as folks excited about what we're up to at Fullbright should definitely try and make it out to the show. We had a blast when we were there last year, and I can attest to the fact that Leighton gives one heck of a conference talk.
And while we're at it, I would be remiss not to mention...
...an additional treat for those Dream Daddy fans in the audience! If you can't make it to, say, Australia anytime soon, but want more of that good good Dad Dating Simulator Content right now: the folks at Portland's own Oni Press have partnered with the Dream Daddy team to launch a comic book series based on the sexy dad game you know and love!
MORE talks?? MORE appearances?? Yes!
You've got one more chance to see Fullbright folks onstage in the next couple months-- and this one's for all of you in the New York City area! On Sept 27, Karla and I will be visiting the NYU Game Center in Brooklyn for an onstage discussion about Gone Home, Tacoma, and our approach to collaboration, game design, and storytelling in immersive spaces.
But maybe..
maybe you can't make it out to any of these events... what then??
Well! You're in luck! On our final "what's going on at Fullbright" note: since the last newsletter went out, I wrapped up the second season of my game developer interview podcast, Tone Control!
And, as luck would have it, along with other super fascinating guests like Bennett Foddy, Derek Yu, and Mariel Cartwright, I was able to interview three Fullbrighters for this season. The series finale was a long, wonderful conversation with my creative partner, studio co-founder, and friend Karla Zimonja. We've worked together since the BioShock 2 days, working as co-creative leads on the Minerva's Den DLC before starting Fullbright. It was a great, heartfelt conversation, and I'm so glad we finally got to talk about everything we've been through together, and share it with you, the readers!
The season is bookended by my conversation with Leighton, who at the time I was just a fan of, and in the intervening months has been gracious enough to join our team! And in the middle of the season I spoke with Nina about being a Level Designer at Fullbright, and about her personal work that we find so inspiring. If you want to get to know some of the folks at Fullbright just a little bit better, settle in and give Tone Control a listen.
OK, wow, so, finally... Portland Stuff!!
OK, I know this newsletter has been a long one-- hopefully just because it was packed with so much Good Content-- but I couldn't let you go without sharing a little bit of Portland Lore! The second installment of Portland Stuff in the Fullbright Newsletter is about...
Houses with two addresses??
Portland is still, relatively speaking, a small city-- but at the turn of the 20th century, it was very, very small. Only 100,000 people lived in Portland in 1900, but due to a manufacturing and shipping boom, Portland's population tripled in size between 1900 and 1930. This led to an explosion of construction and expansion in the city-- and having no centralized organizing principle for how streets were named or how addresses were laid out, getting around the city and delivering mail and packages became chaotic. So between 1931 and 1933, work crews surveyed the entire city, renaming streets and re-numbering homes and businesses to establish a consistent, sustainable address system across every part of Portland.
An excerpt from the Directory of Street and Name Changes published by the Crane Direct Mail Service, comparing old and new addresses and street names in the Portland metro area
There are a couple pieces of evidence for this that you can still see in the city today. One is the signature ceramic tile address slates you'll see on houses all over town:
Many of these that you'll see now are reproductions, but the reason for the popularity of this style is simple: when a home's address changed during the Great Re-Addressing, the city would send the property owner a metal slate and a set of ceramic tiles of their new address, so they could post it up on their house at no further cost to them. If you start looking for these around Portland you'll see them everywhere-- and because of how hardy and weather-resistant these ceramic tiles are, many that you'll find are the originals, issued by the city in the early 1930s.
The other is that, on rare occasion, you'll find a house with an address rendered in beautiful stained glass above the door... but the address isn't that house's address anymore. Houses of a certain fanciness, built prior to the 1930s, were sometimes embellished with the street address in tinted, leaded glass above the door-- a number which, unbeknownst to the owners, would become obsolete in just a few short decades. But the evidence of that history remains in the form of beautiful, handcrafted glass art.
Thanks once more, friend, for subscribing to the Fullbright newsletter! We always appreciate you joining us, and we hope you'll enjoy Gone Home on Switch! We'll be back with more news and updates next time. Til then!