Let's feel the love!
¡Que se sienta el amor!
It's that sweet time of the year, although we do believe we shall show our love everyday of the year, it's a good moment to emphasize the importance of love in our lives. In BAI we think that there can never be too much love in the world and it should be celebrated. There are many ways to show love, but the most important is to remember to care as much about yourself as you do for others. We are very happy to salute you again, enjoy the newsletter!
--------------
Es esa dulce época del año en donde enfatizamos la importancia del amor en nuestras vidas -aunque el amor se debe demostrar todos los días-. En BAI pensamos que nunca puede haber demasiado amor en el mundo y que debería celebrarse. Hay muchas formas de demostrar amor, pero la más importante es recordar que te preocupes tanto por ti mismo como por los demás. Estamos muy contentos de saludarte nuevamente, ¡disfruta del boletín!
The Doctor is in.
El Doctor te espera.
Dr. Carlos Cabrera has the latest news from the BAI Center.

El Dr. Carlos Cabrera tiene las últimas noticias desde el Centro BAI.
Please take a moment to watch the following video regarding our work. We are a team of volunteers, doctors, pshycologists, lawyers, nutritionists and students from many areas working together to decrease teenage pregnancies and prevent the spread of HIV in Yucatán.
Por favor tómese un tiempo para ver el siguiente video acerca de nuestro trabajo. Somos un equipo de voluntarios, doctores, psicólogos, abogados, nutriólogos y estudiantes de diferentes áreas, que trabajamos en conjunto para prevenir los embarazos en adolescentes, el VIH y otras ITS en Yucatán.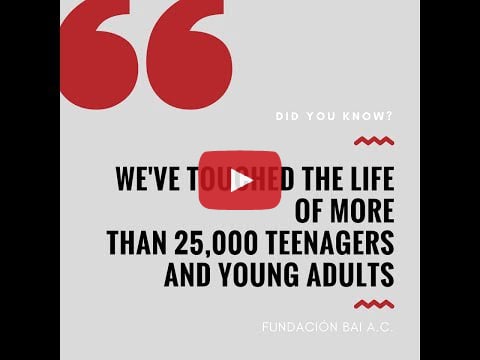 A Taste of Mérida!
¡Una degustación de Mérida!
A GREAT TREAT IN "A TASTE OF MERIDA!"
In the month of march: One of our key events is approaching again! On behalf of the Fundacion BAI, we are very grateful for your support. In this edition, we are joined by our Sponsors and hosts at Hacienda Santa Cruz, the unrivaled talent of the Chefs that will delight our palate: Pedro Evia (Ku'u'K), Vidal Elias (Micaela Mar y Leña), Sara Arnaud (Tatemar & Apoala), Adrian Marcos & Jorge Casal (Catrin) and Hector Morales (Spasso & Hyatt Regency Executive Chef).
This is one of the 2 annual fundraising events, organized by BAI, to fund our programs in the community.

An event that is sold in its entirety as the date approaches, and which is now considered as "THE event of the season" many friends and allies who dress elegantly, ready with ticket in hand to enjoy this evening.
Walking through the magnificently renovated hotel, which has been designed with love and good taste at the highest level, we have explored the extensive gardens. A comfortable place, but also open and spacious enough to walk and mingle among people.

With sparkling wine in one hand and a pen in the other, we will start "fighting" for the silent auction items.
The date is on March 20, 2019 at Hacienda Santa Cruz at 6:00 pm. For tickets and more information visit Fundación BAI or contact Holly or Luca, directly.
UNA GRATA VELADA EN "UNA DEGUSTACIÓN DE MÉRIDA"
En el mes de marzo: ¡Uno de nuestros eventos insignia se aproxima de nuevo! En nombre de la Fundación BAI A.C. Estamos muy agradecidos por su apoyo. En esta edición nos acompañan nuestros patrocinadores y anfitriones en la Hacienda Santa Cruz, el talento inigualable de los Chefs que deleitarán nuestro paladar: Pedro Evia (Ku'u'K), Vidal Elias (Micaela Mar y Leña), Sara Arnaud (Tatemar & Apoala), Adrian Marcos y Jorge Casal (Catrín) y Hector Morales (Chef Ejecutivo del Hyatt Regency y Spasso).
Este es uno de los 2 eventos insignia para procuración de fondos, organizado por la Fundación BAI, para financiar nuestros programas en la comunidad.
Un evento, cuyos codiciados boletos se agotan en su totalidad conforme se acerca la fecha, y que ahora se considera como "ÉL evento de la temporada en propuesta gastronómica de alta calidad". Muchos amigos y aliados se visten elegantemente, con boleto en mano para disfrutar de esta velada gourmet.
Tendremos la oportunidad de pasear por la hermosa Hacienda, que ha sido diseñada con amor y buen gusto al más alto nivel, exploraremos sus extensos jardines, para finalmente sentarnos en nuestras mesas asignadas en el Pavilion, un lugar muy cómodo, ecléctico y espacioso para disfrutar de esta inolvidable velada.

Con vino espumoso en una mano y una pluma en la otra, comenzaremos a luchar por los artículos de la subasta silenciosa.
La cita es el 20 de marzo 2019 en la Hacienda Santa Cruz, te esperamos en punto de las 6:00 pm! Para boletos y mayor información Contáctanos.
World AIDS Day events
An event held in December 2018 in conjunction with various institutions such as UADY and the Social Welfare Office of the City of Mérida, the Ministry of Health of the State Government, Alter - Int, AHF Mexico, Cicloturixes, Inkubers Consulting, the Mexican College of Sciences of the Yucatan Clinical Laboratory, REPAVIH, the Center for Higher Studies in Sexuality, CODHEY and the CNDH, among others.
The journey was held from 8:00 am to 3:00 pm in the Eulogio Rosado Park and a total of 240 HIV tests were administered and more than 1,000 condoms were distributed, as well as information on sex education, contraceptive methods, sexual and reproductive human rights and glucose intake.
Día Internacional de la Respuesta al VIH
Un evento realizado en el mes de diciembre 2018 en conjunto con diversas instituciones como UADY y la Dirección de Bienestar Social del Ayuntamiento de Mérida, la Secretaría de Salud del Gobierno del Estado, Alter - Int, AHF México, Cicloturixes, Consultoría Inkubers, el Colegio Mexicano de Ciencias de Laboratorio Clínico Capitulo Yucatán, REPAVIH, el Centro de Estudios Superiores en Sexualidad, CODHEY y la CNDH, entre otros.
La Jornada se llevó a cabo de 8 de la mañana a 15 horas en el parque Eulogio Rosado y se aplicaron un total de 240 pruebas rápidas de VIH y se repartieron más de 1,000 condones, además de que brindaron información de educación sexual, métodos anticonceptivos, derechos humanos sexuales y reproductivos y toma de glucosa.
Working together to prevent!
¡Trabajando en equipo por la prevención!
CAPASITS and Fundación BAI A.C.
Part of prevention actions in BAI A.C. is to work together with sister institutions in support of the community, in this case we are pleased to share the project with the Ambulatory Center for AIDS Care and Sexually Transmitted Infections (CAPASITS) where free information sessions are being held on a monthly basis aimed at CAPASITS users and the general public.
On January 21 this project began with Biol. Aarón G. Cantón, M.C., the following talks are scheduled for February 25, March 4 and 11, 2019. Our facilitators: Mtra. María Luisa Pardo Cué, Lic. Laura Alejandra Guemez Fleet, C. Olivia John, Psic. Erick Silva Jiménez.
CAPASITS y Fundación BAI A.C.
Parte de las acciones de prevención en Fundación BAI A.C. es trabajar en conjunto con instituciones hermanas en apoyo a la comunidad, en este caso nos da mucho gusto compartirles el proyecto aliado con Centro Ambulatorio Para la Atención del Sida e Infecciones de Transmisión Sexual (CAPASITS) en donde se están llevando a cabo sesiones informativas gratuitas de manera mensual dirigida a usuarios de CAPASITS y público en general.
El pasado 21 de enero se inició este proyecto con en Biol. Aarón G. Cantón, M.C., las siguientes pláticas están programadas para los días 25 de febrero, 4 y 11 de marzo de 2019. Nuestros facilitadores: Mtra. María Luisa Pardo Cué, Lic. Laura Alejandra Guemez Flota, C. Olivia John, Psic. Erick Silva Jiménez.
Peer to peer Education Program
Programa de pares en Educación Sexual
Fundación BAI recognizes the critical role of a complete sexual education for the prevention of unwanted teen pregnancies and sexually transmitted infections (STIs) including HIV. Through our programs we empower young people to take informed decisions and lead a healthy life. Part of the talks we offered to high schools and universities were on Anatomy of the male and female reproductive systems, contraceptive methods, sexually transmitted infections, empowerment and healthy relationships.
As well as a talk about historical and cultural events in HIV at the Faculty of Medicine of the UADY.
Integral education in sexuality is a process that deals with the cognitive, psychological, physical and social aspects of sexuality. Its purpose is to provide young people with knowledge that will empower them to enjoy health, well-being and dignity; engage in social and sexual relationships based on respect; analyze how their decisions affect their own well-being and that of other people; and understand how to protect their rights throughout their lives and watch over them.
----
Fundación BAI A.C. reconoce el papel crítico de una educación integral en sexualidad para la prevención de embarazos no deseados y las infecciones de transmisión sexual (ITS) incluido el VIH. A través de nuestros programas empoderamos a jóvenes para tomar decisiones informadas y llevar una vida saludable. Parte de las pláticas que ofrecimos a preparatorias y universidades fueron sobre Anantomía de los sistemas reproductores masculino y femenino, métodos anticonceptivos, infecciones de transmisión sexual, empoderamiento y relaciones saludables.
Así como una plática sobre hechos históricos y culturales en el VIH en la facultad de Medicina de la UADY.
La educación integral en sexualidad es un proceso basado en planes de estudios que versa sobre los aspectos cognitivos, psicológicos, físicos y sociales de la sexualidad. Su propósito es dotar a los jóvenes de conocimientos que los empoderarán para disfrutar de salud, bienestar y dignidad; entablar relaciones sociales y sexuales basadas en el respeto; analizar cómo sus decisiones afectan su propio bienestar y el de otras personas; y comprender cómo proteger sus derechos a lo largo de su vida y velar por ellos.
Reaching out to students
Acercándonos a los estudiantes
Our peer education program has had excellent results in both public and private schools in which sex education workshops have been held in high schools and high schools in Yucatan, focusing on empowering young people to live healthy lives, avoid teenage pregnancy, prevent HIV and other sexually transmitted infections. The peer program has been taught in high schools and high schools such as:
* Escuela Modelo
* Preparatoria Estatal No.11
* Escuela Secundaria Técnica No. 2 "Raquel Dzib Cicero" en Umán
* Secundaria No.44 "Alfredo Barrera Vasquez" en Cholul
* Centro de Capacitación Edúcate Yucatán A.C.
* Colegio de Bachilleres del Estado de Yucatán plantel Cholul
* Colegio de Bachilleres del Estado de Yucatán plantel Chenkú
* Preparatoria Estatal No.3 de la CTM
* Preparatoria Estatal No 8 "Carlos Castillo Peraza"
----
Nuestro programa educativo de pares ha tenido excelentes resultados en las escuelas tanto públicas como privadas en la cual se ha impartido talleres de educación sexual en secundarias y preparatorias de Yucatán, enfocándose en empoderar a los jóvenes para vivir vidas saludables, evitar embarazos adolescentes, prevenir el VIH y otras infecciones de transmisión sexual.
El programa de pares se ha impartido en la secundarias y preparatorias como son:
* Escuela Modelo
* Preparatoria Estatal No.11
* Escuela Secundaria Técnica No. 2 "Raquel Dzib Cicero" en Umán
* Secundaria No.44 "Alfredo Barrera Vasquez" en Cholul
* Centro de Capacitación Edúcate Yucatán A.C.
* Colegio de Bachilleres del Estado de Yucatán plantel Cholul
* Colegio de Bachilleres del Estado de Yucatán plantel Chenkú
* Preparatoria Estatal No.3 de la CTM
* Preparatoria Estatal No 8 "Carlos Castillo Peraza"
Thank you for your interest and, most importantly, for your generosity. We receive no financial assistance from the government and rely 100% on your help, with 77 cents of every dollar going directly to our programs. Please pledge a donation so that we can continue our crucial work. Thank you!
Gracias por su interés, y aún más importante, su generosidad. No recibimos ninguna asistencia económica del Gobierno y dependemos 100% de la generosidad de quienes nos apoyan. 77 centavos de cada dólar va directamente a nuestros programas. Le invitamos a donar a nuestra causa para que podamos seguir con nuestros labores tan esenciales. ¡Gracias!
Dr. Carlos Cabrera, Executive Director, Fundación BAI
Thank you for supporting BAI, but most importantly, thank you for Making a Difference!
Please feel free to share our Newsletter!
Gracias por apoyar a Fundación BAI, pero sobre todo, gracias por ¡Marcar la diferencia!
Por favor, ¡siéntete libre de compartir nuestro boletín!
Elizabeth Urias
Public Relations - Relaciones Públicas
We would like to thank our generous sponsors. Why not join them? Packages start from just 3,000 pesos and include some great benefits such as complimentary tickets to one of our main events, major acknowledgments, and website and social media visibility.
Queremos agradecer a nuestros generosos patrocinadores. ¡Súmate a ellos! Los paquetes empiezan desde tan sólo 3,000 pesos e incluyan increíbles beneficios tanto como boletos de cortesía para uno de nuestros principales eventos, reconocimiento especial y visibilidad en nuestro sitio web y medios sociales.
Thank you for reading & sharing our newsletter. You will receive the next one in around 3 months. PLEASE ADD newsletter@fundacionbai.mx to your contacts list now.
Gracias por leer y compartir nuestro boletín. Recibirás el siguiente dentro de alrededor de 3 meses. Por favor, agrega newsletter@fundacionbai.mx a su lista de contacto ahora.
BAI Education & Prevention Center, Avenida Yucatán, Calle 17 No. 655 Depto C x 60 Fracc. Jardines de Mérida, Yucatán, México, CP 97135 Tel: (999) 923-4689
FREE RAPID HIV TESTS ARE AVAILABLE IN COMPLETE CONFIDENCE
PRUEBAS DE VIH DISPONIBLES - RÁPIDAS Y TOTALMENTE CONFIDENCIALES
© Fundación BAI 2019