Join us for the International Lung Cancer Survivorship Conference
Spots are filling up fast — register now!
This unique conference, designed by and for people diagnosed with lung cancer and their caregivers, is made up of three simultaneous summits: the HOPE Summit for patients who are first-time attendees or want to learn the basics; the COPE Summit for caregivers; and the Survivorship Summit for advocates and survivors who are interested in more advanced topics. It has been described by past attendees as "transformational."
There are opportunities to connect with other survivors, hear from world-renowned researchers on the latest treatments, and learn about ways to manage your disease and your lung cancer experience.
LUNGevity has launched a new website for ILCSC (www.LUNGevity.org/ILCSC), where you can find details about this year's event. There's information on the educational tracks and sessions, special events at the conference, and answers to many other questions!
Check out the new website and decide if ILCSC is right for you. Registration is open and available here. We can't wait to see you in Washington, DC, on April 26-28!
Removing barriers to biomarker testing
LUNGevity hosts meetings to ensure access for patients with lung cancer
In March, LUNGevity convened two roundtables to identify the most effective means of overcoming barriers to biomarker testing for patients. LUNGevity has long been an advocate for making biomarker testing more accessible in order to advance patient access to precision medicine, and the Roundtables bring together key stakeholders to help make this a reality.
Pan Tumor Patient Advocacy Best Practices Roundtable
This roundtable, held on Friday, March 8, included 10 patient advocacy groups and two professional societies that have expertise in biomarker testing advocacy for their patient and provider communities. Throughout the day-long meeting, best practices were shared, and discussion followed on how to overcome barriers to biomarker testing and precision medicine. A whitepaper with next steps will be forthcoming.
Nursing and Nurse Navigator Roundtable
On Saturday, March 9, this roundtable convened nurses, nurse navigators and social workers who worked in academic settings, community oncology clinics, and with underserved and rural populations. The meeting was held to identify barriers nurses and nurse navigators face when discussing biomarker testing with their patients who have advanced-stage, non-small cell lung cancer (NSCLC) and to discuss potential solutions.
We will use the results of the meeting to continue working on solutions to ensure nurses/navigators are better equipped to support patient needs for biomarker testing.
LUNGevity strives to ensure that getting the right treatment or care plan at the right time is possible for all lung cancer patients, and both aspects of this goal require comprehensive biomarker testing as a first step. We will report on follow-on collaborations and future meetings that will help us reach this goal.
Nominate someone for LUNGevity Spotlight
We are pleased to announce the addition of a new blog series, LUNGevity Spotlight, as part of our Voices from the Community blogs.
LUNGevity Spotlight is a way to highlight people who are making a positive impact in the LUNGevity community.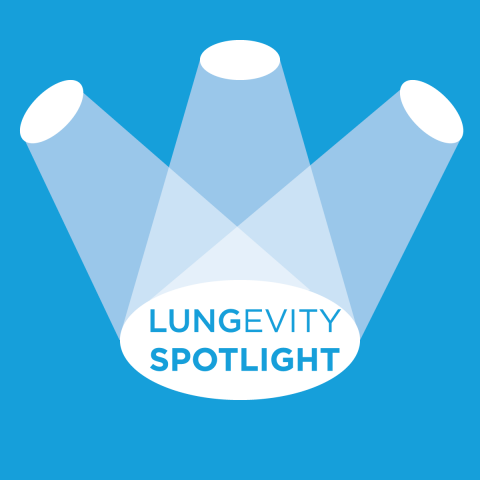 We hope that these stories of people living with lung cancer, caregivers, volunteers, and fundraisers will inspire and encourage many more to get involved and help people live better with lung cancer.
Check out our most recent Spotlight featuring James Hiter. You can also nominate someone in the LUNGevity community to be featured!
Musical Celebration of Hope Gala in Washington, DC
Join us on Thursday, April 25, at the Andrew W. Mellon Auditorium in Washington, DC, for LUNGevity's Musical Celebration of Hope Gala, an extraordinary evening of hope, progress, and inspiration, as we strive to create a world in which no one dies of lung cancer. This year's 1980s musical theme will make it a night to remember.
Learn more and get your tickets!
Nutrition Twitter Chat
LUNGevity's Twitter Chats bring together experts, advocates, caregivers, and people living with lung cancer to discuss a variety of issues impacting the lung cancer community.
On Wednesday, March 27, at 8:00 pm ET, we'll be chatting with Tasha Feilke, an oncology dietitian from Savor Health, about Lung Cancer & Nutrition. Join or follow the conversation on Twitter using the hashtag #lcexperts!