Chairman's Corner
Greetings! As chairman of the IEEE Industry Standards and Technology (IEEE-ISTO) Federation, I am pleased to bring you the inaugural edition of the Chairman's Corner. A new section of Inside IEEE-ISTO, the Chairman's Corner, will focus on major news and events happening within the IEEE-ISTO Federation.
One distinct benefit of IEEE-ISTO Federation membership is the ability to participate in cross-program activities and learn from the experiences of the many IEEE-ISTO programs. Following on the heels of the IEEE-ISTO Annual Member Meeting held this past February, I'm excited to announce the 2016 ISTO Member Caucus. On 11 October 2016, join the other IEEE-ISTO Federation participants for a virtual event as they share strategies for gaining market adoption, membership engagement, and industry recognition.
Details are still being finalized and a formal announcement will follow in the very near future. For now, please save the date -- 11 October 2016 from 12:00-1:30 P.M. EDT! In the meantime, have a safe, happy, and productive summer.
With Regards,
Don Wright
Chairman, IEEE Industry Standards and Technology Organization
MIPI DevCon 2016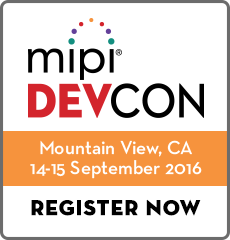 Join MIPI Alliance this 14-15 September at the Computer History Museum in Mountain View, CA for its first MIPI Developers Conference. Open to all industry representatives, press, and analysts, MIPI DevCon 2016 will provide developers and implementers of MIPI Specifications a forum for training, education, and networking.
MIPI Alliance Working Group Chairs and other MIPI experts will lead the sessions providing implementation experiences, use cases, and application examples from a technical perspective.
Register for MIPI DevCon 2016 today.
IEEE-ISTO Board of Directors Update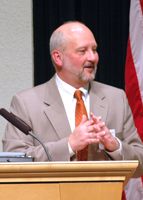 Gerry Lane, IEEE-ISTO director and past chairman, recently retired from IBM. In recent roles with IBM, Gerry directed IBM's internal and external standards programs, including intellectual property commitments, legal issues, and policy negotiations with a multitude of standards, consortia and special interest groups. Gerry also directed skilled technical and legal professionals who advise the corporation on open source technology, issues and trends.
Gerry will remain on the IEEE-ISTO Board as an independent consultant. Congratulations Gerry! Enjoy your retirement.
Joining the IEEE-ISTO Board of Directors, is Myron Slota, IBM.
Myron spent over thirty years in technology and held a variety of leadership positions including technical, program management, business development, and personnel management leading teams of engineers and managers.
His career spanned silicon technology development, OEM business development, microprocessor design and development, and most recently open standards.
Welcome Myron!
New Video Overview of the TALQ Consortium Certification Process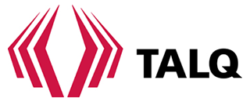 In 2012 leading lighting industry players founded the TALQ Consortium to develop the TALQ Interface as global standard to connect and manage heterogeneous outdoor lighting networks. It guarantees full interoperability of outdoor lighting hardware and software from different vendors.
After finalising the TALQ test tool, the test procedures and the successful first plug fest in December 2015, first systems are expected to be certified in 2016.
To support and ease tendering processes, the TALQ Consortium publishes the Pocket Guide for Smart Outdoor Lighting Tenders. The document provides a comprehensive overview over the state-of-the-art technical requirements. Wording examples assure complete and smart tendering documents. The Pocket Guide for Smart Street Lighting Tenders can be requested at the TALQ Consortium and is free of charge.
Watch the TALQ Consortium Certification Process video in English, German, or Spanish today.
Wireless Charging of Consumer Electronics: Rubbish Heap or Mass Adoption?
Remember Digital Audio Tape (DAT)? How about the Apple Newton? Whatever happened to Betamax?
While these disruptive technologies all seemed like great ideas at the time, today they exist mostly in museums or landfills. For a variety of reasons – they were too expensive, something better came along, they were poorly marketed or executed – they never 'crossed the chasm' from early the adopters to mainstream consumers. Today, wireless charging for mobile consumer devices is a technology that is receiving a lot of attention. Some are asking if is this just a nice option or something now so fundamental so as to be included in the must-have feature-list.
Read the full article at IEEE Standards University.
Zhaga COB specification gains traction
Zhaga Consortium has seen an upsurge in the number of COB manufacturers that are now supplying products based on Zhaga Book 12, the consortium's specification for COB LED arrays.
Published in March 2016, Book 12 defines a family of 6 rectangular and square COB modules with different dimensions. A range of light-emitting surface (LES) diameters is possible for each module size.
Since the planning stage for Book 12, Zhaga has monitored the number of manufacturers that are supporting specific dimensions. In this period, the average number of manufacturers that are supporting the six Zhaga dimensions has increased by 50%, while the number supporting non-Zhaga dimensions has remained approximately constant.
Read more about Book 12 on the Zhaga website.
VoiceXML Forum Announces Public Launch of Its VoiceXML 2.1 Platform Certification Program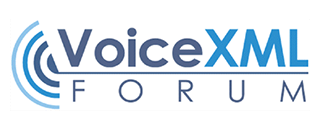 The VoiceXML Forum, a global industry organization focused on accelerating the adoption of VoiceXML, speech recognition and related technologies and standards, recently announced the public launch of its VoiceXML 2.1 Platform Certification Program. VoiceXML Forum members Nuance Communications, Loquendo (a Telecom Italia company), and Genesys (an Alcatel-Lucent company) have undergone testing and successfully completed this certification program.
Check out the program details on the VoiceXML Forum website.
The InLocation Alliance Partners with The Open Geospatial Consortium and i-Locate to Deliver a Comprehensive Use Case White Paper for Indoor Positioning
The InLocation Alliance (ILA) has announced the publication of a comprehensive Use Case White Paper written with the Open Geospatial Consortium (OGC) and the European Union's i-Locate Project. The white paper is based on the 2016 InLocation Alliance Use Case Survey promoted by ILA, OGC, i-Locate and the Location Based Marketing Association to members, participants and the general public that resulted in over 150 results.
The white paper provides insight to thought leaders of the opportunities afforded by indoor location based services and technical solutions being developed in the ecosystem.
Download the white paper today.
---
SAMPLING OF IEEE-ISTO Programs