A Message From the Principal
Dear valued member of the PLC community,
Over the last two weeks, I have had a number of conversations with young people about people who inspire them, and the importance of inspiring others.
The dictionary defines inspiration as: "the process of being mentally stimulated to do or feel something (esp creative)".
Inspiration can be challenging to understand and describe because what inspires one person may not have the same or any relevance for another. I think we often believe that inspiration needs to come from people who are famous or well known, people in the media, and for young people today it often comes from those they see on social media, in particular.
In my conversations over the last two weeks, what I have found reaffirming is how many of our young people seek inspiration in family members – mum, dad, siblings, grandparents, aunties, and uncles. It reminded me of the importance of not forgetting to see what is in front of us, or more importantly who is right in front of us.
Of course, great inspiration will also come from those who demonstrate and achieve aspirational dreams and recently a video of Judge Ketanji Brown Jackson was shared with me by Mr Varndell that encouraged me to further explore her life.
Ketanji Brown Jackson is an American attorney and jurist who has served as a federal judge on the United States Court of Appeals for the District of Columbia Circuit since 2021. She is a current nominee for the Supreme Court, awaiting Senate confirmation. Judge Jackson sits on the precipice of being the first African American woman to be appointed as a judge to the US Supreme Court. As I read the news last night, a US Senate panel still remains deadlocked on her approval.
There are many things that are inspiring about Judge Jackson and her achievements to date, whether her appointment is approved or not. But what stands out to me, when I look at what I hope for each of your children as they complete their education and leave PLC, is a willingness to be vulnerable while demonstrating great strength and courage. In essence, a woman who is honest enough with herself to own herself for who she is. A woman who has no interest in comparing herself to others but who is humble about her own achievements – an achievement that could see her make history.
In the video of Judge Ketanji Brown Jackson, she shares her advice to young people, provided during her confirmation hearing.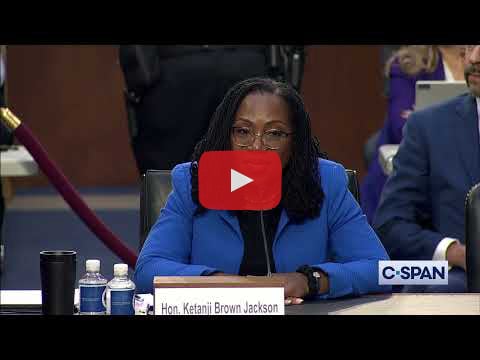 We will not all achieve the heights of a Supreme Court Judge, and we shouldn't all want to achieve this.
But we can invest in our futures and in the futures of the young people who sit in our classrooms every day. We can all invest in a belief that, if they work hard, they can each achieve their own dreams and aspirations.
We are living in a time when it is so important to override the fear created by the pandemic, the war in Ukraine, and natural disasters in our own country to instil a sense of hope for the future. To encourage our young people to think beyond the moment and now – to aspire to the bright futures that I have no doubt they each have in front of them.
It is an important time to encourage our young people to persevere, and we have seen great perseverance in our students, our staff, and our broader community this term. I would like to thank our whole community for your patience and support this term, I appreciate that it has not been an easy time and you have often received information with little notice. I would also like to thank our students for trying hard to remain positive and engaged in their learning.
I would also like to acknowledge and thank our staff, whose commitment to the School and our students has not waivered. I have had the privilege of seeing the work that has gone on in the background to maintain learning for students unable to attend school, to maintain the running of our Boarding House and our Health Centre. There is not an area of the school that has not had additional challenges this term and the efforts of staff in all areas of the school this term have been nothing short of remarkable.
I have no doubt that everyone is looking forward to the two-week break ahead. I know many members of our community will be seeing family members and friends that they have not been able to see for months (possibly years) and I do hope that those reunions are a reminder of all that we have to be grateful for; a sign that restrictions will ease and life will eventually get back to normal. I know for myself, on Sunday I will see my mum for the first time in nearly three years and I am just looking forward to the opportunity to see her in person and to give her a hug.
I wish everyone all the best for the break and look forward to seeing everyone back on campus for Term 2.
- Cate Begbie – Principal
Thank You
My sincere thanks to the community for your support this term. It has been a term like no other and we have been fortunate enough to take part in numerous activities in school. Considering in the rest of the world, many of our family, friends and colleagues have had two years of extreme disruption, I can only feel gratitude.
The students have worked brilliantly this term, they have adapted and enjoyed being at school. We look forward to our parents being able to return to the campus next term with attendance at single year level assemblies and parent-teacher meetings possible within COVID-safe guidelines from Tuesday 26 April.
I wish our entire community a safe, happy and Holy Easter and we look forward to the students' return on Wednesday 27 April.
Crazy Hair and Comfy Clothes - Tomorrow
A reminder we have our celebratory crazy hair and comfy clothes day tomorrow.
Can we please request no coloured hair sprays or hair glitter. Previous experience has demonstrated these look great on arrival, but become very difficult to manage as the day goes on.
End of Term
Tomorrow the Junior School will finish at the following times:
Kindy and Pre-Primary will be dismissed at 12.45 pm; and

Years 1 to 6 will be dismissed at 1.00 pm.
If your family requires supervision until 3.30 pm, please contact Junior School Reception on (08) 9424 6428.
Junior School Art in Term 2
Today, Mrs Colleen Garland commences her Long Service Leave for Term 2. We wish her a restful time in the coming months.
Next term, we will have Ms Kelsey Pearce join us to take on this role. Ms Pearce most recently has taught in the Junior School at Bright College in Victoria.
Term 2 Co-curricular Enrolment
Enrolment for Term 2 Co-curricular activities are now live!
Some activities have limited spaces available, so please enrol promptly to secure your place.
- Richard Wright – Head of Junior School
Easter Service
Tomorrow our students will begin their day with PLC's first virtual Easter Service. The recording will be made available to our community to enjoy and in particular to our Old Collegians who attend in person each year. The message of the service is very timely and I do wish you all our families a wonderful, relaxing and safe Easter break.
Term 1 Early Finish
A reminder that we will finish the school day at 1.00 pm this Friday.
Please contact me directly if your daughter will need to stay on campus after this time.
Library Closed for School Holidays
We understand that many students like to use the Library during the school holidays, but due to COVID-19 restrictions and in the interest of keeping our community safe, this is not something we can accommodate over the Term 1 holidays. The decision to close the Library for the holidays was made after careful consideration and we understand that this may cause significant frustration. We apologise for the inconvenience and thank you for your continued understanding.
Talent Show
Last night, our Year 12 students, led by Head Prefect Edwina Mactier and Deputy Head Prefect Sophya Thomas, successfully organised a special Year 12 talent show and raised just under $2,000 for Ukraine refugees via the UNHCR.
This is a great example of our students embracing the challenges of COVID-19 restrictions and adapting their plans to ensure that, no matter what, the sense of community at PLC shines through. With the further easing of restrictions, we hope that in the future we will be able to hold events that include the entire school community.
Remote Learning
The Senior School campus has been a little quieter lately with a number of students learning remotely. Despite the challenges that this poses, I must say I have been impressed with the level of commitment these students have shown to their education and the way in which our teachers have embraced the use of technology in their lessons. I do hope that any of our families who are isolating or have contracted COVID-19 stay safe, healthy and make a speedy recovery.
Term 2 Co-curricular Enrolment
Enrolment for Term 2 Co-curricular activities is now open!
Some activities have limited spaces available, so please enrol promptly to secure your place.
Term 2 Co-curricular Sport
Students commenced trials for IGSSA Hockey and Netball this term. Further trials will be held in Term 2 providing opportunities for students that were absent due to isolation.
Draft Term 2 Co-curricular sport schedules can be accessed by clicking on the following links: IGSSA Netball, IGSSA Hockey, Cross Country. Please note, to be eligible to represent PLC at IGSSA sports, students must commit to both training and all matches.
Any questions in relation to co-curricular sport, please contact Mr Sam Maxwell, Head of Sport at sam.maxwell@plc.wa.edu.au.
- Rebecca Watts – Head of Senior School
Inter-House Cross Country Carnival
Date: Friday 29 April

Venue: City Beach Ovals
Activities Galore
As we head toward the finish line, the girls continue to impress us with their resilience and enthusiasm. While there were only a third of students in the Boarding House last weekend, the girls still managed to go to Coogee Beach, Kings Park, go on various food outings in Fremantle, Claremont, and Cottesloe and also enjoy a night swim in the PLC Pool.
Students enjoyed movie nights and spent time making entries for our annual Easter colouring-in competition.
Year Group Leaders
We are also very excited to announce our new Year Group Leaders, listed below. We look forward to getting these girls involved in all things boarding and developing their leadership skills.
Congratulations to:
Year 7: Jada & Maggie
Year 8: Mietta & Poppy T
Year 9: Zahra & Emily
Year 10: Sydney & Charly
Year 11: Tasmin & Mary
Happy Easter
Lastly, we would like to wish all of our boarding families a safe and happy holiday.
- Ms Edwards – Director of Boarding
~ and ~
Katherine Hazlewood – Deputy of Wellbeing
and Pastoral Care
Bindaring Clothing Collection
Do you have good quality clothing you no longer want?
It's time to have a clear out of your wardrobes because the Bindaring Clothing Sale is on again soon and they are wanting:
Good quality clean clothes for men, women, and children; and

Accessories such as bags, belts, shoes, and jewellery in good condition.
From Tuesday 26 April to Friday 6 May 2022 the School will be collecting these items with details to follow. Items will be collected in adherence with COVID-safe guidelines.
A Reflection from the Psychologist
At the end of each school term, it is my habit to reflect on the term that has passed. The challenge always is how to do this in an open, non-judgemental way that allows me to learn and grow from the many experiences that the kaleidoscope of life in a school environment brings. (Truthfully, this is not always easy to do and can take practise and persistence). What is my focus or perspective going to be while engaging in this reflection?
As I ponder this question, I happen to notice the flowers outside my window and am filled with appreciation for their tenacity and gratitude for their beauty. They have survived the intense heat of a record-breaking hot summer. There it is – the answer to my question is right in front of me! Coming from a place of gratitude, consciously choosing to focus on and appreciate the little things that I feel grateful for has the power to enhance my mood, energize me and fill me with hope for the future.
The great thing is that research backs my "aha moment". It shows that practicing an attitude of gratitude enhances mental and physical health. It is a skill and like all other skills, gratitude needs to be practiced. What better time than the upcoming holiday to start / resume / continue practicing?
The links below offer some basic activities and information on practicing gratitude and appreciating the little things:
- Daleen Engelbrecht – Lead Psychologist
Uniform Shop
Due to COVID-19 restrictions, the PLC Uniform Shop is no longer accepting walk-ins and instead, customers must book an appointment. To book an appointment, please call the Uniform Shop on (08) 9460 6243.
For your convenience, the Uniform Shop will also be open on the following two days in the school holidays for bookings only:
PLC Parents Fund
Each year, as a result of various fundraising activities undertaken by PLC Parents (including Open Garden Day), funds are made available to be distributed within the School. PLC Parents is very proud to support the school community by means of this fund.
The objective of the fund is to invest in projects, equipment and programmes which further enhance the educational and developmental opportunities available to PLC students.
PLC Parents Fund applications may be submitted by students, parents and staff and are reviewed by the Principal, Ms Cate Begbie. Approved applications are presented and funding is allocated at the Term 2 PLC Parents Meeting on Tuesday 10 May 2022.
To submit an application, please click the button below.
Applications are open now and close on Friday 15 April. Please email your completed application to cande@plc.wa.edu.au.
OCA Art Exhibition - Rescheduled Date
The Old Collegian's Association is pleased to confirm the OCA Art Exhibition (originally scheduled for May 2022) will now go ahead on the new dates of Friday 26 August to Sunday 28 August 2022. This popular annual event continues to be a celebration of the creativity and vitality of the arts within the PLC community.
The event committee continues to accept Artist Registrations. Click here to register.
Opening Night Cocktail Party
Date: Friday 26 August
Time: 6.00 pm – 9.00 pm
Tickets will be on sale closer to the date.
Exhibition Open
Dates: Saturday 27 August and Sunday 28 August
Time: 10.00 am – 4.00 pm
Save the Date - Open Garden Day 2022
Explore some of Peppermint Grove's most spectacular gardens as they blossom in spring, peruse the market stalls, join in workshops, enjoy some fabulous local entertainment – and more to be announced!
Date: Friday 21 October 2022
Time: 10.00 am – 2.00 pm
Venue: Magnificent Peppermint Grove gardens around PLC Perth.
Track and Field Champs
Three students have recently competed at the Australian Track and Field Championships at Sydney Olympic Park and come away with outstanding results.
The competition which ran from Saturday 26 March to Sunday 3 April saw Annie Pfeiffer (Year 12) win Gold in the Women's 4X400 m Relay and Bronze in the Women's U20 400 m with a World Junior Qualifying time of 54.70.
Sienna Hanikeri (Year 12) won Bronze in the U18 3000 m with a time of 9:58.82 and 5th in the U18 2000 m Steeplechase with a time of 7:26:18.
Libby Hutton (Year 11) has come 6th in the U17 Shotput with a throw of 12.21 m and 8th in Discus with a throw of 35.06 m.
We are so proud of each and every one of these athletes and can't wait to see what the rest of 2022 will hold for them.
Photo credits: Athletics West