Hello friends,
What does respect look like?
Respect looks like Ian Roberts, a former Manly player and gay rights advocate, demonstrating a collegial desire for openness and discussion with the Manly players boycotting their club's Pride Jersey. Addressing the players directly in an opinion article, he wrote: "You live lives where you are respected in many ways for the fine football you play. Can you not understand the pain visited upon gay people who, no matter what they do, are disrespected simply for being gay? The simple fact is, your actions have added to that disrespect. We want, and deserve, the same respect we extend to you. Again, we need to keep talking. I'd love to sit down with all of you. I am available, if you are. Let's talk."
Respect looks like Des Hasler authentically apologising on behalf of Manly for the botched roll-out of his club's Pride Jersey. Acknowledging the hurt it will cause for the LGBTQ community while also having compassion for the boycotting players who were not consulted or their views considered.
Respect looks like Ian Roberts' response, writing: "To Des Hasler, the Manly coach and my old teammate – you couldn't have done more. You supported me when I came out as gay long ago, though you'd known about it before that, and you have supported me since. This must have been very difficult for you, and I appreciate how you've done everything you can to put it right."
The NRL and Manly have the opportunity to do what people and organisations everywhere should strive to do - to understand and realise the power of owning one's mistakes, to learn from them, to accept responsibility and accountability for one's actions and to chart a different and constructive advocacy pathway into the future.
Tarik Bayrakli
Manager, Club Respect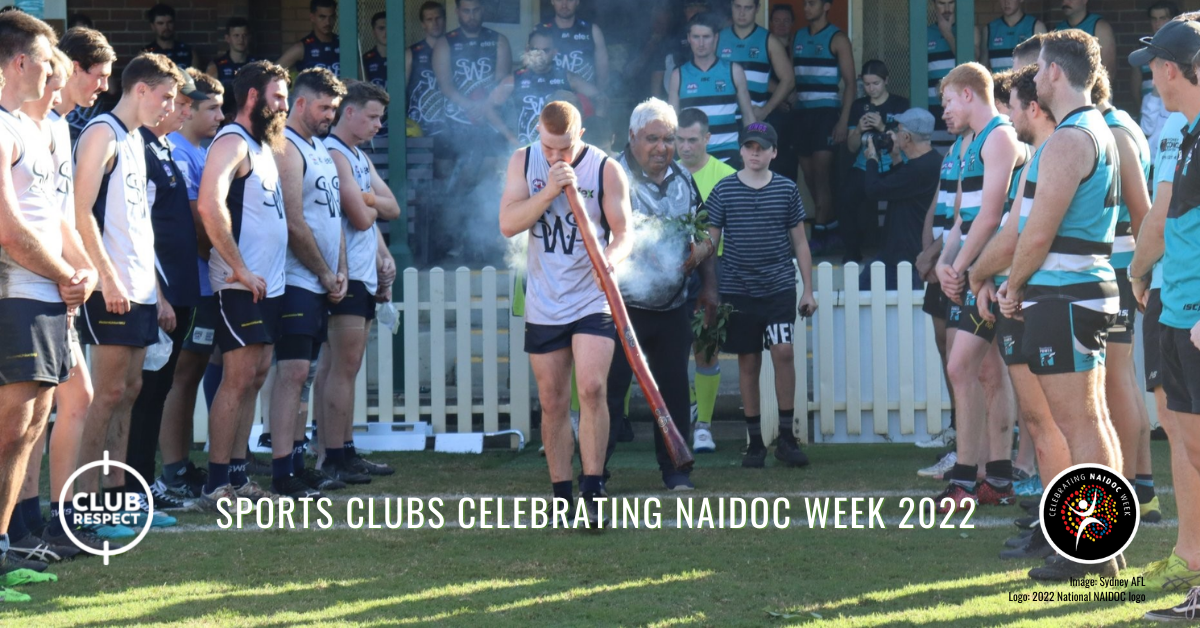 Sports Clubs celebrating NAIDOC Week 2022 | Club Respect
Community sports clubs have a huge part to play in shaping the culture of our communities, including creating inclusive environments for indigenous participation.
NAIDOC Week events were held across the country to celebrate and recognise the history, culture and achievements of Aboriginal and Torres Strait Islander peoples.
During NAIDOC Week we curated a list of celebrations that were hosted by sports clubs across the country. Well done to all involved.
Former AFL Umpire Shane McInerney on dissent towards Umpires "The real story here is around the crisis in trying to attract and retain umpires to service the game at the local levels, which at the moment are about 6,000 umpires short."

AFL player behaviour has played a role in the shortage of umpires crisis. Will the current crackdown on AFL player dissent flow down as benefits to the grassroots level?
Respect for umpires starts with an understanding that they're more than just a whistle. They have families and live lives outside of the game and they are an essential service in competitive sport. They care about doing a good job and like the players on the field, they sometimes make mistakes.

AFL Umpire Matt Stevic is one of the finest Umpires the game has produced and notably involved in the physical contact incident involving Toby Greene in the 2021 Finals series.

Journalist Konrad Marshall followed him around for a week to get a glimpse of life for an AFL umpire outside of the game: "Stevic's tale was about his mum, a single parent who supported him and his older brother with three part-time jobs. She was a nurse and aerobics instructor, and took in ironing and washing, too, including cleaning the warm-up jackets for the Leongatha Football Club,"

"She gets $1 a jacket." Marshall adds.

Stevic's life changed forever when his mother was in an accident: "After his mother was hit by a car while shopping one day, Stevic, then 15, found her in hospital moaning and bloodied, with her pelvis, knee and shoulder smashed.

"I saw them cut her clothes off her. It was the most confronting thing I'd seen in my life."

According to Marshall: "She stayed in hospital for nine months, while Stevic learnt to cook and clean and continued to umpire for extra income, growing up within that trauma."

Stevic added: "Mum taught me the value of working damn hard to get everything you want – to be independent and do shit yourself. She's a warrior as a person,"

"I want to aspire to be the best, but there's also this element of wanting to repay her, and make her proud."

Umpires deserve respect. When we know their backstory, we're more likely to understand the complexity of their role, their passions and what really drives them.

And knowing their backstory allows us to empathise with their common humanity and respect them.

Keep up the great work Matt Stevic!

🔗 For the full article, by Konrad Marshall: "It was tolerated back then – and it won't be now': The umpires fighting back"
📷: Tony McDonough
When is the abuse of match officials going to be treated like a crisis? A community football match in Mildura descended into chaos last weekend as the referee was knocked unconscious and airlifted to a Melbourne hospital. The disgraceful behaviour led to other match officials also being targeted and beaten. A pitch invasion followed, resulting in a brawl between players, coaches and spectators.

The grim reality is that the match officials were bashed in their workplace where they are providing an essential service. The families of the victims will be wondering if enough was done to protect their loved ones and it is difficult to see these match officials returning after such an ordeal.

How can we protect referees in soccer matches and create a safe environment for them to do their job without fear of abuse or physical assaults?

🔗 "Soccer brawl in Mildura results in three people sent to hospital, police charge 30yo man"
Great to see Essendon captain Dyson Heppell adopting a positive attitude to umpires and making a link to the impact that abuse of umpires has on the growth of the game at grassroots level.

"It's really important, the message that we convey on the ground and the respect that we have for the umpires, because they do do an amazing job," Heppell said.

"We do need grassroots footy continuing and young kids wanting to umpire games and feel that they are respected"
Fun Fact: Referees are human too! Check out Danish referee Nils Heer who blows the whistle for a handball, only to realise in horror that he should have played 'advantage' for what was a clear opportunity for the attacking team.

After realising the impact of his blunder, Heer, obviously a big fan of the game, threw himself to the ground like an annoyed striker showing us a rare insight of the humility and passion of a match official doing their best and wanting the best for the game.

Players, coaches and fans are quick to blame referee mistakes for a loss but forget the hundreds of mistakes players make in the same match.

And how easily overlooked is it the fact that referees are fans of a flowing game and provide an essential service to ensure the game's survival.

It would be a safer and fairer sporting world where a referee can acknowledge an error as it happens and not be abused by players, coaches or fans.
Club Respect is a national harm-prevention initiative by the Dugdale Trust for Women & Girls, of which the Victorian Women's Trust is Trustee
Club Respect
9am-5pm | (03) 9642 0422 | clubrespect.org.au
Victorian Women's Trust Ltd | ABN 20 006 403 256
The Dugdale Trust for Women & Girls | ABN 45 242 265 341
We respectfully acknowledge the wisdom of Aboriginal and Torres Strait Islander peoples and their custodianship of the lands and waterways.