2017 Annual Chapter Survey
It's that time of year again! We want to hear about your chapter's exciting events and programs from the past year. Annual chapter reports help us tell the story of Slow Food across the country by highlighting what chapters are doing on the ground. It's also your chance to tell us how to contact you, what's working and what's not.
The deadline for submitting the annual chapter survey is Wednesday, February 14, 2018. In order to be in good standing and be listed on our website, every chapter needs to fill out this survey and file taxes.
We recommend preparing your answers ahead of time using this PDF before submitting the report. If you have any questions about completing the report, please email us.
On Giving Tuesday, November 28, a donation of any amount to Slow Food will make you a member. Can you give $1? Or $100? We want Slow Food membership accessible to everyone, so resist the commercials for Black Friday and become a member of Slow Food! Be on the lookout for a follow-up email next week with more details and Give What You Can Day link.
Apply to be a Slow Food Nations Exhibitor!
We would like to invite your Slow Food chapter to join us as an exhibitor in the Taste Marketplace next summer at Slow Food Nations in Denver from July 13-15, 2018.
Exhibiting in the Taste Marketplace at Slow Food Nations is an opportunity for chapters to represent your region and partner with local companies to showcase your area's producers, experts and chefs.
Slow Food chapters will receive an exclusive discount. Learn more and complete an application here.
Slow Food Responds to Disaster: A Town Hall Call + Farm-to-School Webinar
If you weren't able to join, please enjoy the recordings of our October town hall calls.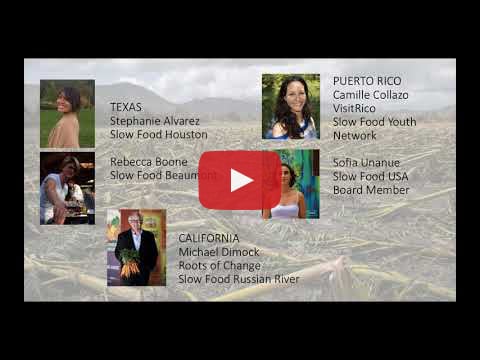 Between fires in California and hurricanes in Houston and Puerto Rico, this fall has seen farmers and food leaders scrambling to keep afloat. How is Slow Food responding to these natural disasters, and what is the role of good, clean and fair food in devastation?
In accordance with National Farm-to-School month, the panelists on this webinar discuss Farm-to-School practices in more detail while providing various resources to our Slow Food chapter leaders which they can participate to engage in local food sourcing to their communities and schools.
2018 Farm Bill: To help ensure that the 2018 Farm Bill aligns with our beliefs, Slow Food USA Executive Director, Richard McCarthy, and Slow Food State Governors sent a letter to key Congressional Leaders outlining our priorities for a Farm Bill that supports a Food Chain that is Good, Clean, and Fair for All. Read our priorities here.
Bristol Bay: As a follow-up to our call-to-action regarding the plight of Alaska's Bristol Bay, the home of the world's largest remaining salmon run, we are continuing to urge our Senators and Representatives to hold EPA Administrator Pruitt accountable. Please read the following letter and call or email your members of Congress.
Goodbye Judiann, Welcome Laura!
This month we are saying a big thank you & goodbye to our departing Slow Food State Governor Judiann Carmack-Fayyaz (NY). Judiann is a teacher of environmental design, botany, and farm to table classes at Bridgehampton School, where she manages the garden and greenhouse. She became Chair of Slow Food East End in 2013. Since then she has grown the chapter's membership, instituted several new programs and authored the Nutritious Delicious FoodBook, a free guide to help families navigate food confusion. Thank you Judiann for all that you have done for Slow Food USA!
While we are saying goodbye to one governor, we are welcoming Laura Luciano as the new State Governor of New York! Laura is a professional graphic designer and writes the blog Out East Foodie: a food blog that shares the edible stories of the forks of Long Island. Laura is one of the founders and coordinator for the Long Island Cheese Pumpkin Project, a squash that is on the Ark of Taste.
Laura became immersed with the Slow Food movement in 2013, the same year she, her husband Chris, an architect, and her dog Trixie designed and built their Energy Star Rated sustainable home Sheridan Green that has a rooftop garden filled with heirlooms and Ark of taste varieties. It is there that she hosts potlucks and dinner parties for like-minded people to come together to share stories, enjoy amazing food and drink and share inspiration in a great space. After attending Terra Madre in 2016 as a guest leader, she was elected to the board for Slow Food East End. There she shares her unwavering passion for biodiversity, seed sovereignty and coveting culinary traditions. Welcome Laura!
Slow Food Charleston Celebrates Ark of Taste Week
During the week of December 2nd, Slow Food Charleston celebrates the Ark of Taste week: a celebration that recognizes ingredients facing extinction and SF Charlestown's determination to spread awareness and grow Ark of Taste. There are a variety of events during the week, including a Luncheon and Panel Discussion on "Ark of Taste's place at the table and on the farm." The week-long celebration will end with the Third Annual Ark of Taste Celebration Dinner on Sunday, December 10th. Aligned with Terra Madre Day, the feast will honor and include ingredients of traditional Roman dishes. All benefits from the Ark of Taste week will benefit revitalization efforts for the Lemon Cling Peach, which Slow Food Charleston is planning to establish a new orchard of this favored peach variety in the near future. For more information, head to the event website.
"One cannot think well, love well, sleep well, if one has not dined well."


- Virginia Woolf