Quarterly Newsletter:
May 2022
Prevent the preventable: immunisation, a critical public health tool to be safeguarded
Two years since the WHO declared COVID-19 a pandemic, we have not yet achieved equitable global access to vaccines. This is despite having sufficient production of vaccines to meet the world's needs. The massive global vaccination campaign needed to achieve equitable access is weakened by a lack of resources and infrastructure.
Set against this backdrop, the impacts of the Russian invasion of Ukraine could amplify the threat of vaccine-preventable diseases even further –not limited to COVID-19. This terrible war has forced millions of refugees to flee, finding shelter and security in other European countries. However, past evidence has shown that viruses spread even more rapidly in the context of humanitarian and sanitary crises.
In these circumstances, Ukrainian refugees are at high risk of catching vaccine-preventable infections. Protecting their health from vaccine-preventable diseases should be a top priority. It is only with vaccination that we can ensure that the burden of the war is not intensified by that of serious preventable illness. This is the case not only for COVID-19 vaccines, but for other vaccines at all stages of life too – in Europe, routine vaccination programmes can prevent up to 20 life-threatening infections.
For our part as the vaccines industry, we are dedicated to helping ensure that all individuals are protected against vaccine-preventable diseases with continued access to the vaccines they need. We won't rest until every person gets access to the vaccines and medicines they need, wherever they are in the world.
As I have shared in a recent video, one crucial factor to protect the health of those fleeing war is ensuring low circulation of vaccine-preventable diseases in the countries welcoming refugees. This would create one less thing to worry about in a time of crisis, and critical resources could be re-allocated elsewhere.
Yet this is currently not the case. To an extent, this has been the result of COVID-19 – for example, the significant disruptions to national routine immunisation programmes that the pandemic caused. However, there has also been persistently high vaccine hesitancy in the countries neighbouring Ukraine. Today, we see the devastating increase of influenza cases reported in Europe, following the relaxation of COVID-19 preventative measures.
This demonstrates the importance of treating immunisation as a critical component of a resilient health system. Sustainable financing is needed to protect people's health –both in normal times and in times of crisis. This also needs to translate into high uptake, and efforts to counter hesitancy.
Another crucial factor is timely data monitoring vaccine coverage rates. This makes it possible to better anticipate the need for vaccines. Most vaccines take 12-36 months to manufacture – although some of the most complex multivalent vaccines take over 36 months.
It is crucial that policymakers acknowledge the gravity of this situation, taking what actions they can in the short-term, while also adopting a mid-and long-term view on strengthening national immunisation programmes. If not, the health of Ukrainian refugees as well as people from welcoming countries is at risk from vaccine-preventable diseases, and this could deplete our already-weakened health systems and exhausted health professionals.
Sibilia Quilici, Executive Director Vaccines Europe
€3,395, this is the cost (including administration) to protect an individual against up to 17 vaccine preventable diseases across their lifespan
79%, this is the increase in measles cases in the first two months of 2022 in comparison with the same period in 2021
30 million €, this is the budget allocated in the EU4Health work programme to support large scale vaccination, including Covid-19
Vaccines Europe External Engagement
From innovation to access, what does it take to have a sustainable vaccine ecosystem in Europe?
Follow Sibilia Quilici, Executive Director of Vaccines Europe, in the different external events listed here below to understand what is at stake.
On Vaccines Innovation
"IHI Launch Event -Introducing the Innovative Health Initiative: Europe's new partnership for health" - watch here
On Vaccines Specificities and Complexity
"EU-Africa Business forum" - to insist on the strong correlation between healthcare capacity and vaccination rates
"European Summit of Regions and Cities" organised by the European Committee of the Regions - watch here
"EU JAV final conference" where the team WP6 presented their conclusions and recommendations to strengthen the EU fight against vaccine-preventable diseases - more information and reports available here
"EU Health Webinar #WeStand with Ukraine" to show our support to Ukraine and to reiterate the importance for Member States to collaborate with the European Center for Disease and Prevention Control to mobilise support covering medical and public health needs for refugees and displaced persons
"DIA Europe 2022" where Sibilia chaired the session "Addressing the Medicine Shortages: A Multistakeholder Overview"
On The Value of Vaccination
"Hitting new heights: Improving vaccination uptake among patients with chronic conditions across Europe" report launch organised by the International Longevity Center UK and the Coalition for Life-course immunisation - listen here
the "Greece's agenda to combat cancer in a post-covid world" organised by the Economist Impact Events in collaboration with the Hellenic Society of Medical Oncology (HeSMO) and MSD Greece - watch here
Communications Highlights
What happened during this first part of the year? Did you miss something? We've got you covered!
We raised the attention of governments and policy makers on some key topics:
Open letter from the Influenza Steering Group calling for urgent action to address alarmingly low coverage rates for influenza vaccination
Due to the lockdown and social distancing measures taken to mitigate the COVID-19 pandemic, the 2020/21 influenza season saw influenza virus circulation dropping to very low levels. This prevention of COVID-19 transmission may have led to a decrease in herd immunity against future influenza virus infections, increasing the risk of a severe influenza season as societies open up again. Europeans are not being sufficiently protected and we are seeing alarmingly low vaccination coverage rates in some countries in the region. Read more here.
Getting the world vaccinated against COVID-19
Almost two years ago, on 11 March 2020, the WHO declared COVID-19 a global pandemic. The innovative biopharmaceutical industry focused its R&D efforts on searching for vaccines and treatments to fight the virus. For the common objective to vaccinate the world against COVID-19, five main elements matter. Discover them here.
One of them is ensuring equitable access to COVID-19 vaccines and the international pharmaceutical research-based industry has worked around the clock to support making it happen.
EFPIA and Vaccines Europe statement on the crisis in Ukraine
The immediate priority for our industry is to ensure that patients continue to get access to the medicines and vaccines they need. Read more in our joint statement.
We launched three campaigns:
Realising the Full Value of Vaccination
There has rarely been a more important time than today to explain what vaccines and vaccination can do through clear scientific evidence. Therefore, the question we asked ourselves was a simple one: how can we showcase the true value of vaccines in a way that is simple and easy to understand? We have illustrated it in three factsheets each focusing on a key area. Download them here!
The next generation of vaccines rely on improved market access in the EU
Across Europe, the time taken by a vaccine between the marketing authorisation and the moment it reaches the population is highly variable. Some countries ensure access in 2 years, but for others, it can take more than 6 years. Addressing these differences is essential for improving vaccine market access in the EU.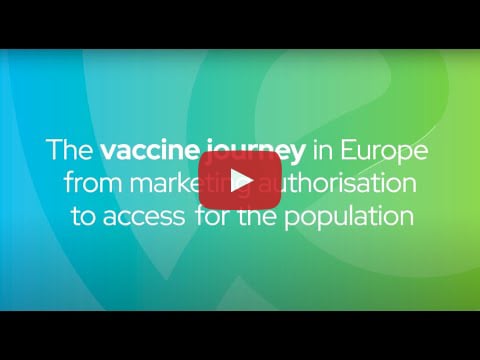 2022 European Immunisation Week
"No one knows exactly what the future holds, but what we do know is that widespread vaccination is crucial to ensure that people's health is protected in the event of a crisis." - Sibilia Quilici
Millions of refugees flew Ukraine in the last weeks. Due to the situation created by the war, they are more vulnerable to infectious diseases. We won't rest until vital medicines and vaccines reach the people who need them most.
Access our full European Immunisation Week communications toolkit here.
We welcomed a new member:
Welcome, Valneva!
In March, we were thrilled to welcome Valneva as a new Vaccines Europe member! Valneva is a specialty vaccine company focused on the development and commercialisation of prophylactic vaccines for infectious diseases with significant unmet medical need. Valneva's expertise added to the expertise of our 14 other members is key for driving all together a sustainable and resilient vaccines environment in Europe, protecting people against infectious diseases at all stages of life. Welcome Valneva team!
EU4Health Work Programme for 2022
The European Commission's EU4Health programme offers opportunities to leverage EU funding to overcome some of the main challenges related to vaccination in Europe. Through the programme, the EU will invest €5.3 billion between 2021-2027 to address healthcare system resilience. This all falls under the broader umbrella of an EU that does more to promote its citizens' health, including through the European Health Union.
These funds are already being put to use under the 2022 work plan, in support of post-COVID-19 recovery with vaccines and vaccination finding place in the four overarching strands: on crisis preparedness, disease prevention, health systems and healthcare workforce and digital. Cancer being considered a transversal strand. More specifically, the EU4Health Work Programme for 2022 devotes 30 million Euros to support large-scale vaccination in Member States.
Vaccines Europe welcomes these steps in the first full year of the programme's operationalisation. It is essential to adequately recognise the value of vaccination and take action – both at EU and national level – to increase vaccine uptake, notably in adult population. We hope that EU4Health will continue to be just as ambitious in each subsequent year of its duration, maintaining momentum currently being built up.
Find out more about Vaccines Europe's position on vaccine-preventable cancers and the role of vaccines fighting antimicrobial resistance.
In the past two years, COVID-19 has shown that a coordinated, prompt and harmonised response at EU level is vital to effectively tackle health emergencies across all Member States. The creation of HERA has been a first step to putting Europe on the front foot in addressing global health threats.
On 10 February 2022, the European Health Emergency Preparedness and Response Authority (HERA) presented its first annual work plan, which will have a budget of €1.3 billion in 2022 to prevent, prepare for and rapidly respond to cross-border health emergencies. Following the adoption of the 2022 work plan by the HERA Board, HERA will implement actions to strengthen preparedness and response capabilities across the Member States.
The HERA work plan sets out a number of ambitious deliverables for 2022, both in the context of the ongoing COVID-19 response and for preparedness for potential future health threats.
Vaccines Europe welcomes the efforts of the European Commission in preventing and preparing for future cross border health emergencies, and in detecting and responding to health threats. Moreover, Vaccines Europe recognises the importance of working closely with other EU and national health agencies, industry, research community, civil society and international partners to improve the EU's readiness for future health emergencies.
BECA Report endorsed by the European Parliament
Nearly three million people have been newly diagnosed with cancer and 1.27 million people died from cancer in the EU in 2020. This makes cancer the second leading cause of mortality after cardiovascular diseases. Vaccines play an essential role in preventing some types of cancer, such as HPV and Hepatitis B.
On 16 February 2022, the European Parliament's Plenary adopted the Special Committee on Beating Cancer (BECA) Committee's report on "Strengthening Europe in the fight against cancer".
Vaccines Europe applauds the adoption of the BECA report and appreciates the Parliament's rigorous efforts to ensure a meaningful implementation of the Beating Cancer Plan and a harmonised and comprehensive approach in the fight against cancer. We believe the BECA report will considerably contribute to the elimination of vaccine-preventable cancers in the EU.
In particular, we welcome the fact that the report calls for gender-neutral HPV vaccination programmes to be implemented in all Member States by 2030, and that it calls for 90% of girls to be fully vaccinated alongside a significant increase in the vaccination of boys.
However, we have concerns on the report's language about EU-level joint procurement of vaccines. While joint procurement of medical countermeasures has proved to be an effective tool in the context of pandemic, there are several reasons why its effects would be counterproductive for routine vaccinations –including those used to prevent certain cancers. Joint procurement is not a solution for more sustainable supply of or improved access to vaccines in Europe in general. Joint procurement should be an emergency mechanism to improve access to vaccines when purchase and supply cannot be ensured by other means as it does not take into account the challenges of manufacturing and local implementation of vaccination campaigns.
Find out more about Vaccines Europe position on Joint procurement of Vaccines and General principles for vaccines procurement.
Special Committee on COVID-19
On 10 March 2022, the creation of a Special Committee on COVID-19 was approved in a Plenary session of the European Parliament. The Committee is composed of 38 members, and it will last for 12 months, with a possible six-month extension. It is tasked with reviewing the lessons learned from the pandemic and formulating recommendations for Europe's response to the pandemic in the areas of health, democracy and fundamental rights, economy and society, and global relationships.
While the COVID-19 pandemic was principally a health crisis, it upended all sectors with dramatic and wide-ranging consequences. Therefore, the Special Committee has a wide mandate that goes far beyond health; but as far as health is concerned, the Special Committee will examine the EU Vaccine Strategy, the resilience of pharmaceutical supply chains and healthcare systems, and the mandates of HERA, the ECDC and the EMA. At the international level, the discussion could also focus on a possible international pandemic agreement and the EU's role in promoting global access to vaccines.
Vaccines Europe welcomes the engagement of the Parliament on each of these issues. The development of safe and effective COVID-19 vaccines at unprecedented speed has been a game-changer in controlling and beating the pandemic. It was indeed, thanks to unprecedented collaborations across the research-based pharmaceutical industry and among regulatory authorities which have allowed clinical development, manufacturing and rolling reviews to be carried out in parallel. Ultimately, shortening the timescale of bringing vaccines to the patients.
We also support initiatives by the Parliament to look beyond the COVID-19 pandemic and encourage the development of resilient healthcare systems that will be better prepared against future health threats. As vaccines play such an essential role in prevention and response to transmissible diseases, Vaccines Europe would like the members of this Committee to consider the particularities of vaccine development, manufacturing, and distribution. Indeed, policies that facilitate epidemiological data collection and further investment in lifelong immunisation are key to prepare Europe against future crisis.
Antimicrobial Resistance
Recommendation for greater action
Antimicrobial resistance (AMR) develops when bacteria, viruses, and parasites change over time and no longer respond to medicines making infections harder – or impossible – to treat. AMR increases the risk
of disease spread, severe illness and death, it direct impacts human and animal health and, due to higher costs of treatments and reduced productivity, it carries a heavy economic burden. It is estimated
that costs reach up to €1.5 billion per year in healthcare costs and productivity losses in the EU. AMR is a silent pandemic and it is responsible for an estimated 33,000 deaths per year in the EU.
The European Commission has set a strategic action plan to tackle the rise or return of highly infectious diseases. As part of the strategy, on the 24th of February 2022, the European Commission has launched a Call for
Evidence paving the way for a Council Recommendation on AMR. The call was open until the 24th of March 2022, and it aimed to set concrete objectives and activities to strengthen Member States' action against AMR.
The most straightforward way to reduce antimicrobial use is by preventing disease in the first place, particularly through use of vaccines. Evidence demonstrates that vaccines are critical in helping to combat the growing AMR crisis, by helping prevent both bacterial and viral diseases, as well as
commonly acquired bacterial infections, including hospital-acquired infections (HAIs).
This includes preventing bacterial infections (e.g. conjugate pneumococcal vaccines), as well as reducing the misuse of antibiotics by preventing viral diseases for which antibiotics are inappropriately prescribed (e.g. seasonal influenza vaccines).
Vaccines Europe welcomes the determination of the European Commission in tackling the consequences of AMR and it has responded to the Commission's Call for Evidence. Vaccines Europe believes that a true
'One Health' approach should give a more central place to vaccines in this important fight, and that only a coordinated action can maximize the impact of vaccination on combatting AMR.
Moreover, Vaccines Europe recognises the need to optimise the impact of vaccination on AMR, by increasing the uptake of existing vaccines, notably in adult population, and bringing to market new vaccines for dangerous pathogens, especially for those resistant to antimicrobial medicines.
Member States Best Practices
Poland's amazing role in protecting Ukrainian refugees
More than 2,5 million refugees arrived in Poland since the Russian invasion. Michal Byliniak, General Director of Infarma, the Employer's Union of Innovative Pharmaceutical Companies in Poland, explained to us how the absence of timely monitoring of vaccine coverage rates is complexifying the work to assess the real needs of the population facing this crisis and how Infarma is working tirelessly to ensure Ukrainian refugees access to the vaccines they may need.
What We Are Reading & Watching
A gaps-and-needs analysis of vaccine R&D in Europe: Recommendations to improve the research infrastructure
Prevention and control of infectious diseases in the context of Russia's aggression towards Ukraine by the European Centre for Disease Prevention and Control
Immunisation for old adults in Europe: scientific and social strategies report by the Federation of European Academies of Medicine
The EU-JAV Closing Conference brought together key speakers to present the works conducted since 2018 in the field of vaccination, particularly regarding international collaboration at a European level. With the participation of the European Commission, the DG Santé (DG for Health and Food Safety), the public health institutions and authorities from 20 countries, it afforded the opportunity to deliver recommendations and concrete tools for stronger responses to vaccination challenges, to promote long-lasting European cooperation against vaccine-preventable diseases, and therefore improve population health.