Outsider Art Fair, New York
2019 Outsider Art Fair, New York, photo by Olya Vysotskaya
January 16–19, 2020
The Outsider Art Fair has announced its list of exhibitors for the 2020 New York edition, along with new features including a redesigned floor plan and revamped café, three curated projects, special programs, and first-time exhibitors from Japan, India, and various U.S. cities. Participants for the 28th edition of the Fair include 61 exhibitors, representing 34 cities, from 9 countries, with 7 first-time galleries.
Among the first-timers are: ACM Gallery (Tokyo); Arushi Arts (New Delhi, India); bG Gallery (Santa Monica, CA); Howard Greenberg Gallery (New York); Koelsch Gallery (Houston); Kushino Terrace (Hiroshima, Japan); and Stephen Score Antiques (Beacon, MA). See full exhibitor list here.
Metropolitan Pavilion
125 West 18th Street (between 6th and 7th Avenues), New York, NY 10011
www.outsiderartfair.com
December 7–28, 2019
This Holiday Season, Pure Vision Arts will host "Pure Joy", an exhibition and holiday pop shop in a generously donated 2,000 sq. ft. storefront on the corner of 69th St. and Madison Ave. The shop will feature artwork by New Yorkers with autism and developmental disabilities who attend Pure Vision Arts.
824 Madison Avenue. New York, New York 10065
www.purevisionarts.org
Holiday Sale at Creative Growth, Oakland, CA
December 6, 2019 – January 17, 2020
Creative Growth Art Center's annual Holiday Studio Sale features original textiles, furniture, ceramics, rugs, woodwork, drawings, paintings, prints and more. Join the community, meet the artists and staff, shop for gifts and celebrate the transformative power of art.
Creative Growth Art Center
355 24th Street, Oakland, CA 94612
www.creativegrowth.org
until December 31, 2019
Galerie Art Crut Berlin presents works by Caroline Crozat.
Galerie Art Crut Berlin
Oranienburger Str. 27, 10117 Berlin, Germany
​www.art-cru.de
Rebecca Campeau in Montpellier
until December 31, 2019
Musée d'Art Brut/Montpellier presents a solo exhibition of works by painter, designer and sculptor, Rebecca Campeau.
Musée Art Brut / Montpellier
1 rue Beau Séjour, 34000 Montpellier, FRANCE
www.atelier-musee.com
Galerie Hervé Courtaigne, Paris
until January 4, 2020
La Galerie Herve Courtaigne's annual "Talismans" exhibition features works by outsider artists including French self-taught artist Ody Saban.
Galerie Hervé Courtaigne
53 rue de Seine, 75006 Paris
www.hervecourtaigne.com
until December 22, 2019
Hart Store, the curated pop-up art store by London's Hart Club, returns this month, featuring ethical gifts supporting neurodiverse artists and charities such as Headway East London, Heart n Soul and Artbox. Expect greetings cards, original artwork, limited edition prints, books, candles, ceramics and more. There will also be a focus on experiential gifts that can be redeemed in 2020 which include ceramics, screen printing, risograph, drawing and jewellery-making workshops.
Hart Club
95 Westminster Bridge Road, SE1 7HR
www.hartclub.org
Dedicated to women in outsider art, this special bumper issue features: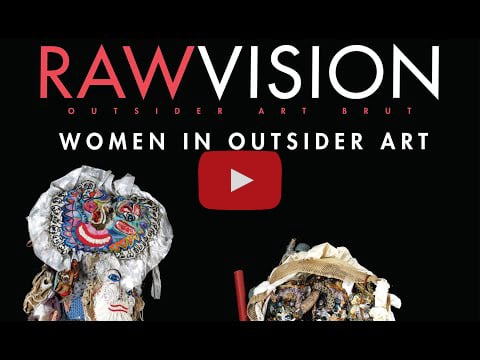 Raw Vision Short Film Competition
Below is Brett Long and Ian MacLeod's entry into the 2019 Raw Vision short film competition.
This film was made from photographs of a series of sculptures done by Jordan MacLachlan from 2005 to 2008. The sculptures often have multiple instances of each character in different poses. The entire work was bequeathed to the Art Gallery of Burlington by a private collector.