gallery gugging Exhibition:
"over above…" Leopold Strobl & Arnulf Rainer
From November 19, 2020 until March 7, 2021, gallery gugging invites you to the summit meeting of two exceptional Austrian artists of overpainting and overdrawing. with their exhibition "over above..."
The old master Arnulf Rainer meets the shooting star Leopold Strobl, who celebrates his 60th birthday this year and are presented by the gallery with a show of 60 works, which illuminates his entire artistic spectrum. They are presented together with 15 works by Arnulf Rainer, one of Austria's most famous artists.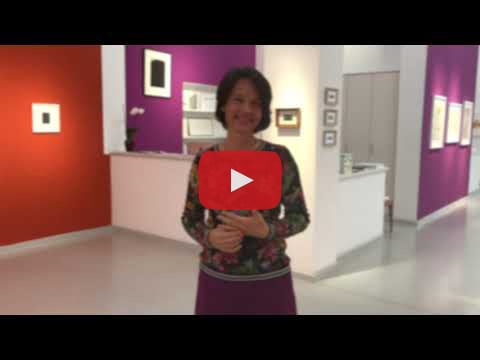 "we are here for you! – at the gallery gugging #19" by galerie gugging (2020)
Leopold Strobl and Anrulf Rainer are united by overdrawing or overpainting over what already exists until it corresponds to their respective, very personal aesthetics. However, the approach to each individual work and the choice of their working material are completely different. While Leopold Strobl exclusively overdraws photographs from newspapers, Arnulf Rainer overpaints his own works. The aim of both is the perfection of what already exists.
Untitled, Leopold Strobl (2020). Pencil, coloured pencils on newsprint, mounted on paper, 3.6 x 3.2 in. / 9.2 x 8.2 cm
Furthermore, Strobl knows Rainer personally and describes the encounter, which took place in the studio gugging, as "quite pleasant". Rainer was and is someone who has always been enthusiastic about art outside the mainstream and has thus visited many studios over the years.
Rainer has paid regular visits to the Gugging Artists since 1965. He was also one of the first to take an interest in their work and presented it to a broad public in 1969, when he showed his collection for the first time at the Vienna Secession and the "Galerie nächst St. Stephan". Thus, the common circle of Arnulf Rainer and the art from Gugging is closed.
Follow gallery gugging on Instagram and Facebook for more news about the exhibition.
Untitled ("At Jennie Richee…"), Darger (c. 1950–1960) (recto & verso). Double-sided watercolor, graphite and carbon tracing on paper, 24 x 108 in. / 61 x 274 cm
The show features nine double-sided watercolor drawings, eighteen compositions in all, which were originally hand-bound by the artist into at least three separate gigantic pictorial albums.
Detail of Untitled ("At Jennie Richee…"), Darger (c. 1950–1960) (recto). Double-sided watercolor, graphite and carbon tracing on paper, 24 x 108 in. / 61 x 274 cm
They represent three distinct periods of Darger's development and trace the evolution of his art from the 1930s through the 1950s. The two earliest works in the show, likely made in the early 1930s, are two fragments of one complete piece – but because they had come apart, they were treated as two distinct artworks and originally sold separately.
Detail of Untitled ("At Jennie Richee…"), Darger (c. 1950–1960) (verso). Double-sided watercolor, graphite and carbon tracing on paper, 24 x 108 in. / 61 x 274 cm
Now, for the first time since Darger initially created them, they are back together, so to speak, and are displayed side-by-side as they were meant to be seen.
Don't miss this fantastic exhibition – learn more at www.edlingallery.com.
Learn more about Henry Darger in the Raw Vision outsider art sourcebook and Raw Vision Magazine issue #13.
Musée d'Art Brut:
Daneille Jacqui
The Musée d'Art Brut de Montpellier has installed a ceramic mural fresco by the artist Danielle Jacqui in one of its garden terraces. It is a part of her enormous project Colossal d'Art Brul "ORGANuGAMME"
Danielle Jacqui's ceramic mural; close-up (2020); photo: Musée d'Art Brut
Danielle Jacqui was born on February 2, 1934, but it could be said that 1970 marked the beginning of a fresh life for her. It was then that she embarked on a new professional adventure as a brocanteur, selling second hand goods, and a personal artistic pursuit of her highly personal and unusual art.
Danielle Jacqui's ceramic mural (2020); photo: Musée d'Art Brut
The ORGANuGAMME project, as Jacqui has named it, began in the town of Aubagne in 2006. Jacqui also created a 50-metre-long urban fresco between her home town of Pont-de-l'Etoile and the neighbouring Roquevaire in 1999. The façade of the Maison de Celle qui peint, Jacqui's house, was redecorated in its second version in 2000.
Musée International des Arts Modestes - Sète​:
New Director joins the team
Françoise Adamsbaum has been a long-serving collaborator in the development of the Miam and was a precious witness in the early stages of the concept of Arts Modestes, invented in the late 80's by Hervé Dirosa. She has been appointed director of the Miam /Association de l'Art Modeste beside its President Hervé Dirosa.
Françoise Adamsbaum
Adamsbaum has been active on the art scene since the early 90's. After creating LITO, a collection of art watches (featuring more than 50 contemporary artists of international renown), she notably collaborated with Keith Haring, Sol Lewitt, Bob Indiana, Françoise Petrovitch, Miguel Chevalier, and many others.
Her working experience allowed her to acquire a sharp knowledge of outsider art.
Raw Vision Gift Subscription
Raw Vision gift subscriptions are available for your art lover friends this holiday season. Go to rawvision.com/subscribe to choses from subscriptions of:
4 issues
8 issues
20 issues
Digital issues