London's Horse Hospital in Danger of Closing
The Horse Hospital will be forced to close if it does not meet, or successfully contest, an excessive 333% rent increase from January 2020.
The Horse Hospital has provided support and accessible exhibition space for independent artists since 1993 and is home to The Contemporary Wardrobe Collection, one of the world's most important collections of subcultural clothing, established in 1978. Since 1993 it has presented a vast amount of amazing work by artists such as Joe Coleman, Helen Chadwick, Franko B, Brice Dellsperger, Laurie Lipton, Vivienne Westwood & Malcolm McLaren, Morton Bartlett and many more. The venue has also supported and introduced hundreds of obscure artists, performers, filmmakers and writers, who may otherwise have been denied a voice by more mainstream organisations, to an ever-growing, receptive and appreciative audience.
For more information or to show your support, click here.
The Horse Hospital
Colonnade, Bloomsbury, London WC1N 1JD
www.thehorsehospital.com
Summertime Gallery, New York
December 13, 2019 – March 9, 2020
Summertime Gallery presents "Footnote", an exhibition about extremities. Featuring works by Raquel Albarran, Hope Esser, Austin Furtak-Cole, Raina Hamner, Camille Holvoet, Sophie Larrimore, Misleidys Francisca Castillo Pedroso and Aurie Ramirez.

Summertime Gallery
145 Ainslie St., Brooklyn, NY
www.summertimegallery.org
Prison Art at The Drawing Center, New York
until January 5, 2020
"The Pencil Is a Key: Drawings by Incarcerated Artists" is an exhibition of more than 140 drawings by imprisoned artists from around the globe. Featuring works produced over a roughly two-hundred-year period, the exhibition presents powerful evidence of the persistence of human creativity in the most inhumane of circumstances.
The Drawing Center
35 Wooster Street, SoHo, New York, 10013
www.drawingcenter.org
Ghyslaine and Sylvain Staëlens in Brive
until January 12, 2020
Chapelle Saint-Libéral presents the work of Ghyslaine and Sylvain Staëlens, who create artworks from rusted metals, woven fabrics, horse hair, tree roots and driftwood.
Chapelle Saint-Libéral
9, Rue de Corrèze, 19100 Brive
www.museelabenche.fr
Victor Keen Collection at Sangre de Cristo Arts Center, Pueblo, CO
until January 12, 2020
"Outsider Art: The Collection of Victor Keen" includes works by well-known outsider artists such as Adolf Wölfli, Martín Ramírez, Lee Godie and George Widener.
Sangre de Cristo Arts Center
210 N. Santa Fe Ave. Pueblo, CO 81003
www.sdc-arts.org
Dedicated to women in outsider art, this special bumper issue features: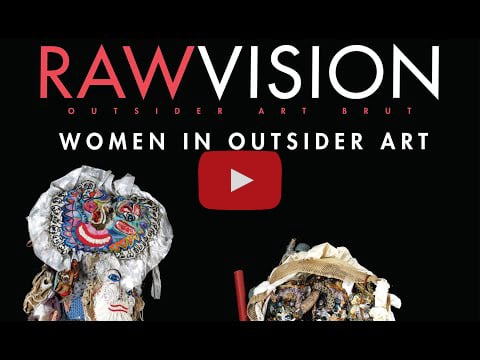 Raw Vision Short Film Competition
Below is Adriana Baltazar's entry into the 2019 Raw Vision short film competition.
Artist Veria Williams lives and works in LA. "I love my work. I even do a lot of my work at home. I did my work a long time ago. I went to Carver (high school) and I couldn't keep up with the rest of the classes and then my mother put me in this school here." Veria is a bold woman at 71, she is never one to hold back her emotions, opinions, and stories. She loves to experiment with materials, filling the large work surface, often layering ink pours over brush strokes and pastel haze.
Williams is a professional artist with developmental disabilities who has been working out of the ECF Art Centers' South L.A. studio for over 20 years. She is represented by DAC Gallery, where she regularly exhibits. ECF Art Centers is an adult program of the Exceptional Children's Foundation, a Los Angeles-based nonprofit organization that provides services to adults and children with developmental disabilities. In this short process video, Veria Williams works and describes the subject of her mixed media artwork.