March 22 – April 20, 2019
"Ode to Dolly" is an in-depth look at the artwork of Laura Craig McNellis (b. 1957), who was born with severe mental disability and autism, and has always remained nonverbal. The exhibition includes some of her earliest creations on folded sheets of newsprint to her more recent tempera paintings depicting clothing with abstract patterning and motifs on cut, shaped paper.
SHRINE
179 East Broadway, New York, NY 10002
shrine.nyc
March 16 – April 20, 2019
In group exhibition "We Shall Make America Wonder", Andrew Edlin Gallery presents the art of Joe Coleman, Felipe Jesus Consalvos, Henry Darger and Duke Riley; four visionary artists whose worlds are built up with a richness of minutiae.
Andrew Edlin Gallery
212 Bowery, New York, NY 10012
www.edlingallery.com
CGP London, Bethlem Gallery and Outside In, London
March 20 – April 28, 2019
"Realm" is an experimental residency-based commission between three London based artists. Hazel Brill is a visual artist based in Southwark invited by CGP London; Richard Downes is an activist, poet and photographer who was selected following a call out by Outside In; and Mr X, an accomplished artist-maker, was selected by Bethlem Gallery. The artists will develop a new collective body of work that will manifest at CGP London as an immersive multi-media installation.
CGP London
The Gallery, Southwark Park, London SE16 2UA, UK
www.cgplondon.org
Copenhagen Outsider Art Gallery
March 16 – May 4, 2019
Works by Jim Sanders, Casper S. Nielsen and Dave Mutnjakovic will be shown at Copenhagen Outsider Art Gallery. The exhibition, titled "+4", is a celebration of drawings.
Copenhagen Outsider Art Gallery
Gl. Kongevej 35A, 1610 Copenhagen V, Denmark
www.coag.dk
Galerie Polysémie, Marseille
until April 20, 2019
Imam Sucahyo is a self-taught artist from Tuban, East Java. Art has become a tool for Imam to come to terms with a reality that does not correspond to his aspirations.
Galerie Polysémie
12 rue de la Cathédrale 13002 Marseille, France
polysemie.com
Cavin-Morris Gallery, New York
March 21 – April 20, 2019
"Body Lines" is a group exhibition of works from the Cavin-Morris roster of artists, including Dwight Mackintosh, Caroline Demangel, Luboš Plný, M'onma, Solange Knopf, Bill Traylor and Martin Ramirez.
Cavin-Morris Gallery
210 Eleventh Ave, Ste 201, New York, NY 10001
www.cavinmorris.com
Our 100th issue is out now!
Raw Vision Short Film Competition
We received many entries for our short film competition! Our judges are going through entries now and the winner will be announced soon.
Below is Parris Patton's entry. The intricate masking tape and mixed media sculptures of Willard Hill (b. 1934) draw from a lifetime spent in the small town of Manchester, Tennessee. A cook since the age of 17, Hill began making sculptures over 20 years ago after returning home debilitated from a hospital stay. Primarily composed of masking tape, Hill's sculptures also utilised plastic bags, wire, toothpicks, rocks and a plethora of other found materials. Whatever a piece reminded him of as he worked, that's what it became and soon every surface in his small home was covered in evocative gems...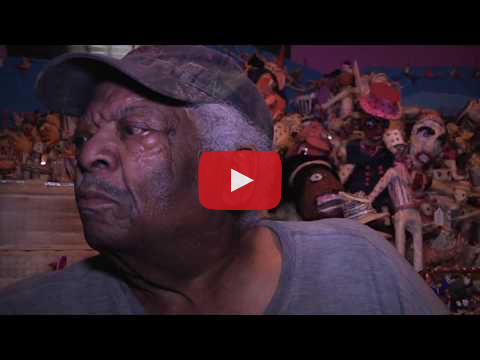 Check out the rest of the film entries here.