April 11–14, 2019
The 32nd annual Houston Art Car Parade Weekend will feature over 250 mobile masterpieces designed and created by artists, individuals, schools, non-profits, corporations and anyone with a dream and a set of wheels. ​Powered by the Orange Show Center for Visionary Art, the Houston Art Car Parade celebrates the artist in everyone and the "drive to create".
Click here for programme and tickets.
Leopold Strobl, Galerie Gugging
At Paris Contemporary Drawing Fair, March 29–31 at Atelier Richelieu, RIZOMI will present works by Simone Pellegrini and Tommaso Buldini, while Galerie Pol Lemétais will show works by Jean Crié, Darédo, Olivier Daunat, Anaïs Eychenne, Daniel Gonçalves and others.
At Drawing Now Art Fair, March 28–31 at Le Carreau du Temple, Christian Berst will focus on the works of Josef Hofer and will also exhibit works by Madge Gill, Raphaël Lonné, Kunizo Matsumoto, Anna Zemankova and others. Galerie Gugging will present works by Karl Vondal and Leopold Strobl.
Atelier Richelieu
60 Rue Richelieu, Paris 2, France
atelierrichelieu.com
Le Carreau du Temple
Accueil / Billetterie, 2 Rue Perrée, 75003 Paris, France
carreaudutemple.eu
Wilhelm Hack Museum, Germany
March 31 – August 4, 2019
The Wilhelm Hack Museum in Ludwigshafen, the Prinzhorn Collection in Heidelberg and zeitraumexit in Mannheim, together with Galerie Alte Turnhalle in Bad Dürkheim and Museum Haus Cajeth in Heidelberg, will be illustrating the significance of plants as projections of mental states in a variety of contexts, in "Gewächse der Seele – Floral Fantasies between Symbolism and Outsider Art".
Wilhelm Hack Museum
Berliner Straße 23, 67059 Ludwigshafen am Rhein, Germany
www.wilhelmhack.museum
Galerie Claire Corcia, Paris
until April 29, 2019
"Le Cirque" presents unpublished paintings and drawings by Argentinian artist Sergio Moscona.
Galerie Claire Corcia
323, rue Saint-Martin, 75003 Paris, France
www.galeriecorcia.com
until April 13, 2019
"Le Ciel ne Fait pas le Plein" is a solo show of the work of Eugène Lambourdière, aka Maurice, who creates UFO designs and whose drawings and texts explore great mysteries like the Bermuda Triangle, the cycle of the universe and the fourth dimension.
Galerie du moineau écarlate
82, rue des cascades, 75020 Paris, France
www.artbrut.me
Daniel Gonçalves in Saint Sever du Moustier, France
April 4–18, 2019
Galerie Pol Lemétais presents a solo show of recent works by Portuguese artist Daniel Gonçalves, who will be featured in the spring issue of Raw Vision.
Galerie Pol Lemétais
rue le Puech 12370 Saint Sever du Moustier, France
www.lemetais.com
Raw Vision Short Film Competition
We received many entries for our short film competition! Our judges are going through entries now and the winner will be announced very soon.
Below is Éric Gauthier's entry. Maurice is the designer of "Identified Flying Object." He has been living on the streets for 35 years, working in subway gates in Paris.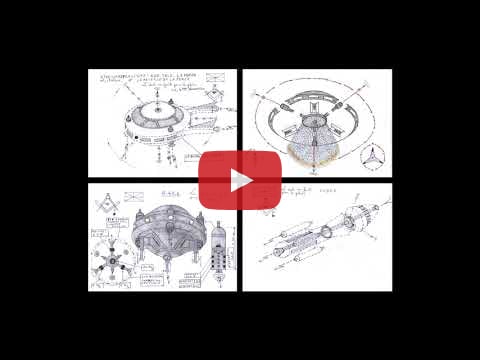 Check out the rest of the film entries here.