Happy Holidays from Raw Vision!
William Thomas Thompson, There ain't no Santa Claus, 2019
Wishing all our subscribers a very Merry Christmas and a Happy New Year!
Tierra del Sol Artists in Claremont, CA
until April 11, 2020
"Vanguard: Origins of Tierra del Sol Arts in Claremont featuring Helen Rae" presents works by 15 artists who work or have worked with the Tierra del Sol studios.
Claremont Museum of Art
200 W. First St., Claremont, CA 91711
www.claremontmuseum.org
Crystal Bridges Museum of American Art Acquires Artworks from Gordon W. Bailey
Herbert Singleton, Gordon W. Bailey Collection
Crystal Bridges Museum of American Art, Bentonville, Arkansas, acquired 23 artworks, by gift and gift/purchase, from collector Gordon W. Bailey. Artists include Sam Doyle, Thornton Dial, Sr., Roy Ferdinand, Clementine Hunter, Herbert Singleton and Purvis Young.
Crystal Bridges Museum of American Art
600 Museum Way, Bentonville, AR 72712
​www.crystalbridges.org
Kunsthaus Kannen, Münster
until January 26, 2020
Kunsthaus Kannen presents its annual sales exhibition, with works by local Kunsthaus Kannen artists, external artists and emerging talents.
Kunsthaus Kannen
Alexianer Münster GmbH, Alexianerweg 9, 48163 Münster, Germany
www.kunsthaus-kannen.de
until January 25, 2020
"Mythologie de Sète, 1982/2019" features works by Aldo Biascamano.
La Pop Galerie
7 rue Alsace Lorraine 34200 Sète, France
www.lapopgalerie.fr
Dedicated to women in outsider art, this special bumper issue features: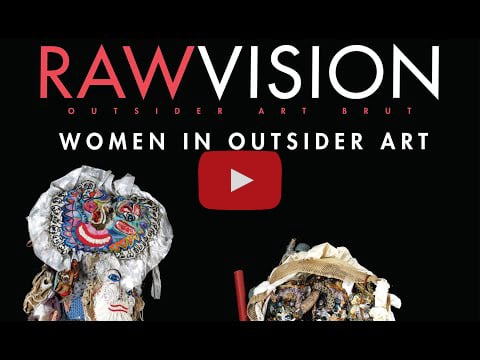 Raw Vision Short Film Competition
Below is Lauren Hughes' entry into the 2019 Raw Vision short film competition.
Dan Stallsworth is an artist from Minnesota who attends MSS. He has only been painting for a few years. This film captures a bit of his process and some shots from his first ever solo exhibition.