December Newsletter 2018
Welcome to our final newsletter of the year!
If you're intrigued by our holiday-themed header, keep reading for the full video.
But first, a message from Social Value International CEO Ben Carpenter:
'We would like to thank you all for your support throughout 2018. It has been inspiring to work with you all as you have helped shape our movement through contributing to technical papers, participation in our events, our working groups and training. I am humbled recently by the dedication of our governance committees. We are lucky to have the support of such a talented group of individuals as we work together to change the way the world accounts for value. I look forward to more of the same next year.'
Technical Updates
In this section, we will keep you up to date with the latest technical thinking in methodology and provide some essential reading
Kingston Smith guides organisations towards social value excellence
Kingston Smith Fundraising and Management (KSFM), in collaboration with Social Value UK, has launched a customisable social value policy document. This downloadable policy template that organisations can fill in themselves, following guidance notes, is an essential jigsaw piece for organisations wanting to formulate, embed and manage social value practices.
Read more here.
In December, we will be hosting our first ever Social Value Certificate Celebration. Find more information here.
Feedback Core Principles Version 0.9
The Feedback Labs community drafted seven principles that underlie feedback and now they need your help in making them better! Take a look at the principles below and get in touch with Feedback Labs you think the principles could be improved.
Read more here.
Version 6 of the B Impact Assessment is Available for Public Comment
Version 6 of the B Impact Assessment is scheduled for launch in January 2019 after being open for public comment.
Following the Beta and Alpha beta testing period of Version 6 of the B Impact Assessment, the public comment period allowed many to review proposed changes and add their own submissions.
Read more here.
Essential Reading
1) Accountability Now - Dynamic Accountability
Accountability is not a report, but a dynamic relationship with stakeholders to improve the agency and credibility of CSOs. Digital technology helps facilitate this ongoing interaction and adaptive performance.
Read more here.
2) You Don't Know What You Don't Know - David Bonbright
Read this short blog from SVUK and SVI member David Bonbright, co-founder and chief executive, Keystone Accountability, discussing the need for greater accountability.
Read more here.
3) How can we stop Social Value being marginal in economic decisions?
Henry Leveson-Gower of Promoting Economic Pluralism penned a guest post for the Social Value UK blog discussing how to create a space for Social Value in economic decision making.
Read more here.
Assurance + Accreditation News
SVUK delivers these services on behalf of Social Value International, find out below how this can verify your work and align to an international standard
Jignesh Thakkar Becomes India's First SROI Accredited Trainer
We are proud to announce that Jignesh Thakkar has become the first Accredited SROI + Social Value Trainer in India.
Jignesh is a Corporate Social Responsibility and Development sector professional with an MA in Social Work from Tata Institute of Social Sciences, Mumbai, Maharashtra, a Gold Medallist in Bachelors of Social Work from Sardar Patel University, Vallabh Vidyanagar, Gujarat and Bachelor of Law from Gujarat University, Gujarat.
Read more here.
Behind Closed Doors has become the first organisation to achieve Level Two of the Social Value Certificate
We are proud to announce that Behind Closed Doors are the first organisation to have achieved Level Two of the Social Value Certificate. Level Two: Implement is achieved with the implementation of systems and processes, evidenced through appropriate data collection. Behind Closed Doors have not only achieved Level Two of the Social Value Certificate but were instrumental in the creation of the Social Value Certificate also. To find out how you can begin your journey to achieving the various Social Value Certificate levels, please head here.
We will be commending Behind Closed Doors and others at our first Social Value Certificate Celebration in the UK this December. More information can be found here.
Building a Movement
This section contains a snapshot of what our members are up to
SIMNA Awards 2018
The SIMNA Awards are a national celebration of those growing and shaping the practice of social impact measurement in Australia. The 2018 SIMNA Awards are sponsored by the Australian Government Department of Social Services.
Watch this 1-minute video of the fourth annual Social Impact Measurement Awards and take a look at this vibrant network in Australia!
Learn more about the SIMNA Awards here.
On 12 November 2018, the SIMNA Western Sydney Committee was launched at the University of New England Sydney (UNE Sydney) campus in Parramatta.
Read more about this fantastic evening here.
Announcing EY as Organisational Members of Social Value International
Social Value International are very pleased to announce that The Outcomes Measurement team at EY have joined as organisational members.
Social Value International CEO Ben Carpenter said '"We are excited about the partnership SVI can build with EY. They have a strong commitment to social value and a global reach that can help develop good practice throughout our networks. We look forward to working with their highly skilled teams as we work together to change the way the world accounts for value."
Read more.
Social Value Japan's Proposal Adopted by the Ministry of Health, Labour and Welfare
Social Value Japan have announced that they will be involved in a project implemented by the Ministry of Health, Labour and Welfare, which will be focused on responding to the challenges of promoting social business in Japan.
Read more here.
Zimbabwe Based Nzeve Join Social Value International as Organisational Members
Social Value International are happy to welcome Nzeve as organisational members. Nzeve is working towards the Deaf community being valued in an inclusive society. Nzeve is an organisation of deaf and hearing people working together to promote the rights of children and youth with disabilities to participate fully in society. Nzeve works to reduce discrimination by promoting sign language and deaf culture and building deaf community in Zimbabwe.
Read more.
Members' Area launch!
Social Value International is proud to have launched our brand new Members' Area, which will revolutionise your SVI experience!
What's in the Members Area?
Members Forums - Connect with other members around the world

Member Directory - Create a profile to be included in their public-facing directory

Live Member-only Webinars

Webinar Library- Over 20 pre-recorded webinars available to watch at your convenience

Newsletter Submission - Send in information to be included in this newsletter
To get started, follow the link below and follow the instructions to set your password
The Bigger Picture
This section focuses on our vision of a world of reduced inequality, environmental degradation and improved wellbeing.
Whānau Ora Accreditation Framework endorsed by SVI
Whānau Ora is a culturally-based holistic approach to wellbeing that focusses on the Māori concept of whānau. The family group (whānau) are considered as a whole and not just the individual. Whānau Ora is about confidence, mana (self-determination) and the belief in self, family and community. Where whānau are viewed as assets being developed and not problems to be fixed. Whānau are the decision-makers who identify what they need to build on their strengths and achieve their aspirations. It works with the collective and whānau capability to reach better outcomes (positive change) in areas such as health, education, housing, employment, improved standards of living and cultural identity.
Earlier this year, Social Value Aotearoa network developed (with local partners) an accreditation framework for organisations to develop their Whānau Ora practice.
The framework is broad and covers a lot of aspects that organisations can develop including data collection, ownership and impact management. Jo Nicholson Director at Social Value Aotearoa said "Along with a co-design approach, it was important to have it peer reviewed by Social Value International to ensure its alignment with the Social Value Principles. We are delighted it has been endorsed by Social Value International and is consistent with Level 3 of Social Value Certificate."
Ben Carpenter says "It was an exciting opportunity to learn more about Whānau Ora. There is so much alignment with the mission of SVI. Both approaches are about shifting power and putting wellbeing at the heart of our decision making. I'm excited to see how this framework develops and how it can be replicated or used in other settings."
Read more.
Get involved this Holiday season!
Social Value International, as well as Social Value UK, are running Social Media campaigns this December. If you are an SVI Member Network and would like more details, or would like to submit a holiday message similar to Andreas' above, please contact David.
Feel free to share any Holiday messages or greetings on social media and tag @socialvalueint on Twitter or use #SocialValueXmas.
Below you can watch Social Value Aotearoa's fantastic holiday film!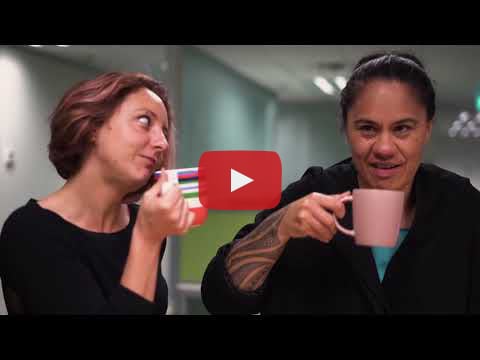 Do reply to this email if you have any feedback or suggestions, or any content you would like to be included in the communications to our email list.
🌏