Supreme Court season is nearly over, meaning its most controversial rulings are coming any day now. One highly anticipated and potentially far-reaching case is Brnovich v. Democratic National Committee, a challenge to two Arizona laws that limit where and how residents can vote.
Arizona Republicans said the restrictions were meant to ensure "election integrity." But a state appeals court last year disagreed, finding the rules targeted minority voters and poor people.
Political scientists Cornell William Clayton and Michael Ritter explain why the justices' ruling will matter well beyond Arizona: It may decide the fate of 47 states' restrictive new voting laws.
Also today: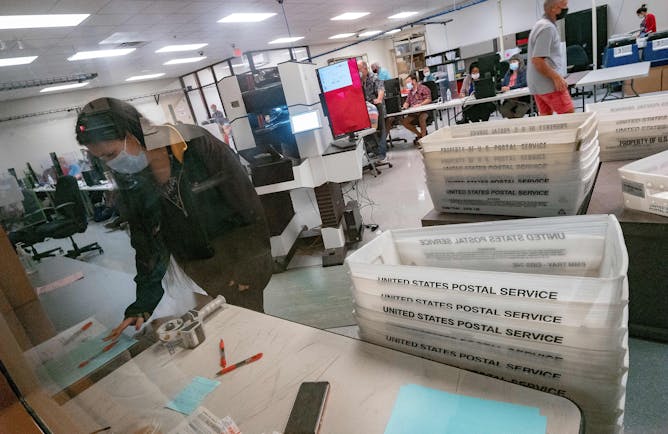 In Brnovich v. DNC, the court will decide whether two Arizona rules unfairly hurt poor, minority and rural voters. The ruling could determine the fate of many states' restrictive new voting laws.
Environment + Energy
Politics + Society
Many Americans first heard of Elizabeth City, North Carolina, when protests began after Andrew Brown Jr. was killed by sheriff's deputies. But the city has a long history of fighting racial injustice.
Ethics + Religion
Science + Technology
When emergency alerts are hard to distinguish from text messages and when they announce the availability of vaccines rather than an impending tornado, are they still emergency alerts?

To understand what happened, you need to know what a CDN (content delivery network) is, and how crucial they are to the smooth running of the internet.
Economy + Business
When announcing financial penalties on Russia earlier this year, Biden hinted at the prospect of 'further' sanctions. An energy scholar explains what Biden may have meant.

Amazon is being criticised for its worker wellbeing efforts, including private mental health chambers. Can corporate wellness initiatives actually work? Or is it all PR spin?
Trending on Site
The vaccine rollout is underway, but what happens if there is a supply disruption? Would it be feasible to change strategy and give more people a first dose? An expert analyzes the data.

Drought has been a threat multiplier for centuries, fueling conflict and migration from the time of the Ottoman Empire to Syria today.

In the coming decades, governments and private companies will set up permanent bases on the Moon and Mars. And at some point, the first galactic baby will be born.

---

Today's graphic