Joe Biden doesn't really need the splashy virtual Democratic National Convention, now underway, to introduce his presidential candidacy to the world. He was vice president of the United States for eight years and served on the Senate Foreign Relations Committee for decades.
Yet his international agenda remains somewhat opaque.
Diplomacy expert Klaus Larres of the University of North Carolina, Chapel Hill looks to the candidate's long history to assess his likely foreign policy priorities.
Also today:
Catesby Holmes

International Editor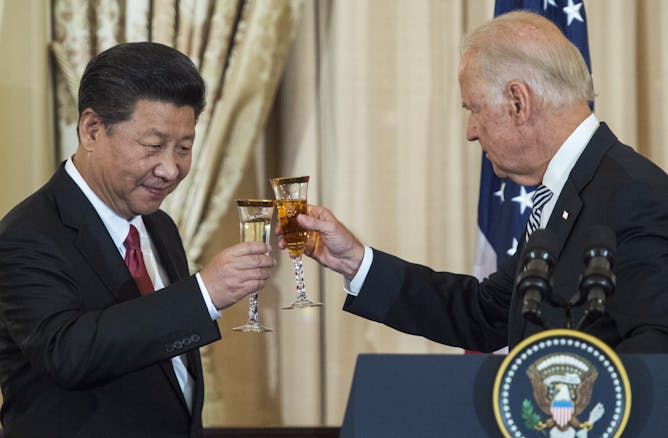 How would Joe Biden engage a world upended by Trump? A diplomacy expert explains what Biden's history says about his foreign policy priorities.
Science + Technology
As grim as things are with the pandemic raging in the US and the mounting death toll, there are many reasons to be optimistic there will be a vaccine by early next year.

Good mental health is the ability to adapt to changes and stress. Whatever school looks like, parents can help keep kids' social-emotional development on track in these four areas.

Aerosols of some FDA-approved food coloring could deactivate airborne viruses.
Politics + Society
When police arrest a suspect who is then convicted of the crime, it is a rare exception rather than the rule in the US.

Pres. Lukashenka of Belarus has stayed in power for 26 years by being a master tactician. But he has seriously mishandled opposition protests, says a Belarus-born scholar of Eastern European politics.

The US and Iran had been friends for over a century before the British and American coup in 1953 eventually turned them into enemies.
Ethics + Religion
Trump recently suggested that a vote for Biden would hurt God. Religion scholars explain what, under Christian belief, it would take to injure the creator.

The history of education in the West is closely associated with Christian religious spaces – from the first cathedral schools to the use of churches to teach children in WWII.
Education
Environment + Energy
Health
Those opposing vaccinations often mistrust government, science and the news media. There may be better ways to persuade them than by offering facts only.

Pandemic policy experts offer 10 recommendations that could reduce the risk that a bad flu season on top of the COVID-19 pandemic will overwhelm hospitals.
Most read on site
Consuming the plant can be lethal to animals and humans.

In places where everyone wears a mask, cases of COVID-19 seem to be less severe. Evidence from labs and outbreaks suggests that masks protect not only others, but the person wearing the mask, too.

In reconverting Hagia Sophia to a mosque, Turkish officials have emphasized veiling of Christian icons to create a Muslim prayer space. Experts explain why the veiling is in fact a Byzantine practice.