Though I personally have yet to become a parent, I can imagine the decision to start a family is a powerfully emotional moment for any two people. So when nearly 1 in 8 couples struggles to get pregnant today, it is not surprising that experts like Dr. Ryan P. Smith of the University of Virginia are called upon for help.
Smith is a physician and researcher who specializes in male reproductive health. Researchers like him have known for years that male fertility has been on the decline since the middle of the 20th century. Doctors know some of the causes – such conditions as increased obesity and genetic disorders, for example – but these don't fully explain the global decline in sperm counts and sperm health. Smith and others in his field have begun to suspect that exposure to human-produced toxic compounds could be a cause. He argues that while it is difficult to "definitively establish which chemicals are causing the male fertility decline, the weight of the evidence is growing" that toxic compounds in the environment are causing these problems.
Also today:
Daniel Merino

Assistant Science Editor & Co-Host of The Conversation Weekly Podcast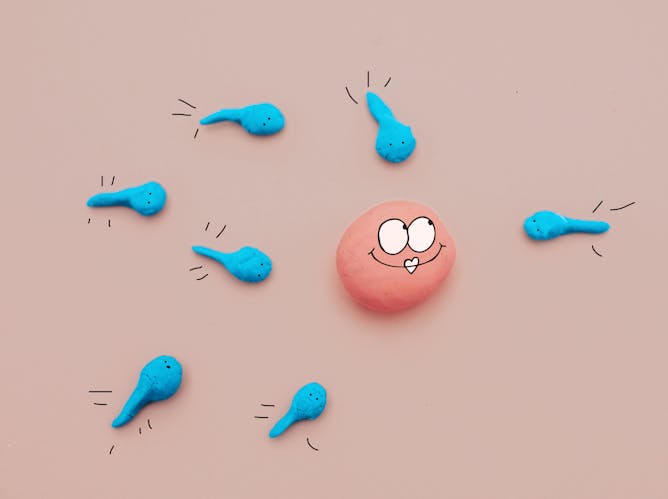 People are exposed to toxic substances – like pesticides, chemicals in plastics and radiation – every day. A growing body of research shows that this exposure is causing a decline in male fertility.
Health
Politics + Society
A new proposal also puts pressure on presidents to evaluate their foreign policy objectives more clearly to determine whether military action is, in fact, appropriate.

Children are not routinely being snatched from pizza parlors and sold into sexual slavery. Sex trafficking more often looks like 'vulnerable people struggling to survive' through sex.
Ethics + Religion
An article that used geolocation data to place a priest at gay bars raises questions over journalistic ethics, and shines a light o on the Catholic media landscape.

A scholar of religion explains what those who fast for health and fitness can learn from religious traditions for a sustained, deeper and lifelong practice.
Environment + Energy
Science + Technology
Economy + Business
Podcast
From our International Editions
The past 18 months have tested the mental and physical limits of Olympic athletes in their pursuit of the Tokyo Games. That's what makes the performances during these Olympics even more remarkable.

On starlit nights, the Milky Way acts as these beetles' primary reference. But light pollution gets in the way.

The UK is attempting to renegotiate the Northern Ireland protocol, but its proposals are unrealistic.

---

Today's graphic