With so many Americans voting by mail, or considering doing so, a major question many voters have is how they can be sure their ballot arrived at their local election office and was accepted for counting.
As election law scholar Steven Mulroy at the University of Memphis explains, different states have different rules for who is allowed to vote by mail, but 44 states and the District of Columbia have online systems letting anyone who can vote by mail make sure their ballot arrived and is ready to be counted. His article includes an interactive map voters can use to go directly to their own state's mail-in ballot tracking site.
Also today:
Jeff Inglis

Politics + Society Editor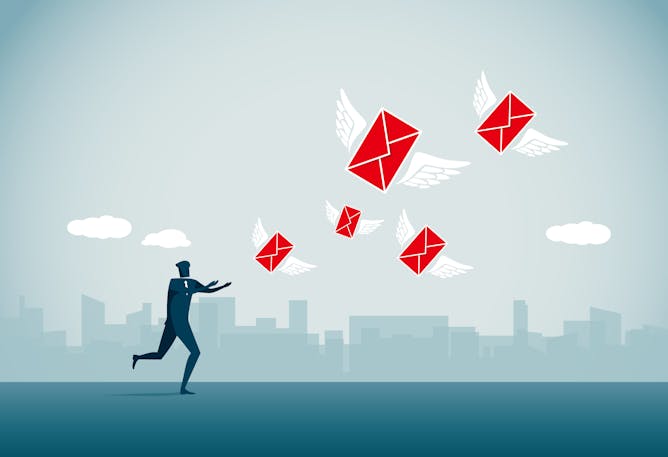 In 44 states and the District of Columbia, voters can keep an eye on where their ballot is through systems that track when a ballot is requested by, sent to and returned by the voter.
Politics/Election '20
Functional political debates, like healthy democracies, require participants who respect the process and follow mutually agreed-upon rules.

There are similarities between the law-and-order language used by the 1968 and 2020 presidential candidates and the racial tension and political polarization both years. But much is different.
Economy + Business
The government has tried to harness profit-driven drugmaking to serve public health before. The results were underwhelming.

Two legal scholars explain what's causing the USPS mail delays, what they mean for the election and the agency's deeper financial problems.
Health + Medicine
Environment + Energy
Living near oil and gas production can affect mental health, driving stress and feelings of depression.

Batteries power much of modern life, from electric and hybrid cars to computers, medical devices and cellphones. But unless they're made easier and cheaper to recycle, a battery waste crisis looms.
Education
An innovative school model, known as P-TECH, that enables high school students to graduate with a two-year college degree and get jobs with partner corporations is showing encouraging results.
Arts + Culture
The internet ushered in new ways of raising money, particularly with the rise of crowdfunding. But making appeals for cash on social media represents an entirely different phenomenon.

A composer and performer talks about the impact of the pandemic on classical music performances and his experience composing in isolation.
Science + Technology
The nomination of Judge Amy Coney Barrett has implications for how assisted reproductive technologies, which can prevent the transmission of disease from parents to child, are regulated.

A new environmental record for a prehistoric site in Kenya helped researchers figure out how external conditions influenced which of our ancient ancestors lived there, with what way of life.

An optical sensor that can detect individual molecules promises early detection of diseases and environmental contamination.
Most read on site
The framers of the Constitution were very clear that presidential terms have time limits. Not four years and a day. Not three years and 364 days. Four years.

A political action committee of longtime Republican strategists is using satire to attack President Donald Trump and influence American voters.

OSIRIS-REx will touch down on asteroid Bennu, collect a sample of the dust and begin its journey back to Earth, where scientists will study it, hoping to learn secrets of the solar system's origin.