If the storms you've seen lately seem fierce, imagine being on a barrier island off Alaska with the remnants of a typhoon blowing through. The ground between your neighbor's house and the water is eroding fast, and you're out in the wind and ice-cold rain trying to save it.
This kind of crisis has become almost daily life for the search-and-rescue team on Kivalina, a barrier island that is home to about 420 hardy souls off Alaska's western coast. The sea ice that once protected Kivalina's coastline is forming later in the fall and melting sooner in the spring as the planet warms, leaving the community at risk. It's an example of the ways climate change is upending lives around the world and how federal aid is slow to help, as Joshua Griffin, an assistant professor of marine and environmental affairs at the University of Washington, explains.
Also today:
Stacy Morford

Environment + Climate Editor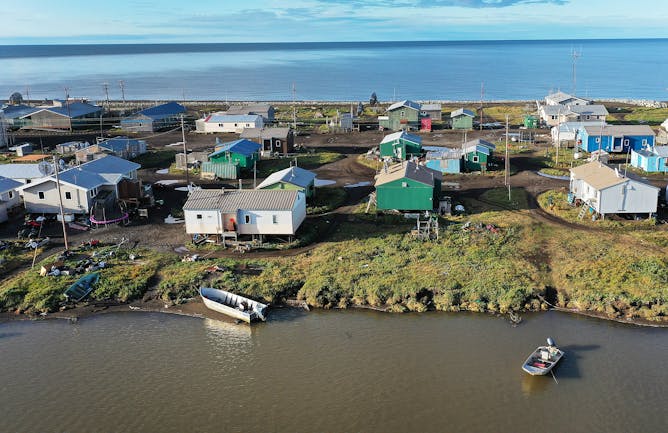 Ten years after Kivalina's lawsuit against Exxon over climate change damage was dismissed, the Indigenous community's search and rescue team is dealing with frequent disasters.
Science + Technology
Health + Medicine
As the government's oldest consumer protection agency, the FDA has long butted up against drugmakers, activists and politicians. But undermining its work could be harmful to patient health and safety.

Mifepristone's safety in medication abortions has been well established over more than two decades, but legal wrangling leaves the future of the drug hanging in the balance.
Arts + Culture
Singer, actor and activist died on April 25, at the age of 96. His legacy spans stage, screen and political activism.

Willie Nelson is an icon who rose to the top of an industry by challenging it – showing that you can be a counterculture figure and activist while remaining as American as apple pie.

Hand gestures are notoriously prone to misinterpretation.
Environment + Energy
Politics + Society
Shielding police from accountability can only lead to more brutality, misconduct – and multimillion-dollar settlements.

The short stories of modern Iraqi writers Hassan Blasim and Diaa Jubaili show that the 2003 invasion and subsequent war in Iraq are not at the heart of contemporary Iraqi literature.