We're all searching for ways to alleviate coronavirus stress and confront the boredom of being trapped inside for weeks on end. But while alcohol has long been a popular coping mechanism, there's a risk many of us may be hitting the quarantinis a little too hard.
Sales of wine, beer and spirits have spiked as some states declare liquor stores "essential" and loosen booze-delivery laws. Boston University's David H. Jernigan has spent 30 years studying the link between alcohol policy and public health and warns that drinking habits being formed now will lead to problems down the line.
And with bars and restaurants shut, the move to drinking at home carries a more immediate risk: a rise in domestic violence. University of South Florida criminologist Shelly Wagers examines the pattern of increased domestic abuse in countries with social distancing lockdowns.
Also today: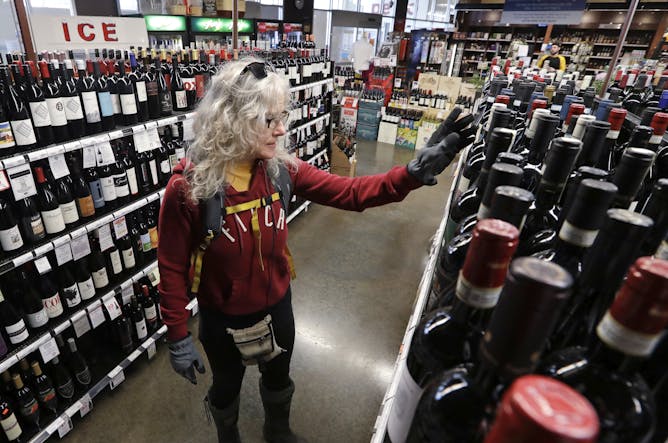 Sales of alcohol have reported jumped by around a quarter as people bulk buy wine, beers and spirits. That could lead to a range of short-term and long-term problems.
Politics + Society
The United Kingdom does not have a written constitution or a specific plan for what to do if the prime minister is too ill to perform official duties.

What would you do if you weren't safe at home – and now you're not allowed to leave because of the coronavirus pandemic?

How should Asian Americans respond to rising anti-Asian racist actions? History may offer some lessons during the pandemic.
Science + Technology
Online pornography is one business that's booming during the coronavirus pandemic. A psychology researcher explains its pull and whether there are likely to be longer-term effects of this surge in use.

University of Pittsburgh researchers are developing a vaccine patch for COVID-19 that is as easy to apply as a Band-Aid.

People have changed over time, growing ever more distant and isolated from others – while at the same time finding new ways and technologies that let individuals connect and feel with others.
Health + Medicine
To battle the coronavirus, strong regulatory protection from the FDA is essential.

OK, we're all getting a little stir-crazy from staying at home. But is a mixed drink with vitamins added really something we should consider?
Education
Ethics + Religion
Most Read on Site
COVID-19 is not the first – nor likely the last – to emerge from the two continents.

Officially, not that many people have recovered from the coronavirus. An epidemiologist explains what has to happen for a COVID-19 survivor to get a clean bill of health.

The new coronavirus, SARS-CoV-2, spreads faster than the H1N1 influenza virus and is much deadlier. SARS-CoV-2 is particularly skilled at keeping cells from calling out for help.