Laws in Texas and Mississippi have severely limited access to legal abortions in those states. Now, many Americans are wondering if the Supreme Court might overturn Roe v. Wade, a case decided in 1973. Major reversals have happened throughout the court's history, including Brown v. Board of Education in 1954, which overturned the six-decade-old decision in Plessy v. Ferguson.
Law and political science scholar David Schultz explains when, and why, the court has, at crucial times, decided to change its mind, and thereby the law of the land.
Also today:
Jeff Inglis

Politics + Society Editor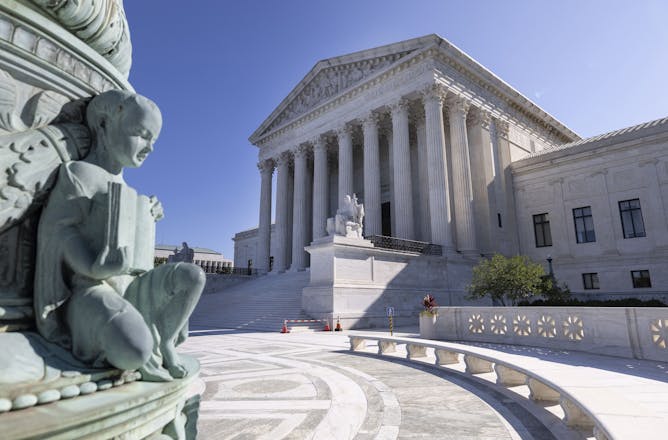 There is value in observing legal precedent, but sometimes circumstances, logic or judges' views determine it's time to overturn it.
Health
Medications to treat COVID-19 are in no way a substitute for the vaccine. But under the right circumstances, some show great promise for helping patients.

An FDA panel has voted against recommending approval of a booster COVID-19 shot for the general population – disappointing some public health officials.
Ethics + Religion
Scientists debate the medical benefits of booster shots. But there's another aspect to consider: bioethics.

The Moon Festival, rooted in China's long history and rich cultural traditions, will be celebrated on Sept. 21. In China, though, the festival is a three-day public holiday.
Economy + Business
In 1950, the top 0.01% of earners paid almost 70% of their income in taxes. By 2018, the super-rich paid proportionately less than the average for all other Americans.
Science + Technology
New research suggests that fire from the sky in the form of a small asteroid annihilated a city near the Dead Sea 3,600 years ago.

You have evolved to tap into the wisdom of the crowds. But on social media your cognitive biases can lead you astray, something organized disinformation campaigns count on.

Scientists have a good estimate on the staggering number of stars in the universe.
Environment + Energy
As the state copes with hurricanes and climate disasters, it is figuring out how to manage the slow-motion loss of its coastal land. But its plans could endanger the cultures that define the region.

A large amount of methane emissions come from natural gas infrastructure and landfills – all problems companies know how to fix.
Trending on Site
Overlapping vaccine mandates at the federal, state and local levels aims to reduce the number of unvaccinated Americans.

In the past decade, the number of satellites in orbit has skyrocketed thanks to tiny electronics and cheap launches. The crowded night sky is posing problems for astronomers and astronauts.

Long-term solutions to the nursing shortage call for changes that value nurses and offer them a safe place to work.
Reader Comments 💬
"We need to move away from the argument that getting vaccinated or wearing a mask is protective of the self and start to focus on the social responsibility of protecting one's community. Altruism coupled with concern for the self should be a stronger motivator, especially for those who object on religious grounds..."

– Reader Dan Romer on the story Forceful vaccine messages backfire with holdouts – how can it be done better?