Phew. Nine days after the midterm elections, we're catching our breath on the politics desk. But it's not as if we're sitting here twiddling our thumbs. This week, the 2024 presidential election saw one candidate formally declare he is running. The New York Post headline about that candidate throwing his hat into the ring read "Florida man makes announcement," and, adding insult to injury for a notoriously egocentric man, it ran that headline at the bottom of the paper's front page. It's former President Donald Trump, of course, whom the Post trolled, and with Trump the focus of multiple criminal investigations, we featured a story this week that answered the question on the mind of many: Does an indictment – or even a felony conviction – prevent a presidential candidate from running for or serving in office?
"The short answer is no," writes constitutional law scholar Stefanie Lindquist at Arizona State University. "Even in the case of conviction and incarceration, a presidential candidate would not be prevented from continuing their campaign – even if, as a felon, they might not be able to vote for themselves."
Today marks a change in my status after almost five years as the Senior Editor on the politics desk. The job has allowed me the opportunity to direct coverage of a tumultuous time in American politics, working with top-notch editing colleagues as we strove to get ahead of not just what was happening but, more importantly, why it was happening. I've seen how U.S. democracy has been challenged by forces that have threatened its very foundation. And even though there were good signs about the health of that democracy in the recent midterms, those forces have been growing in past years – and still exist. That's why I proposed establishing a new position here at The Conversation, the Democracy Editor. And guess what? That's what I am now, thanks to the wisdom and generosity of the people who run this place.
Taking over as Senior Editor is Lorna Grisby, a top-notch journalist who comes to us after a long career covering government and politics in newspapers and radio as a reporter and producer. She also has directed national coverage of a range of topics as a magazine editor and manager.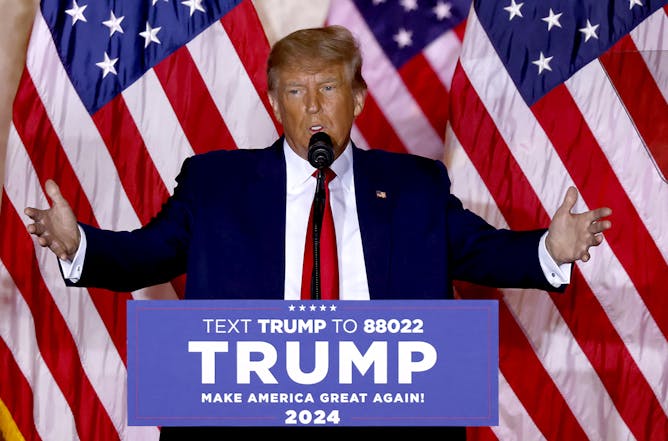 The former president made little mention of his personal legal battles as he announced his bid to retake the White House.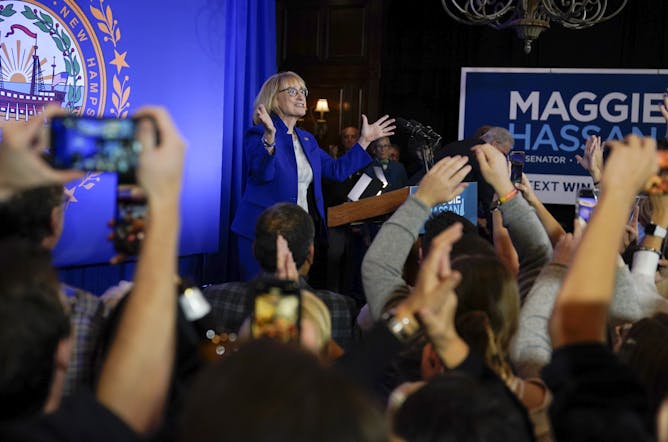 Polling for the 2022 midterms was more accurate than the dramatically wrong predictions of 2016 and 2020, leading one pollster to boast, 'The death of polling has been greatly exaggerated.'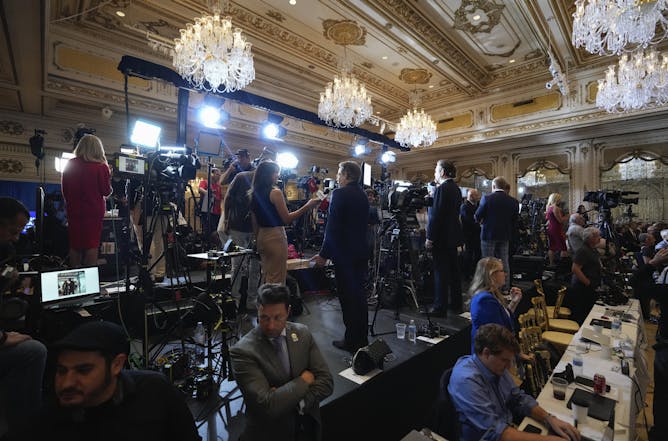 There is a lot about Donald Trump that makes him attractive to the public, and alluring to the media. A scholar of political journalism has some suggestions about how to cover him.
| | | |
| --- | --- | --- |
| The biggest issues at COP27 involve financing for low-income countries hit hard by climate change. A former World Bank official describes some promising signs she's starting to see. | | Any behavior reasonably calculated to dissuade a person from participating in an election is intimidation. |
| Two states had guns directly on the ballot in midterm election initiatives. Voters moved state laws in opposite directions. | | Polish authorities are investigating what they initially believed to be a Russian-made missile blast close to the border with Ukraine. Later, the country's president said it was likely to have been an accident. |
What's at stake when Americans lose faith in the legitimacy of the Supreme Court?

Runoff elections in Georgia have a racist past, but the contest between Raphael Warnock and Herschel Walker for US Senate is a sign of progress.

Poor communities of color have spent decades battling US industrial and agricultural pollution. A new EPA office is designed to support their struggle, but history suggests reason for caution.