Top headlines
Lead story
Have you ever been in a group situation where you're not cool with what's unfolding – but everyone else seems OK with it? Quite possibly you fell prey to a common misperception that Amherst College psychology professor Catherine A. Sanderson points to as a key factor in hazing and other bad behavior on campus.
"People privately feel uncomfortable with what they see happening, yet believe their peers don't share their concerns," Sanderson writes. Then they stay silent, against their own instincts, because they fear rejection by the group.
Northwestern University is the latest school to be mired in a hazing scandal, but the majority of college student-athletes in the U.S. say they've experienced it. Sanderson describes ways to short-circuit the human tendency toward this misperception, with potentially big implications for hazing, alcohol misuse and sexual misconduct.
[ Get our Understanding AI series – four emails delivered over the course of a week, with experts explaining this confusing topic. ]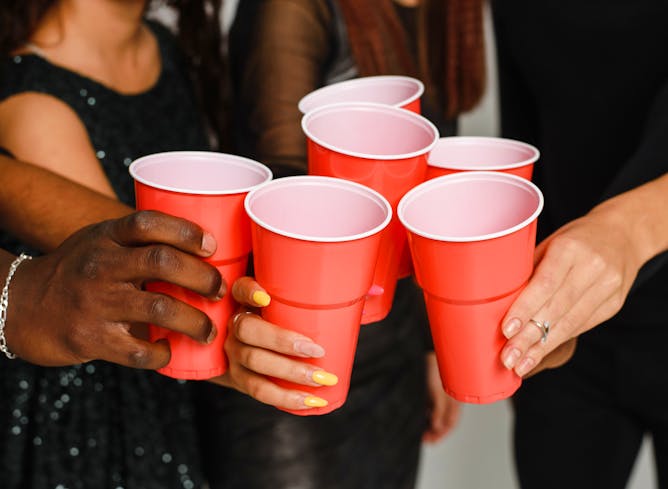 People often privately feel uncomfortable about bad behavior they see around them but mistakenly believe their peers don't share their concerns.
Science + Technology
Arts + Culture
Politics + Society
Former President Donald Trump was indicted on further charges over his hoarding of classified documents – and he has a new co-defendant in the case.

To what degree can the First Amendment be used to protect someone from the consequences of lying?
Ethics + Religion
Health + Medicine
The prevalence of low back pain continues to surge worldwide, but many treatments currently available offer little to no relief.

Obese children outnumber underweight ones globally, and 'social determinants' in kids' lived environments play a fundamental role. Obesity in kids can lead to a lifetime of poor health.

The 988 Suicide & Crisis Lifeline is for anyone experiencing suicidal thoughts, emotional distress, substance abuse issues or mental health problems.
International
The Conversation Quiz 🧠
Here's the first question of this week's edition:

Crooner Tony Bennett died at age 96 after a career that lasted nearly 80 years. Who shared the stage with him at his final concerts at Radio City Music Hall in 2021?

A. Lady Gaga
B. Billy Joel
C. Kid Rock
D. Alicia Keys