This week began with chaos at Kabul airport as crowds of Afghans and foreign nationals sought to flee the country. It ends with bloodshed at the same location.
Yesterday, a gun and suicide bomb attack targeted desperate people who had gathered outside the airport gate in the hopes of catching a flight out. As of this morning, at least 95 Afghans and 13 U.S. troops are known to have been killed. Within hours of the assault, ISIS-K, a group affiliated with the Islamic State group, claimed responsibility.
The attack is the highest profile operation conducted by ISIS-K, but the group is not a new terrorist organization. Terrorism experts Amira Jadoon and Andrew Mines have been tracking ISIS-K for years and answered our questions about who ISIS-K is, what it wants and how big a threat it now poses in a destabilized Afghanistan.
Also today:
Matt Williams

Breaking News Editor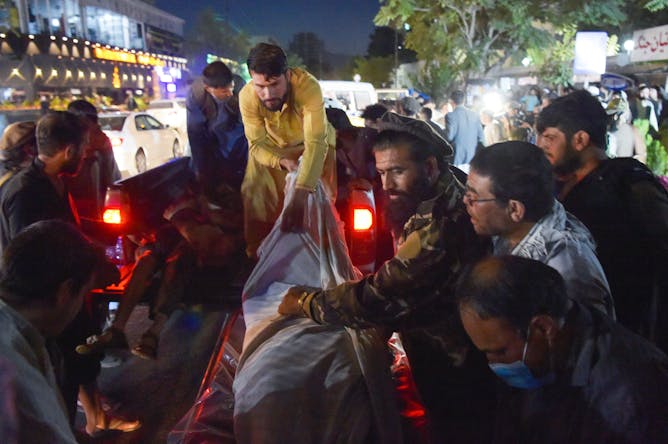 An attack on the Kabul airport has left scores dead and many more injured. Two terrorism scholars explain who the group thought responsible is, and how big of a threat is it.
Health
It has been six months since the Johnson & Johnson vaccine received emergency use authorization. What does six months of data show about its efficacy, side effects and protection from variants?

A 2015 paper on chicken virus evolution is being taken out of context and used to fuel fears about COVID-19 vaccines. Its lead author aims to clarify the science in hopes of saving lives.

Achieving widespread immunity to COVID-19 through vaccination requires as many people as possible to get their shots, including those who object or haven't bothered.
Economy + Business
Politics + Society
Environment + Energy
Science + Technology
Arts + Culture
Podcast 🎙️
From our International Editions
A US laboratory has announced an exciting new leap forward in nuclear fusion, but it may be several decades before we see this form of energy come to fruition.

Uganda is making an effort in a neighbourhood where few other countries have the same enthusiasm.

The Paralympics are the stage for a battle between the exclusivity of elite sport and the inclusivity the movement aims to nurture. Can the event effect true social change?
The Conversation Quiz 🧠
Poisons made up what percentage of drugs in the Chinese pharmacopeia in the imperial era?

A. 5%
B. 20%
C. 30%
D. 50%