Workers are quitting their jobs at record rates. Over 4.4 million people voluntarily left their jobs in September, bringing the five-month total to 20.2 million – or nearly 14% of the U.S. nonfarm labor force. The big question on everyone's minds is why.
While COVID-19 may have exacerbated this trend with some employees possibly fearful of getting infected on the job, it began long before the pandemic began – and will likely continue long after it ends, writes Ian Williamson, a scholar of human resource management at the University of California, Irvine. Employers may have to just get used to it, and Williamson has suggestions as to how.
Also today:
One note: If you believe it is important for people across the United States to be able to read journalism like this at no charge, we hope you will support our work with a donation in our end-of-year fundraising campaign, which starts today. We need civic-minded individuals like yourself to underwrite our efforts to bring the knowledge of experts to the public.
Thank you in advance for your generosity.
Bryan Keogh

Senior Editor, Economy + Business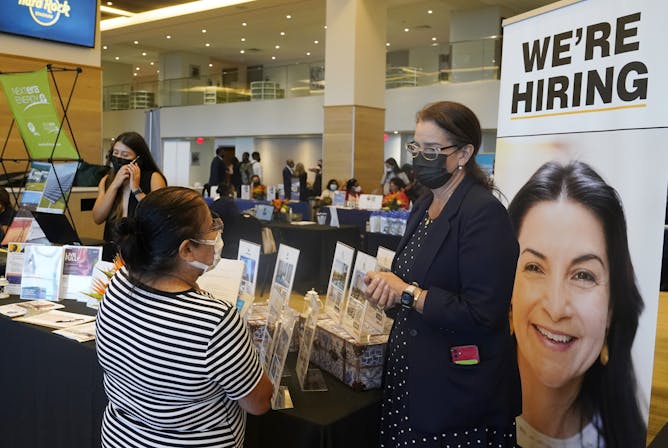 A record share of workers quit their jobs in September. A human resources scholar explains how this is a trend that predates the pandemic.
Environment + Energy
Has the summit delivered on its goals?

More than 100 world leaders have pledged to end the destruction of forests by 2030 as a way to slow climate change. That will require changing how the world produces four widely used commodities.
Politics + Society
Education
Arts + Culture
Health
Ethics + Religion
Science + Technology
Disinformation is being privatized around the world. This new industry is built on a dangerous combination of cheap labor, high-tech algorithms and emotional national narratives.

The fastest things ever made by humans are spacecraft, and the fastest spacecraft reached 330,000 mph – only 0.05% the speed of light. But there are ways to go faster.
Trending on site
Millions of Americans struggle to pay their bills each month, despite earning wages well above the federal poverty line and holding multiple jobs.

Washington, California and Florida are mulling a permanent switch to DST. Proponents say that doing so could improve health, save energy and prevent crime.

The two types of COVID-19 tests – antigen and PCR – work in very different ways, which is why one is fast but less accurate and the other is slow and precise.
Reader Comments 💬
"We need a social media temperance movement, although of a more effective nature than the last temperance movement this country saw, resulting in a constitutional amendment and its interesting aftermath. However, when I see six-year-olds sitting at their school desks gazing at their screens, when I see parents diverting their two-year-olds with their phones while shopping, etc., I despair that such a movement will arise."

– Reader John Platt on the story 3 ways Congress could hold Facebook accountable for its actions