Top headlines
Lead story
It's always enjoyable to help debunk some conventional wisdom. Today I point you to the work of anthropologists Sarah Lacy of the University of Delaware and Cara Ocobock of the University of Notre Dame. Their recent research takes down the idea that Neanderthals and early modern humans assigned tasks based on gender. "Man the hunter" paired with "woman the gatherer" is more a reflection of the male scientists who came up with the concept and the gender roles of their own time, Lacy and Ocobock suggest, than of reality.
There's no reason women couldn't have contributed to the hunt – and in fact, certain aspects of female physiology mean they may well have been better suited for an activity like hunting that demands great physical endurance. Lacy and Ocobock deploy other evidence from the archaeological record that supports the idea that there was no gendered division of labor in our evolutionary past. "Our Paleolithic ancestors lived in a world where everyone in the band pulled their own weight, performing multiple tasks," they write.
[ Get our Understanding AI series – four emails delivered over the course of a week, with experts explaining this confusing topic. ]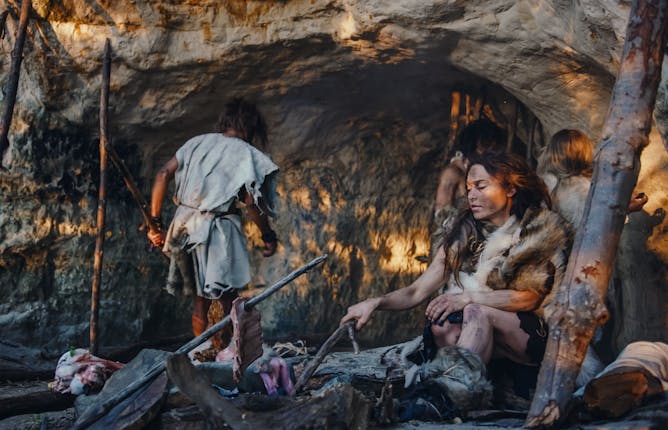 Female bodies have an advantage in endurance ability that means Paleolithic women likely hunted game, not just gathered plants. The story is written in living and ancient human bodies.
Science + Technology
Several companies have made quantum computers, but these early models have yet to demonstrate quantum advantage: the ability to outstrip ordinary supercomputers.

Fentanyl's wide availability in the drug supply has led to an increase in unintentional overdoses. While prevention strategies are available, limited availability stymies their use.

The turkey doesn't have to be the star this Thanksgiving. Vegetable side dishes are packed with nutrients − depending on how you prepare them, they can help keep you energized this holiday season.
Politics + Society
It's good to talk − just don't expect it to result in a reset in relations between Beijing and Washington.

The Taliban and the Islamic State group are among the militant groups that have been known to use civilians as human shields in the past, in order to try to shift their opponents' war calculations.
Economy + Business
Ethics + Religion
How should opposing armies be commemorated on a battlefield? Gettysburg offers an especially interesting example of today's debates over Confederate monuments.

The origins of the Indigenous People's Thanksgiving Sunrise Ceremony, held on the traditional lands of the Ohlone people, go back to 1969, a pivotal moment of Indigenous activism.
Podcast 🎙️
The Conversation Quiz 🧠
Here's the first question of this week's edition:

What did new Speaker of the House Mike Johnson say to Americans while discussing the House GOP's efforts to avert a federal shutdown on Nov. 18?

A. Shanghai
B. San Francisco
C. Singapore
D. A Steak 'n Shake in Sandusky, Ohio