How powerful is the president?
Less than Donald Trump thinks he is, according to the Supreme Court, which said that just like everybody else in the United States, Trump must turn over his business and tax records in response to a grand jury subpoena.
Penn State's Stanley M. Brand, who served several years as counsel to the House of Representatives, explains the June 9 ruling as well as decisions in two companion cases that concerned the most far-reaching questions about the limits on presidential power since the 1970s.
But, if you're hoping to get a peek at those documents before the election, don't hold your breath.
Also today:
Naomi Schalit

Senior Editor, Politics + Society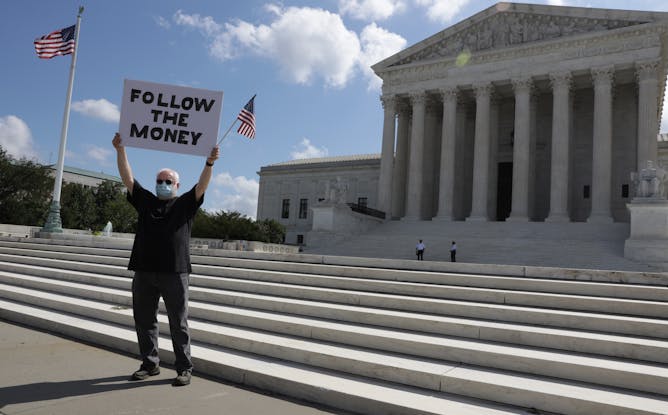 In cases testing the limits of presidential power, the Supreme Court ruled the president has no special protections that exempt him from complying with subpoenas from Congress or state grand juries.
Politics + Society
Land in what is now eastern Oklahoma, which was granted to the Creek Nation by Congress in 1833, is still under tribal sovereignty, the Supreme Court ruled.

State and local government jobs are being axed, public schools won't get money the state planned to send them, and fire and police departments budgets are being slashed. All because of the pandemic.
Arts + Culture
Economy + Business
A scholar of slavery in the British Empire describes the first boycott against sugar made with slave labor in the West Indies.

Research shows that millennials don't drive as much as previous generations, largely because of their beliefs.
Environment + Energy
Health
The recent fall of Chief Justice John Roberts underscores that falls can happen to anyone. They are a major cause of disability in seniors - but there are some clearcut ways to prevent them.

The WHO is a health agency, not a political one. Yet political leaders have often criticized it. Still, the move by the US to pull out from the organization is unprecedented.
Ethics + Religion
Rejected by their countries but seen as outsiders in the West, queer and trans Muslims often live in limbo. The mental health costs of alienation can be severe, says a scholar of Islam and sexuality.

The #SayTheirNames campaign recalls the long struggle by Black Americans to assert their humanity in death, with roots in the fight for slave burials.

The Bolsonaro government cannot simply allow Brazil's out-of-control coronavirus pandemic to decimate its Indigenous population, Brazil's Supreme Court says.
From our international editions
The actions of one country cannot be allowed to undermine decades of multilateral efforts to improve the health and well-being of all peoples of the world.

The ruling elites in parts of Africa are destabilising efforts to maintain order by living by their own rules

The unique nature of the new particle could help us understand other, more complex mechanisms in physics that are not within our reach today.