Yes, the country needs a fully functioning Postal Service to ensure all mail-in ballots get counted – not to mention continue shipping urgent prescriptions and other packages. But post offices also serve a symbolic role: Though they've endured decades of debasement and defunding under the guise of austerity, they're one of the last public civic institutions in many American cities and towns.
Urban design scholar Patty Heyda explains that many branches were designed to reflect regional quirks or the grand aspirations of local leaders, all while ensuring every American – no matter their class, race, gender or creed – could connect with the rest of the world. The Postal Service represents the best of American public life, which makes its current role as political football that much more tragic, Heyda writes.
Plus, a look back at the Postal Service's unifying origins.
Also today: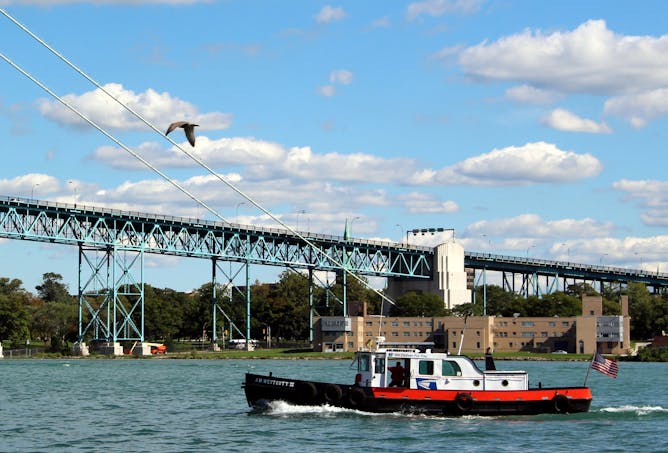 Can you find a FedEx store that mimics the design creativity and quality of early US post offices? What are we left with when the best parts of public life are treated like for-profit entities?
Politics + Society
Israel and the United Arab Emirates weren't at war, so their new deal is not really a peace accord. Nor does it satisfy the Palestinians, who need Arab nations to support their drive for statehood.

This year's technological adaptations may signal a permanent shift in the way nominating conventions meet and the way voters watch them – but it's not the first time.

The United States Postal Service plays a vital role in US civic life, one that helped shape American society more than 250 years ago and continues to characterize it today.
Science + Technology
Health
Consuming the plant can be lethal to animals and humans.

Checking for symptoms is just the beginning. Here are 10 ways schools can help keep children, families and faculty safe.
Ethics + Religion
In reconverting Hagia Sophia to a mosque, Turkish officials have emphasized veiling of Christian icons to create a Muslim prayer space. Experts explain why the veiling is in fact a Byzantine practice.
Economy + Business
From our international editions
Can you only ever truly 'belong' in Britain if you aren't white?

Most populists are only against the system, they aren't for anything in particular, as Donald Trump's presidency and Brexit proves. A progressive wave will soon be upon us in response.

Massive landslides can trigger destructive and deadly tsunamis, and climate change could make them worse.