Countries around the world are struggling to deal with record numbers of new COVID-19 infections. Particularly, countries like Kenya and India have been battling to keep up with the demand for oxygen. Trevor Duke provides some guidance on what countries can do to secure better oxygen supplies. Governments and health services should invest in bedside oxygen concentrators and generators to supply whole hospital or district needs. And global agencies should support this in a way similar to the scaling up of vaccines through global partnerships like COVAX.
Meanwhile the global drive to vaccinate people against the coronavirus faces challenges. Even developed countries that have secured the bulk of the world's COVID-19 vaccine supplies are falling short of their vaccination targets. Nana Kofi Quakyi explains some of the key challenges facing Ghana's rollout plans, while Veronica Ueckermann takes a closer look at the issues preventing South Africa's vaccination from taking off.
Moina Spooner

Commissioning Editor: East and Francophone Africa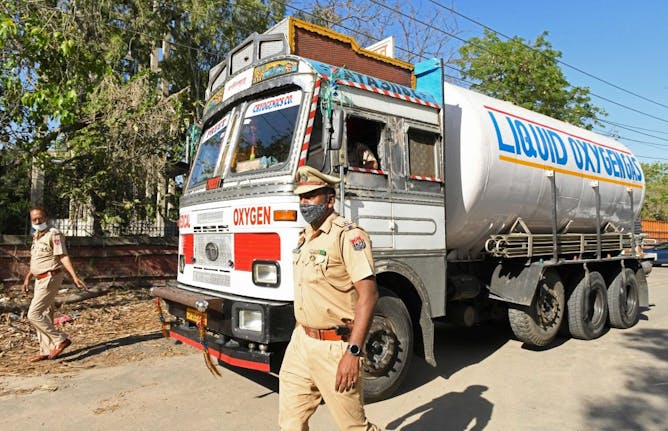 For now, governments and health services should invest in bedside oxygen concentrators and oxygen generators to supply whole hospital needs.
| | | |
| --- | --- | --- |
| The COVID-19 vaccination programme requires stringent data collection and transparency. | | At the current vaccination pace it will take over a decade for South Africa to reach herd immunity, with many lives lost along the way. |
Arts, Culture + Society
| | | |
| --- | --- | --- |
| A tide of 'the feels' buoyed the underdog documentary to an Oscar win – but the local industry will need to focus on where international gains are most needed. | | It appears that the South African Cape south coast's dunes and beaches formed a vast canvas of sand on which our ancestors could leave their mark. |
Environment + Energy
| | | |
| --- | --- | --- |
| Is Botswana allowing the hunting of elephants a good or a bad thing? Two academics weigh in. | | The socio-economic and political factors that keep conventional energy out of reach of the poor can do the same with renewable energy. |
Business + Economy
| | | |
| --- | --- | --- |
| The Igbos, like most other indigenous groups, believe in maintaining a legacy of not just their language, but other values, including trans-generational business legacies. | | The importance of raw cocoa beans to Ghana's foreign exchange earnings is derailing the development of a viable chocolate industry |
Health + Medicine
| | | |
| --- | --- | --- |
| Nigeria must invest more in research and incorporate World Health Organisation-recommended interventions to eliminate malaria. | | Provider burnout is expensive for the health system given its associations with low quality of care, absenteeism, and high workforce turnover. |
Politics
| | | |
| --- | --- | --- |
| The political and security order which numerous foreign actors have been investing in has produced marginal benefits for the population. | | Colonial powers framed secessionism as a threat to state-building and not as an expression of self-determination |
| Chadian president Idriss Deby's death has serious implications for stability in the troubled Lake Chad Basin and the broader Sahel region of West Africa. | | In the country's insider politics, the majority who try to survive outside the formal economy are talked about, but are never heard. |
Education
| | | |
| --- | --- | --- |
| Research shows that grit is a strong predictor of reading achievement. This suggests that socio-emotional skills are important for student achievement, even in high-poverty contexts. | | Far too often it is still an education for some and not for everybody. |
Featured events
Would you like to republish any of these articles?
It's free to republish, here are the guidelines. Contact us on africa-republish@theconversation.com in case you need assistance.