Top headlines
Lead story
With Israeli troops pushing into the Gaza Strip, it's hard to envision peace between Israelis and Palestinians in the near term. But there are areas where cooperation has been possible in the past, and might be so again. One of them is a looming challenge across the Middle East: water.
Environmental scholars Clive Lipchin and Richard Friend explain how Israelis, Palestinians and Jordanians have worked together at the Arava Institute in southern Israel to develop technologies and strategies for providing water and sanitation to Israel, Gaza and the West Bank. As they see it, working together on shared water challenges "is the only future that is possible for the intertwined reality of Israelis and Palestinians."
[ Understand what's going on in Washington and around the world. Get our Politics Weekly newsletter. ]
Jennifer Weeks

Senior Environment + Cities Editor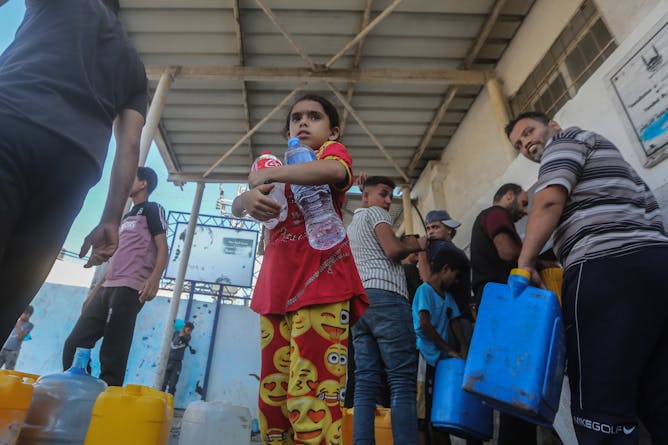 As the war between Hamas and Israel grinds forward, two experts explain how Israelis and Palestinians have cooperated to tackle their region's water challenges.
Economy + Business
Politics + Society
Many people who aren't Jewish are responding as if what's been taking place is just another episode of Israeli-Palestinian violence. But it's different for many Jews.

For Jewish people, Hamas' violence against children was reminiscent of the Holocaust. For Palestinians, the Israel Defense Force's killing their children reminds them of a painful past, too.
Ethics + Religion
Halloween's influence is transforming popular festivities around Día de los Muertos and its ceremonial customs in rural and urban areas of Mexico in some fascinating ways.

Many Christian and Muslim families in Gaza today were displaced following the creation of new Arab and Jewish states. Today, Palestinian Christians occupy a complicated place in this region.
Education
Health + Medicine
People, including children and adolescents, are being exposed to horrifying imagery in the news and on social media. But there are ways to stay informed without overconsuming harmful content.
Science + Technology