Americans witnessed a chaotic presidential debate last night, punctuated by interruptions, insults and incivility. President Donald Trump and former Vice President Joe Biden rarely engaged in a substantive discussion over issues, with the moderator struggling to maintain control.
We invited three scholars to watch the debate. In dissecting the back-and-forth over Trump's Supreme Court nominee, University of Oregon political scientist Alison Gash summed up the overall tenor of the evening and its lack of depth:
"The debate did little to resolve questions about the future of the court – other than to shore up Supreme Court nominations as political bombs with volatile consequences," she wrote.
Also today:
Emily Costello

Deputy Editor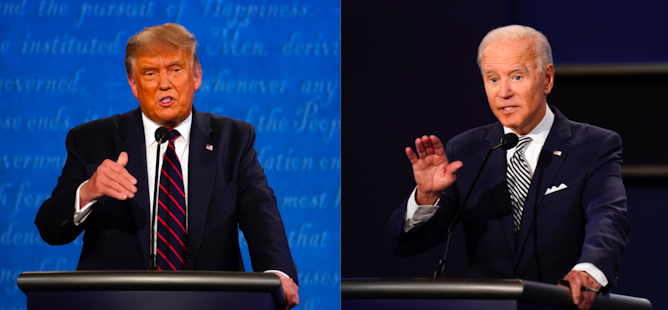 They shouted, they interrupted, they insulted – and not entirely in equal measure. But Biden and Trump also touched on the issues occasionally. Our panel of experts analyzed three key exchanges.
Health
Science + Technology
Ethics + Religion
Environment + Energy
Politics/Election '20
To overhaul an election redistricting process tainted by gerrymandering, Michigan has adopted a governance mechanism prominent 2,500 years ago in ancient Athens, the birthplace of democracy.
Education
Trending on site
How ancient microbes survived in a world without oxygen has been a mystery. Scientists discovered a living microbial mat that uses arsenic instead of oxygen for photosynthesis and respiration.

The conservative cable news channel particularly favors the term when explaining opposition to Donald Trump. This framing of the news can lead Fox viewers to see the world as us versus them.

My research shows that when politicians use hate speech, it's not just empty rhetoric or political theater: Domestic terrorism increases, in the US and in other countries.