With public concern growing over potential problems at U.S. polls in November, one way to build confidence would be to allow international observers to monitor the election. That's what many other countries do, explains political scientist Timothy Rich, who himself has been an election observer and says their presence and monitoring can "promote faith and integrity."
They could do the same here in the U.S., Rich writes, but most states do not welcome international observers, and some explicitly prohibit them.
Also today:
Naomi Schalit

Senior Editor, Politics + Society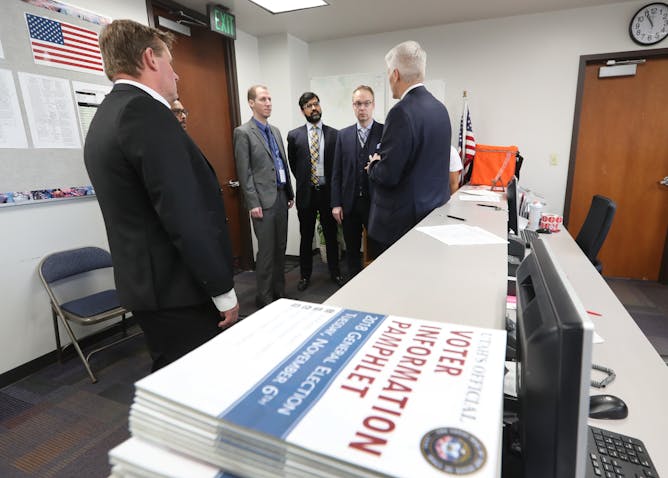 Many US states forbid foreign observers to monitor their elections, but as the 2020 presidential election nears, a poll finds broad public support for international election observers.
Politics/Election '20
The increasing visibility of a wide range of militia and vigilante groups has repeatedly caught local communities and national leaders off guard.

President Trump's law-and-order campaign rhetoric has been compared to Richard Nixon's and George Wallace's similar themes in 1968. But such appeals go much further back, to the US in the early 1800s.

Black and Asian American communities have been portrayed as in opposition to each other. Multiracial Kamala Harris, both Asian American and Black, represents the potential for coalition building.
Health
When water stagnates in pipes, harmful metals and bacteria can accumulate and make people sick. Buildings that were shut down for weeks during the pandemic may be at risk.

All too often the medical community 'fat-shames' patients trying to lose weight, when in fact obesity and overweight are complicated medical issues.
Economy + Business
Senate Republicans continue to push for sweeping liability protection for companies from coronavirus-related lawsuits, but research and evidence suggests there's little real risk.

Medical supply shortages during the pandemic revealed that US industries are unable to provide essential goods in a crisis. A return to domestic production would boost incomes and prepare us for the next crisis.
Science + Technology
Environment + Energy
Education
From our International Editions
After months of delays, talks between the Taliban and Afghan governnment are due to start in Doha. Here's what is on the table.

Tooth decay remains the most widespread chronic and irreversible disease in New Zealand, but 6-7% of all children and adults use a non-fluoride toothpaste.

Mauritius' oil spill highlights the plight of impoverished communities that live along the coastline.