The collapse was always likely to be fast, but it still outstripped what most observers expected – be they experts or worried onlookers. Within a few short days, the Taliban swept through provincial cities before seizing the Afghan capital of Kabul, sparking chaotic attempts to flee the country.
Scenes of desperate people attempting to board planes leaving the country were almost unbelievable for those of us not in Afghanistan. But the fear and uncertainty are terrifyingly real for those who are there.
As shocking as the chaos may be, it's hard to say it was a surprise, according to Abdulkader Sinno, a political scientist at Indiana University who studies politics in the region. He explains what Afghanistan was like when the U.S. first arrived there 20 years ago, describes what effects the U.S. presence had and looks at what the Afghan people are already beginning to face.
Also today:
Jeff Inglis

Politics + Society Editor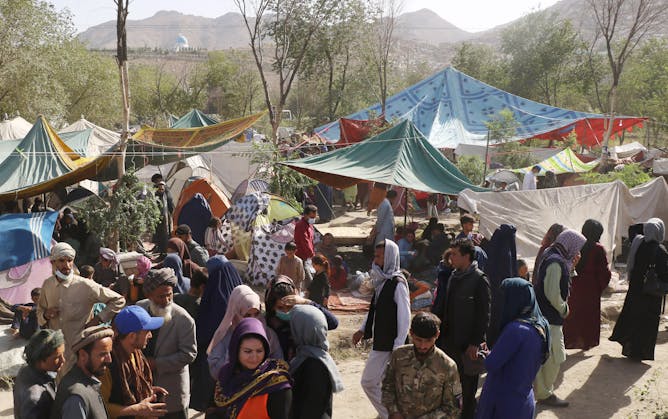 When the US invaded Afghanistan in late 2001, Afghans had endured 22 years of war. The Taliban were on the rise. Little has changed after an additional 20 years of war and suffering.
Ethics + Religion
Politics + Society
Environment + Energy
What might sound like small changes – temperatures another tenth of a degree warmer, sea level a few centimeters higher – have big consequences for the world around us.

A long-expected federal drought declaration underlines how serious the Colorado River water shortage has become for Western states.

Four out of five Americans regularly buy some kind of organic food. An expert on the industry says more federal support could greatly expand organic farming and its environmental benefits.
Health
Vaccinations, masks and some distancing – along with low community transmission – can help protect students in classrooms and cafeterias.

COVID-19 hit long-term care facilities hard. Addressing the trauma that residents and staff endured is key to regaining trust in a space that may no longer feel safe.
Education
Science + Technology
From our international editions
From sunny ways to heat domes, much has changed since 2015. Justin Trudeau must convince voters he's their best bet for pandemic and economic security, and to deal with climate change.

Jake Davison, the gunman in the UK's worst mass shooting in a decade, has been linked to the 'Incel' movement – but what what do incels really believe?

Academic research can shed light on crucial questions about what life on Earth will be like under the most plausible emissions scenarios. And a warning: the answers are confronting.

---

Today's graphic