In recent weeks, the idea that vaccinations are leading to more dangerous strains of the coronavirus has gotten some attention. And to be fair, one could imagine that a virus will try to evolve in a way that avoids a vaccine meant to stop it.
But this interpretation is incorrect. As Vaughn Cooper and Lee Harrison, an evolutionary biologist and an infectious disease epidemiologist at the University of Pittsburgh, explain: "Most viruses in an infected person are genetically identical to the strain that started the infection. It is much more likely that one of these copies – not a rare mutation – gets passed on to someone else."
The more infections there are, though, the more chances a person will pass a random mutation to someone else. So it is the huge number of new infections that is leading to new variants, not vaccines. In fact, the authors explain that vaccines are the best tool available to prevent dangerous new strains of the coronavirus from emerging in the first place.
Also today:
Daniel Merino

Assistant Science Editor & Co-Host of The Conversation Weekly Podcast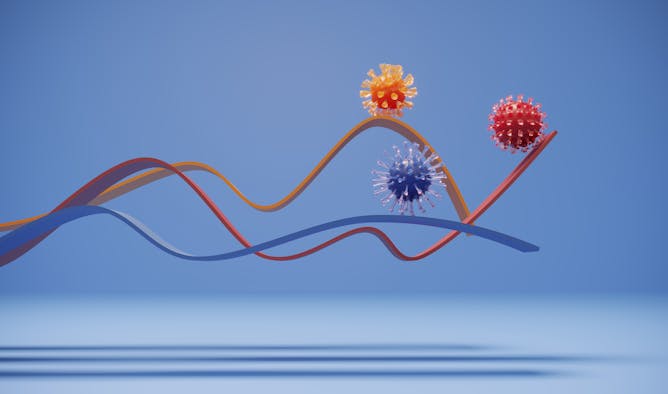 When the coronavirus copies itself, there is a chance its RNA will mutate. But new variants must jump from one host to another, and the more infections there are, the better chance this will happen.
Economy + Business
The Taliban have at least five significant potential sources of revenue as they begin to govern Afghanistan again.

In the male-dominated engineering industry, where women represent only about 11% of the workforce, gender influences whom individuals turn to for answers to questions.

A scholar of nutrition opens up with a personal take on food insecurity in America.
Ethics + Religion
The Attica uprising marked a milestone in the prisoners' rights movement. Many of the grievances aired in 1971 are still relevant to today's incarcerated population.

Concern about Islamophobia has been near-constant for years. But how it plays out is changing – especially online.
Health
Education
Podcast 🎙️
Trending on site
If you see the Tesla Bot as a joke or a harbinger of a dystopian future, you could be missing the real threat, which has more to do with Elon Musk's power than robots run amok.

Since 9/11, billions have been spent beefing up airport security. Was it worth it?

The Affordable Care Act has allowed many preventive health services, including cancer screenings and vaccines, to be free of charge. But legal challenges may lead to costly repercussions for patients.

---

Today's graphic