The Federal Reserve is trying to slam the breaks on the U.S. economy as it plays catch-up in its belated fight against spiking inflation. Yesterday's 0.75 percentage point rate interest rate hike – the biggest since 1994 – is just the start, with an equally supersized increase possible in July. By the end of the year, the Fed now expects its target short-term interest rate, which benchmarks the borrowing costs on pretty much everything, to reach 3.4% – double what it is now.
Could that cause the U.S. economy to fall into recession? The odds of one next year are "close to a coin flip," writes Brian Blank, who studies how businesses adapt and handle economic downturns. The Mississippi State University finance scholar explains how the Fed is trying to nail a "soft landing" for the economy, the stakes if it gets it wrong and what it all means for consumers.
Also today:
Bryan Keogh

Senior Editor, Economy + Business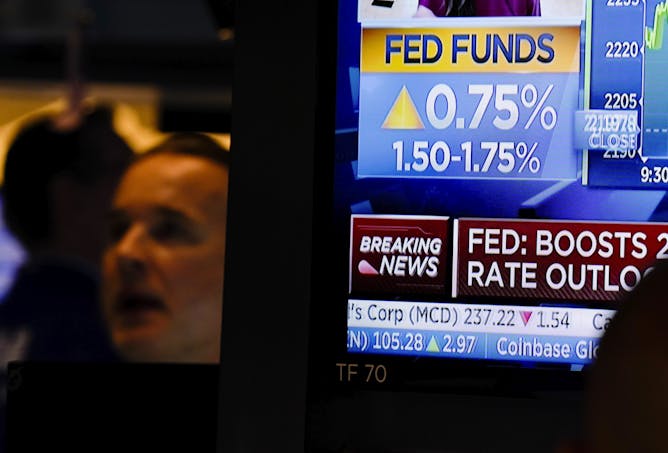 The Fed raised interest rates the most in nearly three decades to fight stubborn inflation. A finance expert explains what's happening, the risks and what it means for consumers.
Arts + Culture
Science + Technology
An autonomous vehicle expert explains how Tesla's Autopilot works, what prompted US authorities to investigate the system and what changes might be in store for the company.

A mathematician explains how language can keep your online accounts safe and pinpoint your location on the planet.
Health + Medicine
Environment + Energy
Education
A scholar of queer literature takes a closer look at five books that are pushing the envelope on society's understanding of LGBTQ life.

With online use ever-increasing, so is the rise of ghosting – when friends decide to disappear into the social ether.