How many times a day do you check the election polls? I do it at least four times. Note the "at least." Yes, I know I'm a political journalist, but these days it seems many Americans have the latest polls at RealClearPolitics and FiveThirtyEight.com bookmarked.
American University School of Communications scholar Joe Campbell has written several stories for us on the history of presidential election polls and how spectacularly wrong they can be. In his latest, Campbell looks at Americans' love affair with polls and asks why we can't look away – despite all the "flubs, fiascoes and miscalls."
Also today:
Naomi Schalit

Senior Editor, Politics + Society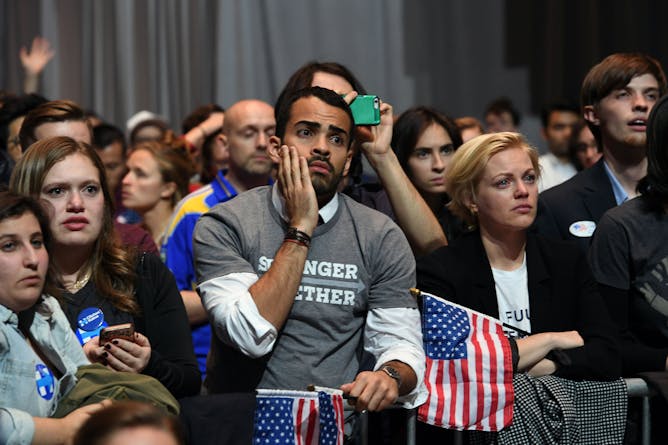 Polling is an imperfect attempt at providing insight and explanation. But the public's desire for insight and explanation about elections never ends, so polls endure despite their flaws and failures.
Health
Science + Technology
Arts + Culture
False premises, fear-based reasoning and mob thinking are baked into the platform, allowing misinformation to thrive.
Politics/Election '20
Twitter bots amplify conspiracy theories, including the so-called 'collective delusion' that is QAnon, making them appear more popular and able to reach more real humans.

As Election Day approaches, Americans would do well to remember they are targets of disinformation campaigns. Here's what they could look like, and what's being done about them.

Women and people of color continue to appear on ballots less often than white men, and that, in part, is due to concerns by American voters that others will not view these candidates as electable.
Education
Environment + Energy
Economy + Business
Google pays Apple to make its search engine the default on its devices, but the iPhone maker actually has more market power in the relationship.

Workers say they love the freedom of platforms like Uber and TaskRabbit but find it hard to earn a livable wage. Cooperatives that give worker-owners a voice in how they are run offer a solution.
Video
Ethics + Religion
Trending on Site
Who knew that black licorice had a dark side? A scientist explains when this treat becomes a threat.

BLM has been accused of being 'Godless' and operating in a 'demonic realm.' But scholars of religion see a deep spirituality at work in the movement.

Cities are stepping up to provide free Wi-Fi for families in need in order to close the digital divide in education. But will those efforts make a difference where it counts?