Newsletter intros are usually written by an editor sitting at a desk. As chance would have it, this one is being bashed out in the back of a cab in New York City (excuse typos). That reality allows me to detail the city as it goes from a gentrified, whiter area of Brooklyn into one that is poorer and with a higher proportion of Black residents. Whereas a few minutes ago my taxi passed a Whole Foods, a Fresh Market grocery and a line of high-end restaurants, now out the window the only food options I see are fast-food joints (and there are plenty of them) and small bodegas.
This is not uncommon in America. Low-income urban areas, home to many Black and Hispanic families, tend to have fewer options for healthy food. As explained by Julian Agyeman, an urban planning expert at Tufts University, this is no accident – this is through design.
Also today:
Matt Williams

Religion & Ethics Editor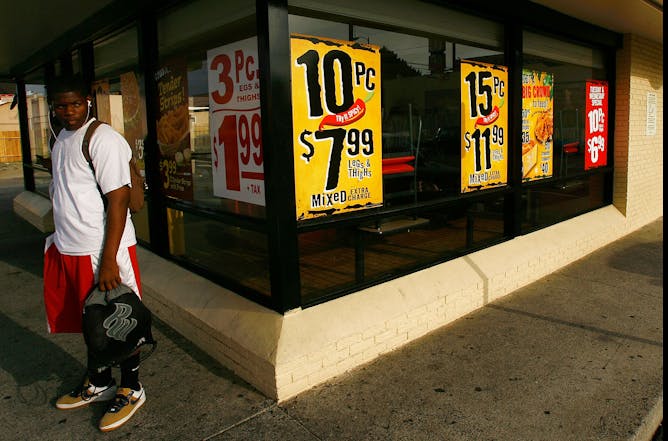 Discriminatory zoning and housing policies have concentrated poverty in urban America along racial lines. As a result, healthy, affordable food options are limited in many low-income and Black neighborhoods.
Health
Millions of vaccinated people have been waiting for guidelines on what they can do safely. The CDC says it's OK to gather with other vaccinated people, but it's still best to avoid travel.

The coronavirus pandemic has driven a lot of scientific progress in the past year. But just as some of the social changes are likely here to stay, so are some medical innovations.

What if you passed COVID-19 to someone else? For those living with that guilt, the thought could be devastating.
Politics + Society
Despite a decrease in traffic during the pandemic, single-vehicle car crashes increased.

Gender equality doesn't top any country's international agenda – yet. But ever more countries, including the US, are starting to discern that women's rights really are human rights.
Science + Technology
Some AI systems make faulty assumptions about women and nonwhite men, which can lead to misdiagnoses. Overcoming this bias takes legal, regulatory and technical fixes.

The high cost and long lead times for building computer chip factories makes it difficult for the U.S. to reverse the steady decline of its domestic semiconductor manufacturing capacity.
Economy + Business
Environment + Energy
It's possible to feed the world's 7.8 billion people with more environmentally friendly farming practices. Here's how.

Growing weed indoors is not an environmentally friendly process. Climate controls create a lot of greenhouse gas emissions, and where the pot is produced has a huge influence on emission levels.
From Our International Editions
Could the press's increasingly hostile campaign against the Sussexes lead to the fall of our toxic tabloid culture?

An average healer in the rural South African town where the study was done experiences about 1,500 occupational blood exposures in their lifetime.

Plus, new discoveries about early humans in Tanzania's Olduvai Gorge. Listen to episode 5 of The Conversation Weekly podcast.