Since the beginning of the American space age, launching astronauts into space has been NASA's domain. But when the space shuttle program ended, things changed. Beginning in 2011, Americans relied on the Russians to get our astronauts to the International Space Station.
Now we are on the cusp of another revolution. Next week, two American astronauts will blast off atop the Falcon 9 rocket, made by Elon Musk's private company SpaceX. The launch, if successful, will pave the way for the new era of private space tourism.
Also today:
Bijal Trivedi

Science and Technology Editor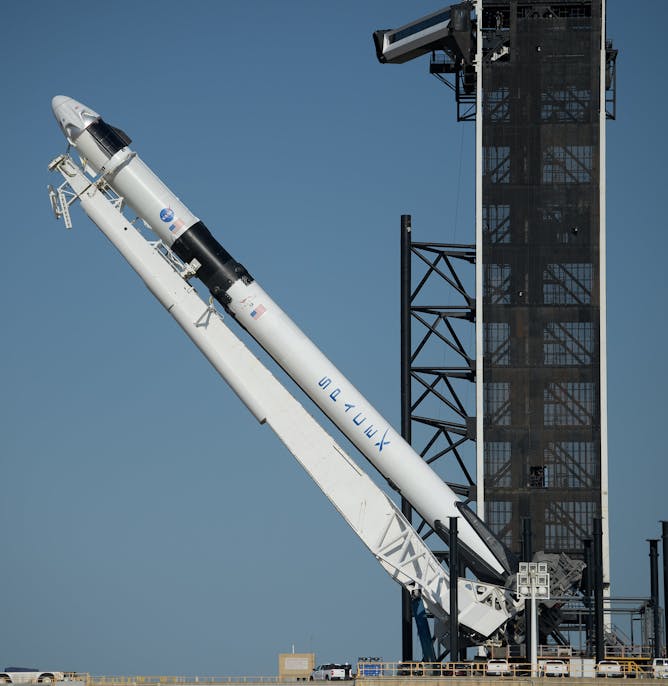 SpaceX's launch of astronauts to the International Space Station will make it the first private company to launch humans to space. The effort has ramifications for NASA and spaceflight in general.
Health + Medicine
Over the first 100 days of the pandemic, countries that quickly implemented strong policies successfully lowered their death rates faster. There were also some surprises in the successes and failures.

Fear of flying means something altogether different in the age of the new coronavirus. Now the biggest concern is how to keep from becoming infected. If you must fly, here are some things to consider.
Politics + Society
A loose patchwork of measures and systems has left millions at risk of slipping through the cracks as the pandemic's economic downturn hits.

President Trump isn't the first president to get rid of inspectors general. He is the first to assert that inspectors general investigations into his administration's actions are unconstitutional.
Science + Technology
Researchers have made some of the most accurate clocks imaginable in recent years, but the trick is harnessing those clocks to electronics. Using lasers to tune microwaves bridges the gap.

Thinking of SARS-CoV-2 as an invisible enemy with an evil personality and humanlike motivations is a natural offshoot of the way people evolved to anthropomorphize so as not to overlook threats.
Arts + Culture
Long after a crisis recedes, residual anxiety can remain and become calcified in cultures, customs and institutions.
Economy + Business
Ford is assembling ventilators, LVMH is making hand sanitizer, and Chanel is making masks. Here's why these and dozens of other companies are doing it.

This measure, included in a pandemic relief package, is supposed to encourage Americans to give more to nonprofits.
Ethics + Religion
Muslims throughout the world will celebrate the holiday of Eid al-Fitr, a celebration at the end of Ramadan. Here's an introduction to this important feast and its partner, Eid al-Adha.
From our International Editions
China has only agreed to an investigation if it happens after the pandemic and is led by the WHO – two stipulations that likely won't sit well with western countries.

When sea lampreys gained a foothold in the Great Lakes in the 1950s, these trout-sucking predators upended the ecosystem.

Archaeologists have long studied diseases in past populations. They've explored the evolution of pathogens and how they interacted with humans.