As if politics in the United States weren't fraught and overheated enough, now comes the news, in the form of a leaked draft opinion by Supreme Court Justice Samuel Alito, that the constitutional right to get an abortion is likely to be overruled by a conservative majority on the court.
As the news broke, demonstrators – both abortion foes and advocates – gathered in front of the court. Newspapers blared the headlines yesterday morning. My Twitter feed was a fevered mess of speculation and outrage, interspersed with very long threads by law professors.
The Conversation turned to Morgan Marietta, a political scientist at the University of Massachusetts, Lowell, who is a Supreme Court scholar, to help readers understand the ramifications if the draft ruling becomes the actual one. Marietta points out that the right to get an abortion will no longer depend on the Constitution; it will largely depend on where you live. "The powers of individual states to determine whether abortions are legally available are increasing," he writes. That promises to raise the volume and bitterness of debate at many statehouses. But the ruling would have another potentially huge implication for America's politics by lowering the standard for overruling previous court rulings. Use your imagination to conjure up the battles that could spawn.
Also today:
Naomi Schalit

Senior Editor, Politics + Society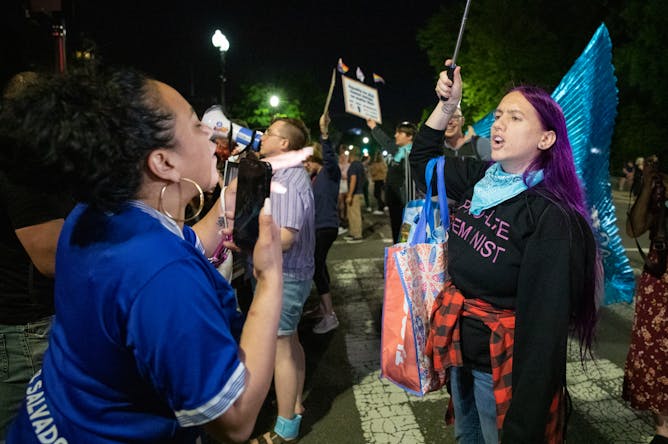 If the Supreme Court guts landmark rulings that established a constitutional right to abortion, the legal struggle will shift to statehouses and state courtrooms.
Politics + Society
Health + Medicine
During the pandemic, health care providers began prescribing abortion pills without requiring in-person exams. This practice could help people access the care they need when abortion rights are in limbo.

Existing coronavirus vaccines are not as effective against newer variants of the virus. Two vaccine experts explain how new vaccines currently in development will likely offer better protection.

Research is revealing that fitness trackers alone can be helpful facilitators toward changing a sedentary lifestyle but don't motivate people to increase their physical activity.
Science + Technology
Environment + Energy
Tests found PFAS in school uniforms, pillows, upholstered furniture and several other items that are often next to children's skin and near their noses and mouths.

Agreements negotiated a century ago to share water on Western rivers among states are showing their age in a time of water scarcity.
Economy + Business
The US has frozen tens of billions of dollars worth of assets belonging to Russians and their government. A legal scholar explains why confiscating them is a bit trickier.

This growing trend aims to shift some of the power funders typically wield to the groups getting their money.
Education
Ethics + Religion