Most U.S. troops have left their bases in Afghanistan, ending nearly two decades of American military presence. Experts have raised concerns about the stability of the regime in Afghanistan and whether this withdrawal could eventually result in a takeover by the Taliban.
University of Washington political philosopher Michael Blake, writing about the ethics of the U.S. withdrawal, argues that even if this may be the right action, the United States cannot escape ownership of the moral wrongs that may follow. At best, it might seek to minimize the wrongs and in future conflicts enter with an exit strategy, he adds.
Also today: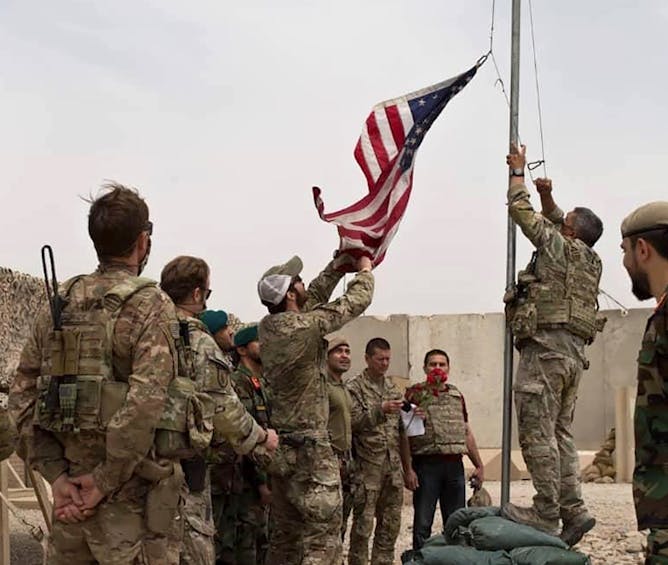 There is much at stake as the US withdraws troops from Afghanistan. A political philosopher explains why the US cannot escape the moral consequences of its actions.
Environment + Energy
Nearly 60 years after a radiation-leaking reactor was removed from a US Army base on the Greenland ice sheet, the military is exploring portable nuclear reactors again.

During a 2015 heat wave, scientists watched as a coral reef died before their eyes. By the end of the century, almost all the world's corals will be gone if climate change continues at this pace.

Proposals for new oil and gas pipelines can generate intense debate today, but during World War II the US built an oil pipeline more than 1,300 miles long in less than a year.
Politics + Society
A task force of polling experts found surveys notably understated support for Donald Trump, both nationally and at the state level. Here's what may have gone wrong, according to a polling historian.

America's public sphere is broken because propaganda has replaced political communication. How did we all become propagandists?
Science + Technology
Arts + Culture
Economy + Business
From our international editions
Experts in viral immunology, ethics and computational biology share their thoughts on England sloughing off the last of the COVID restrictions.

An uncomfortable reality is that looting is perceived by the looters to be socially acceptable and is often encouraged and endorsed within social and community networks.

The good news is Victoria is more likely to reach zero case of community transmission sooner if vaccination rates pick up, even modestly.

---

Today's graphic