The modern corporate tax was created over a century ago with fairness in mind – or more specifically, what tax scholars call the "benefits principle." That is, a person or business should pay an amount of tax that is commensurate with the benefits received. For the middle part of the 20th century, companies were shouldering a large share of the burden of government – as much as 40% of all government revenue came from corporate taxes. And, of course, they've benefited enormously from the roads and schools the U.S. provides, not to mention rule of law and due process, writes Stephanie Leiser, an expert on tax policy at the University of Michigan.
Today, that burden has dropped to about 7%, while individual income taxes cover nearly half the government tab. President Joe Biden is asking companies to pay a little more in taxes to finance his $2 trillion infrastructure plan to shore up the country's transportation, electrical grid and much else.
Leiser explains how Biden's plan – which would benefit corporations a great deal – reflects the benefits principle today.
Also today:
Bryan Keogh

Senior Editor, Economy + Business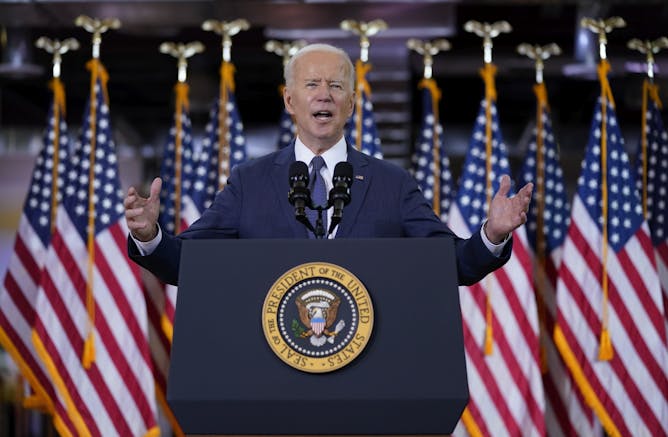 The corporate tax was created on the principle that people and companies should be taxed based on what they receive in benefits – and US corporations have received an awful lot.
Health
It's been a stressful year, and for 61% of US adults, a year of unwanted weight change too. This isn't surprising, as stress, eating and motivation are all linked through hormones in the brain.

Vaccine manufacturing is complex, with lots of potential points for errors. But it also has extensive quality control checks and approvals.

Hemp, CBD and marijuana are all forms of cannabis – but they are different in significant ways, from form and legality to their potential uses as treatment for various health conditions.
Politics + Society
Children and families have been fleeing to the US in rising numbers for nearly a decade. So why is the current situation at the US-Mexico border being viewed as something new?

The New York Times gave in to White House pressure and did not publish crucial information about an impending US-backed invasion of Cuba. It's an old story, much repeated – but it's wrong.

Stricter gun control laws may make mass shootings slightly less common, but other policies may work better to prevent mass shooting deaths.
Ethics + Religion
Arts + Culture
Education
Parents thrust into the role of math teacher can take simple steps to help their children understand math better and dread it less.

The unprecedented wave of federal funding could be used to modernize public schools – the second-largest public infrastructure in our nation, behind only highways.
Podcast
From our international editions
The international community has gained a much greater understanding of the Myanmar military's transnational revenue streams. Targeted sanctions can work if the world just follows the money.

Once again the Israeli election has been inconclusive with no clear winner. But this time it's different.

Too much time sitting is linked to health risks, and also to lower quality of life. But in some contexts, such as reading, playing an instrument or socializing, sitting had positive associations.

---

Today's graphic