The injustice of climate change is startling when you see it mapped out. Ethiopia, for example, is home to one of the most vulnerable populations in the world and is a frequent victim of droughts, heat waves and floods that can be worsened by climate change. At the same time, the country emits less than 1/100th the greenhouse gases per person of the U.S., Canada, Australia or Saudi Arabia.
Sonja Klinsky, an environmental scientist at Arizona State University who studies the justice dilemmas of climate policies, explains in a series of infographics why climate change is a justice issue.
A second article looks at injustice from another angle, examining energy inequality and why countries banning financing for fossil fuel projects in Africa isn't a climate solution when they still support those projects at home. It's timely as countries at the U.N. climate conference announce new pledges, including one this morning to end financing for overseas fossil fuel projects.
Also today:
Stacy Morford

Environment + Climate Editor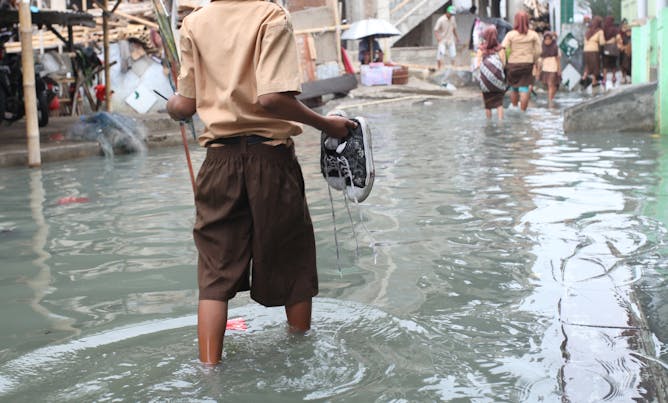 Understanding where emissions come from is only one part of the climate justice dilemma.
Health
Economy + Business
The Federal Reserve decided to slow its pace of bond-buying, potentially the beginning of the end of a program that's been supporting the economy since March 2020.

Asking for input is more common than letting stakeholders help set a foundation's priorities or giving them any say where grant money flows.
Education
Ethics + Religion
A scholar of religion in film explains the varied representation of Catholicism in horror. In some films, it is used in the fight against evil, while others show the Church itself as evil.
Arts + Culture
Politics + Society
Environment + Energy
Trending on site
The Supreme Court ruled in 2008 that you have a constitutional right to have a gun in your home. Now, the justices will consider how far outside of the home that right extends.

Such a mission could be developed soon, allowing astrophysicists to take selfies of the solar system and use the Sun's gravity as a lens to peer deep into space.

Human beings evolved to nurture – and that drive can extend to children who aren't your own and even to members of other species.

---

Today's graphic

From the story, The science everyone needs to know about climate change, in 6 charts