Editor's note
Today is International Nurses Day, which commemorates the birthday of Florence Nightingale, who is credited with founding modern professional nursing and who would have turned 200 today.
In her article on the history of nursing, Leslie Neal-Boylan, dean of the Solomont School of Nursing at UMass Lowell, illustrates how nurses have always been at the forefront during war, epidemics and other times of disaster, including today's coronavirus pandemic.
Also today:
Michelle McAdams

University Relationship Manager
Top story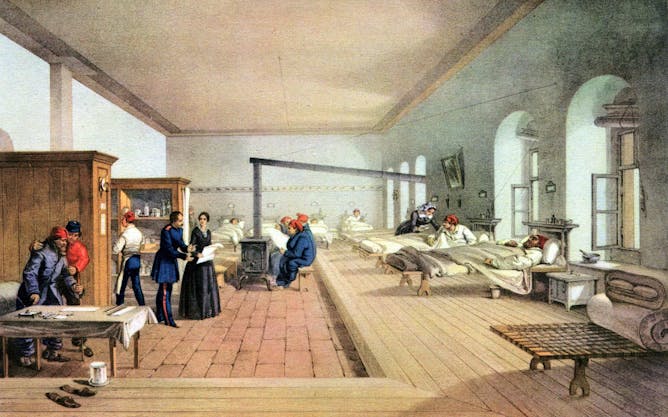 Nurses have always been at the forefront during war, epidemics and other times of disaster.
Education
Politics + Society
Franklin Delano Roosevelt's personal battle with polio, and his steady hand while overseeing a national eradication campaign, highlights decisive leadership against a virus that terrified America.
Health
Environment + Energy
Economy + Business
Airbnb's platform perpetuates the social exclusion of people with disabilities, while the 30-year-old ADA doesn't apply to the sharing economy.

The government wants to help small businesses during the COVID-19 pandemic, but the definition of "small" is still pretty big.
Science + Technology
The scientific community is churning out vast quantities of research about the coronavirus pandemic – far too much for researchers to absorb. An AI system aims to do the heavy lifting for them.

In the murky world of cyber espionage and cyber warfare, effective deterrence has long been considered out of reach. A government report argues it's time to change that.
Arts + Culture
Penn State Laureate William Doan found solace in a daily act that has benefits scientists are just beginning to understand.

With hand-washing top of mind, soap is an integral part of keeping clean. But people through the ages relied on earlier forms of soap more for cleaning objects than for personal hygiene.
Ethics + Religion
From our international editions
Little Richard swung between flamboyant performances and religious fervour - but he always came back to music. With news of his death at 87, musicians paid tribute to his huge rock 'n' roll legacy.

A new study suggests raising dykes along a third of Europe's coastline, but there are more cost-effective options.

False information about the new coronavirus is a big threat to containing the pandemic but governments must not use 'fake news' as an excuse to limit freedom of expression.