In a few months, Arizona will lose about a fifth of its Colorado River water as new use restrictions begin, and farms and cities are scrambling to find new sources.
If the region isn't careful, the U.S. Southwest could be headed for water bankruptcy, a situation Iran is already facing, writes a team of engineers and scientists, including a former Iranian deputy environment minister. Iran's increased well drilling and water transfers in recent decades offer a warning for other regions facing severe drought and water shortages, they write.
Also today: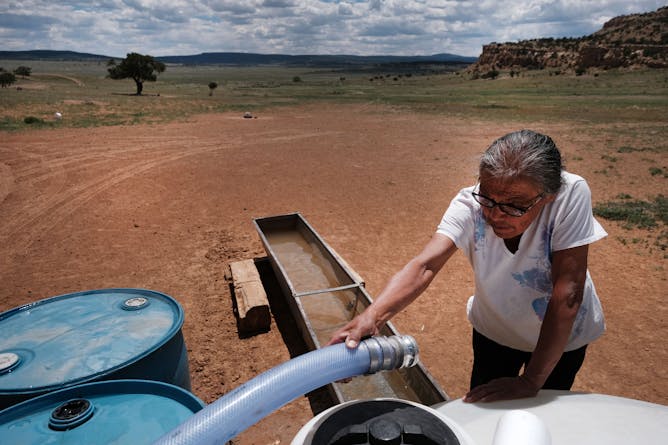 Cities and farmers in the Southwest are resorting to unsustainable strategies to pull in more water. Iran has tried many of these strategies and shows how they can go wrong.
Science + Technology
For thousands of years, Native Americans left their artistic mark deep within caves in the American Southeast. It wasn't until 1980 that these ancient visual expressions were known to archaeologists.

Sci-fi nightmares of a robot apocalypse aside, autonomous weapons are a very real threat to humanity. An expert on the weapons explains how the emerging arms race could be humanity's last.
Politics + Society
The Supreme Court is a leading player in enacting policy in the US. But it has no army to enforce its decisions; its authority rests solely on its legitimacy.

Few people embody the contradictions of US history like the author of the Star Spangled Banner, someone who denounced slavery as a moral wrong but rejected racial equality.
Education
Economy + Business
Arts + Culture
Imagining new kinds of places to live is an American tradition.

Davis's ability to innovate and incorporate other genres into his jazz has left a lasting impact on music.
Trending on Site
When Beethoven died, all he left behind were some sketches for his 10th Symphony. Now, thanks to the help of artificial intelligence, the composer's vision is coming to life.

Reduced brain volume in people who have experienced COVID-19 resembles brain changes typically seen in older adults. The implications of these findings are not yet clear.

A growing body of research shows that nutrition, sleep, exercise and a host of other lifestyle choices can help optimize the immune system. But they are no substitute for life-saving vaccines.